UEFA's offices were raided by Swiss police after its former secretary general and now FIFA president Gianni Infantino became embroiled in the Panama Papers affair.
Infantino is "dismayed" and "will not accept" that his integrity is being doubted after documents leaked from the Panamanian law firm Mossack Fonseca included a television rights contract bearing his signature.
The 46-year-old Swiss-Italian, in his former role as UEFA director of legal services, co-signed a television rights contract in 2006 with two businessmen who have since been caught up in football's corruption scandal, according to the International Consortium of Investigative Journalists which is analysing 11 million leaked files.
Infantino and UEFA deny wrongdoing, but Swiss authorities raided the Nyon offices of European football's governing body on Wednesday, it confirmed. UEFA is fully cooperating.
UEFA said in a statement: "UEFA can confirm that today we received a visit from the office of the Swiss Federal Police acting under a warrant and requesting sight of the contracts between UEFA and Cross Trading/Teleamazonas.
"Naturally, UEFA is providing the Federal Police with all relevant documents in our possession and will cooperate fully."
"UEFA is providing the Federal Police with all relevant documents in our possession and will cooperate fully." - UEFA statement
German publication Suddeutsche Zeitung obtained the Mossack Fonseca documents, with one showing Infantino in 2006 co-signed a contract on behalf of UEFA to sell television rights for the Champions League and other club competitions.
The deal was with two figures who have since been accused of bribery as part of the United States investigation into corruption at FIFA. Hugo Jinkis and Mariano Jinkis, his son, are currently under house arrest in Argentina.
Cross Trading, the Jinkis' Argentinian company which was registered in the South Pacific tax haven of Niue, bought the rights for £78,780, according to ICIJ.
The rights were immediately sold on to Ecuadorian broadcaster Teleamazonas for £220,800.
UEFA had initially denied doing business with any of the 14 individuals indicted by the FBI, but admits now its response was incomplete.
After a full review of thousands of commercial contracts, it accepts the deal was done as part of an "open tender" - a process conducted by Team Marketing on behalf of UEFA - and the rights were sold to the highest bidder.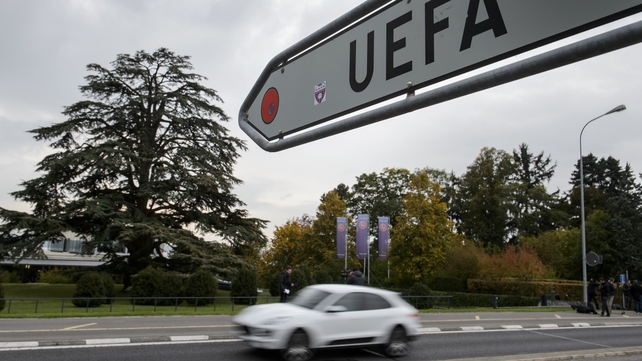 FIFA, prior to voting in Infantino as president on 26 February, agreed to a reform package designed to address issues of governance, accountability, transparency and diversity.
But its troubled past continues to cast a shadow and provoke awkward questions.
Infantino has been urged to use his place in the Panama Papers affair to show his commitment to implementing change.
Conservative Damian Collins MP, a founder of the group New FIFA Now which campaigned for reform under Infantino's predecessor Sepp Blatter, said the new president must show his commitment to reviving FIFA is unwavering following his election on 26 February as the crisis refuses to subside.
Collins said: "The question many people ask is: so far what's changed? FIFA agreed on reforms, but where is the implementation?
"There's been a change of style, but has there been a change of substance and when is that going to come through?
"On issues like this Infantino needs to stand up and be counted, try to persuade people that he will drive through the reforms without fear or favour and radically change the culture and practices of world football.
"For FIFA's sake he's got to. If he's unable to do that convincingly in the next few months, the crisis that has engulfed FIFA will not go away.
"If he is unable to lead the change that it needs - not just in terms of the statutes, but the culture of the organisation - then there will have to be a much more radical overhaul of FIFA.
"His election was a step in the journey to reform, but only a small step and a lot more needs to be done."
Collins called for Infantino's FIFA and UEFA to conduct a full audit.
"Probably what Infantino should have done is instigated their own full audit," the Conservative MP for Folkstone and Hythe added.
"The question is constantly there: who really audits what's going on? Has the culture changed? What new practices have been put in place to make sure this sort of thing doesn't happen in future?
"The focus should be on the amounts of the deals and who they're dealing with."