Even though she was the star performer when the Republic of Ireland last faced the United States, goalkeeper Niamh Reid-Burke knows she will probably start Saturday's match [kick-off 10.30pm Irish time] against the world champions in San Diego on the bench.
That's because Emma Byrne, team captain and record caps holder, is available having missed last May's meeting in San Jose because of club commitments with Arsenal.
When you are the back-up goalkeeper patience becomes a virture, but the Shelbourne player is ready to step into the breach if called upon.
It happened twice last year. Against Costa Rica at the Istria Cup in March she was summoned into action when Byrne had to go off with a facial injury and promptly saved a penalty in a 2-1 win, while in May she started for only the second time in her four senior appearances when Byrne was unable to make the trip to the US.
"It is always going to be hard, but it is not something that I haven't expected," said Reid-Burke.
"Emma is not only the first-choice goalkeeper, but she is also the captain and the most capped Irish player ever, so it's always going to be hard competing against the first-choice goalkeeper. But you never know what might happen in a game. I could have a chance to come on and I just have to be ready for that."
The 24-year-old admitted having to face a penalty as soon as she came on against Costa Rica In March was a bigger surprise than being thrust into the limelight.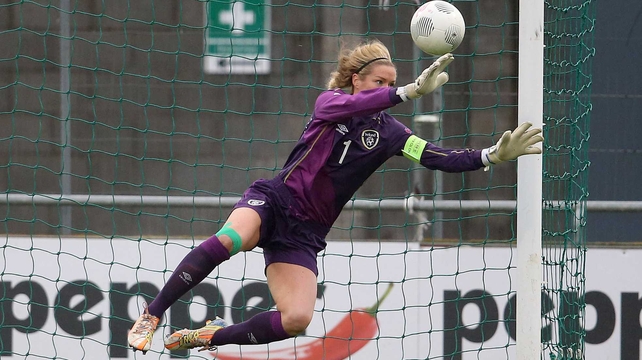 "I didn't even know it was a penalty coming on" Reid-Burke revealed
"The good thing about that is you are not expected to save a penalty but if you can, and I did, it gives you such a huge confidence boost because I am still a novice player on the team. I don't get to start that much and only have four caps so making impressions means so much for my confidence so hopefully I will get the chance to do more."
Two months later, she got another opportunity to impress, and did just that with a string of saves in a 3-0 loss against a USA that was in the final weeks of their preparations for what was ultimately a triumphant World Cup campaign.
"It was brilliant," Reid-Burke enthused.
"It was one of the highlights of my football career. I was so nervous. I liked the fact that I knew getting on the plane that I was going to be the starting goalkeeper, so the nerves didn't build up on me all of a sudden. But while the nerves were even at the start of the week, they did build up on the day of the game. However, you forget about all that once you get out there. You forget about the crowd and once I got my first touch of the ball it was good."
With Byrne likely to be pencilled in to start on Saturday, Reid-Burke's focus will be on Monday's game behind closed doors against the USA Under-23 team in Los Angeles.