Northern Ireland may be "duty bound" to ditch their controversial God Save the Queen anthem ahead of the Euro 2016 finals as a consequence of an English National Anthem Bill, which is set to be brought before the UK Parliament at Westminster on 13 January.
The bill is being proposed by Chesterfield MP Toby Perkins and is intended to question whether England should continue to use the anthem of the United Kingdom for their football team.
"I think it would be very difficult for us to continue using 'God Save the Queen' if the English decide they want a new anthem." - IFA President
The MP wants an English-specific anthem for the footballers, saying: "I have nothing against God Save the Queen but that is the national anthem of the United Kingdom.
"England is a component part of the UK but it competes as a country in its own right and I think a song that celebrated England rather than Britain would be more appropriate."
And should the bill be passed and England adopt a new anthem, Northern Ireland officials have admitted that they would most likely have to change their stance on using the anthem for future internationals.
The continued use of God Save the Queen at Windsor Park has caused much debate in recent years as many believe the anthem is divisive as it does not fully represent the jurisdiction.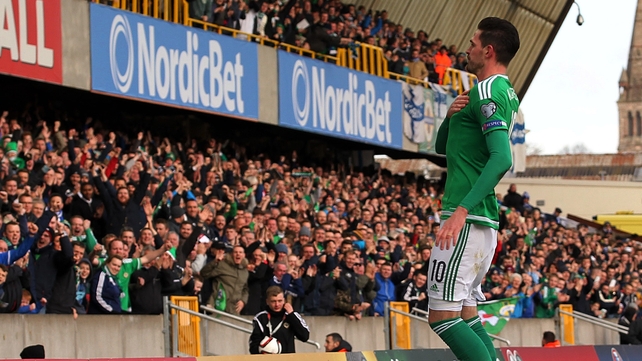 And while the Northern Ireland athletes adopted Danny Boy as their anthem of choice for the Commonwealth Games, the footballers might be forced to follow suit in time for this summer's European Championships.
Speaking in the Belfast Telegraph, Irish FA President Jim Shaw said: "The national anthem debate is one of the most divisive in our history. We've been debating it for years. If we keep it, we annoy people and we know if it goes, there will be plenty of angry supporters.
"But it's not for the Irish FA to decide what the national anthem of Northern Ireland is. That is for the devolved government at Stormont. The Scots and Welsh governments decided to change when they came into power. We didn't.
"I think it would be very difficult for us to continue using 'God Save the Queen' if the English decide they want a new anthem. I think we would be duty bound to follow suit."
Neither Scotland nor Wales use God Save the Queen in international football as they stand to Flower of Scotland and Land of Our Fathers respectively.
England's athletes also changed their anthem to Jerusalem ahead of the Commonwealth Games after a month-long public vote.
The winning anthem, Jerusalem, drew 52.5% of the votes, Land of Hope and Glory secured 32.5% of the vote, while God Save the Queen only managed 12%.