Pat Fenlon has returned to Shamrock Rovers to win trophies and the new Hoops boss has not ruled his side out of this year's championship race - although he admits that it is a tough ask.
The former Hibernian manager took control of the Dublin club on Wednesday and faces his first competitive game in charge against Derry City tomorrow night at Tallaght Stadium.
"I want to win things," the new Rovers manager told RTÉ Sport. "I'm not here for anything else. I want to win trophies and it's probably one of the only clubs I would have come back here to manage. And it's about making sure that the players are all focused on the one thing.
"The one thing about this football club is about winning and anything else is not acceptable. I understand that."
Rovers currently sit 12 points behind league leaders Dundalk and while Fenlon concedes that it is an unlikely scenario, he will just concentrate on winning as many games as possible for the final third of the season.
Fenlon added: "There's load to play for; there's three trophies there. The league championship will be very, very difficult but if we get a run of games going – we would probably need to win most of our games to have any chance – and when you get down to that nitty gritty stage, if we are in the shake-up, then things can change.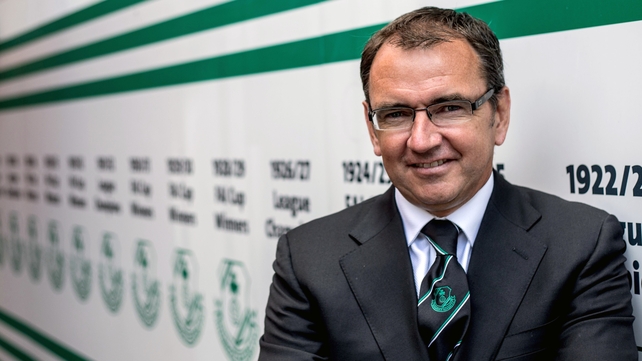 And while the league title might be a bit too ambitious this season, Fenlon still has plenty to aim for with his eye on two cups and ensuring European qualification...
"Europe is important to us. It is important from a supporters point of view and it is important from a financial point of view and we have got to try to get that.
"And obviously, being in the League Cup final should be a great occasion and then the FAI Cup is still there to play for, so there is loads to play for at the moment."
Fenlon arrives at Rovers going into the final round of fixtures, and with the transfer window closed, the new manager doesn't see wholesale changes in the current set-up for the remainder of the season, but he will use the time to work with the players and assess the squad.
"The one thing about this football club is about winning and anything else is not acceptable. I understand that."
And the new boss is also anxious to stamp his own identity on the team and use his influence on the training ground.
"Every manager who comes in has to assess the squad," said Fenlon. "I know most of them and have worked with some of them, so that helps.
"There's a good balance in the squad with a lot of experience and a lot of young players as well. So we just have to look at it and assess it over a period of time and try to get them to play to their potential and try to win as many matches as possible. We'll look at strengthening the squad at the end of the season.
"You have to work hard to get in the team and if you work hard and get in the team, then you have to stay in it. That's what football is all about. When you get a chance to play you have to give it all as we have got players who can come in and change the team if we need to.
"[The players] have to buy into the way you see it and that is why I want to work with the team and get the message across of what we want to do, and take it forward."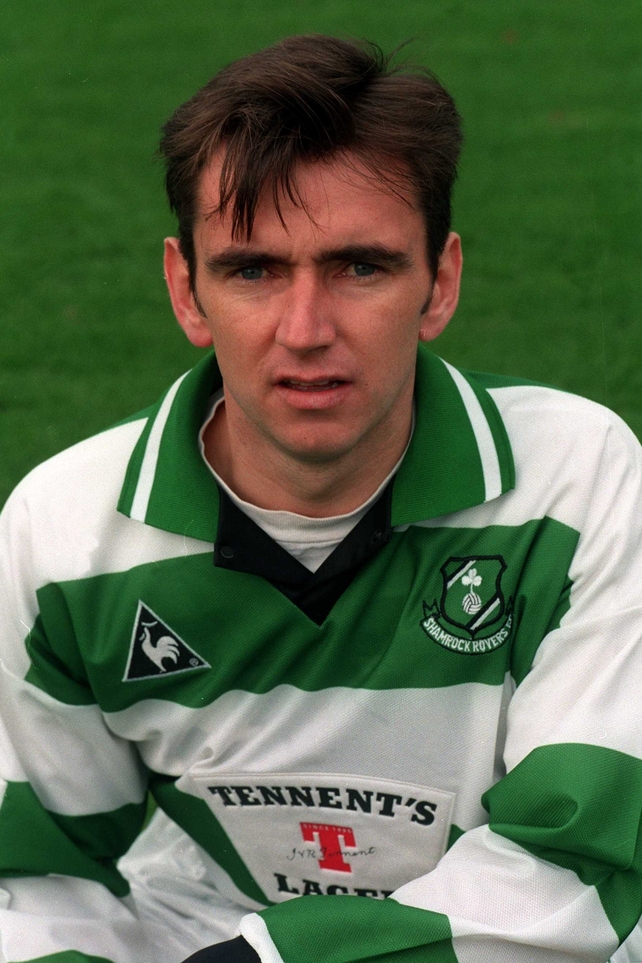 The Shamrock Rovers fans are notoriously difficult to please with two managers coming and going since their heady days in the Europa League group stages in 2011.
But the new boss knows all about the Rovers fans, having worn the famous green and white hoops in the 1990s.
Fenlon said: "Wherever you go as a player or a manager you have to win supporters over. I had to go and play at Linfield in 1994 and win the supporters over. I did that. I played for Bohs and played for Rovers and that's part of football.
"So as an individual you have to be big enough and strong enough to take the pats on the back or take the criticism, you just have to get on with it."
Training at the stadium pre match tomorrow #hoopsready pic.twitter.com/VRCq450uPh

— Shamrock Rovers F.C. (@ShamrockRovers) August 7, 2014