Chelsea manager Jose Mourinho was unrepentant about his tactics at Liverpool as his team secured a 2-0 win over the Premier League leaders that blew open the title race.
A mistake by Steven Gerrard let Demba Ba in for the opener in added time at the end of the first half, and with seconds remaining substitute Willian added a second goal on the break.
The visitors successfully stifled Liverpool's attacking flair with Mourinho's side employing every trick in the book to slow down play but it more than paid off as the usually free-scoring Reds ran out of ideas.
"The best team won, in my opinion," said Mourinho.
"Defensive display? I am a bit confused what the media thinks about defensive displays.
"When a team defends well you call it a defensive display. When a team defends badly and concedes two or three goals you don't consider it a defensive display.
"When Liverpool started to put balls in the air for Mark (Schwarzer), (Gary) Cahill and (Branislav) Ivanovic they were like in fish in water because it was so easy for them.
"The team played brilliantly. Every player was magnificent. No mistakes. I think it was a fantastic performance by my players.
"I am not looking for credit. I am very happy with my players, they know how pleased I am with their work and that is what they need from me.
"Time-wasting. What's that? You never spoke about this when we played lot of matches this season" - Jose Mourinho
"Time-wasting. What's that? You never spoke about this when we played lot of matches this season."
The win moved Chelsea to two points behind Liverpool at the top of the table. Manchester City, with a match in hand, stand just a point further behind after their win at Crystal Palace, and have the superior goal difference.
It appears the title race will go down to the wire but Mourinho does not consider his team to be contenders.
"There is no chance. We were waiting for this match to be the title match (decider) for a long time but for some reason this match didn't become the title match," he added.
"It was three important points and we need one more to finish third and if we finish third we are in the Champions League automatically.
"A champion is only one team so we don't want a trophy to finish third but we can say we won both matches against the champion as we won both against Liverpool and against City."
Gerard's slip in possession just inside his own half that allowed Ba in to score proved the key moment of the match but Mourinho, who revealed captain John Terry has a chance of being fit for Wednesday's Champions League semi-final second leg against Atletico Madrid, took no pleasure in that.
"Nobody enjoys it when someone makes a big mistake," Mourinho added.
"We enjoy it because it gave us a goal but no-one likes someone to make a mistake in that situation.
"I prefer to say Demba Ba was fantastic in front of the goalkeeper."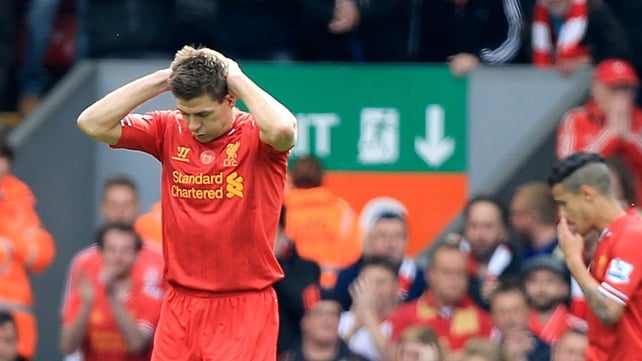 Liverpool boss Brendan Rodgers was clearly frustrated by Chelsea's defensive focus.
He said on Sky Sports: "Congratulations to Chelsea, they won the game, we just couldn't find the breakthrough.
"They obviously sat very deep. I think there were two buses parked today, never mind one.
"It was like a back six with three midfield players in front of that. That's 10, with the goalkeeper, for 90 minutes consistently behind the ball.
"Unless you get that early goal, it doesn't entice them to come out. It was clear that they'd come certainly not wanting to win the game, with the time-wasting and whatnot.
"The players gave everything and we couldn't quite get that wee bit of luck."
Rodgers was reluctant to praise Mourinho, adding: "I don't think it's a tactic. Anyone can ask a team to just sit back and defend on the edge of the box.
"It's the nature of how Chelsea play. They've got some wonderful players but they play a defensive game and hope to hit you on the counter-attack or with a mistake.
"We were disappointed with the goal, it's just one of those things. There's no blame for Stevie. I said to him he's been a wonderful player for this club and he's a massive part of why we are where we are."
"We achieved our objective of Champions League football and we just go on to our next game against Crystal Palace. Today's game will probably prepare us for that because of the nature of how Crystal Palace play."