Roy Keane believes Manchester United will justifiably stand by under-fire manager David Moyes despite a disastrous Premier League season which has seen the club suffer a series of humiliating defeats.
United registered their tenth loss of the league campaign on Tuesday when they were beaten 3-0 by rivals Manchester City at Old Trafford.
It was another embarrassing night for Moyes and United, having already gone down to Liverpool by three goals earlier this month.
Keane has been critical of United's players, but speaking at Cork City's patron scheme launch in UCC last night, he opined that the club's hierarchy would continue to back their manager and that such a stance was correct.
Keane said: "I think the game is changing. We see it at all levels. People don't have the patience, they get bogged down by a lot of the supporters sometimes.
"I think United will be all right and David Moyes will get plenty of time. The man deserves it.
"I don't think people can comprehend the size of Manchester United.
"I know he's on a six-year deal but six-year contracts can mean very little, I also know that.
"Hopefully he'll get a bit of time because anyone who has got any idea about football will know this was the biggest job, to follow Alex Ferguson.
"The clever people were saying you want to follow the manager after Alex Ferguson.
"Give the man time, give him a chance.
"I played in some good teams that were struggling, and in sport you need a few breaks.
"I don't think they're getting them at the moment. Hopefully they might get them over the next few months.
"He's got vast experience, he has staff around him and a couple of senior players.
"Giggsy (Ryan Giggs), Rio (Ferdinand), they've got to step up to the plate. One or two of the new players are getting a little bit criticism, but it's up to the players who have been there a few years who know what Manchester United are about."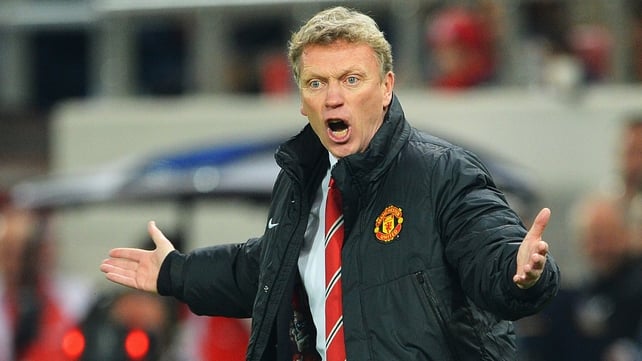 Tuesday's loss to City was another difficult night at Old Trafford, with a section of support expressing their frustration after a sixth home league loss in 15 matches.
The United support has, in the majority, continued to stay with Moyes, and Keane feels it is vital they lend their backing to Ferguson's successor and his side.
"Supporters need to stand by them," Keane added.
"It's not a lack of effort. I've seen a few of their games and they are certainly trying.
"They've lost a bit of confidence. They're human beings. They've been up against some very good teams over the last few weeks. They've also lost to lesser teams over the last few months.
"It's not going to get any easier in next couple of months with a bit more pain to come - Bayern Munich next Tuesday.

"But the players have to try and sort it out. I have been saying for years, Manchester United have great supporters and we need to see that over next few months.
"We've seen it before at all levels, it is very, very easy to support a winning team, but they need to support a team that is struggling.
"Hopefully, they'll get to the summer, get one or two players in and be ready for next year."
Keane reiterated a number of factors that have led to the decline of the side this season, from their failings in the transfer market to the impending exits of long-serving players, and that time would be required to turn the situation around.
The Republic of Ireland assistant boss continued: "We won't be able to fix or analyse United's problem tonight with a quick conversation. They need a number of players defensively.
"There are players leaving. I don't think that helps. When I played at United very rarely did a player leave the club.
"We're seeing that with Vidic, there's talking about Evra, obviously Rio and Giggsy are coming to an end.
"There is a lot of indecision and that can affect a team. They are lacking a few leaders at the moment. I don't think they have that type of player in the group anyway.
"There is no point expecting certain players to lead when they are not that type of character.
"It is a combination of all these things - a new manager and a new staff. They went for one or two players in the summer and didn't get them. That created a lot of negativity around the club.
"I'm still fond of United, I know I left on bad terms, particularly with the manager and David Gill, but I still want them to do well."
The 42-year-old believes the introduction of strong characters to the United dressing-room would be a good starting point.
"You have got to have that passion. There is no problem losing football matches but you can lose in a good way.
"The way United have lost the last few games has been more upsetting than anything else.

"It comes from within the group. Sometimes you need a break.
"People always talk to me about the great days but we had some tough days.
"We have a lot of close games. We had a little bit of luck. Decisions went our way, we grinded out results, we survived certain games.
"They have to get certain players in, certain characters to make sure they battle for every minute of every game."
Roy Keane was speaking at the launch of a new patronage scheme for Cork City which supports the club's underage education and development fund at the Aula Maxima, University College Cork.
Roy Keane's wide-ranging interview with Tony O'Donoghue will be broadcast on Soccer Republic on RTÉ Two at 11:05pm on Monday 31 March