Arsenal manager Arsene Wenger has challenged his team to concentrate on winning a football match and nothing more when they head to Newcastle for tomorrow's Barclays Premier League finale.
The Gunners would secure a top-four finish with victory at St James' Park.
Indeed, depending on Chelsea's result at home to Everton, they still have an outside chance of snatching third place and with it automatic entry into the Champions League - or even forcing an unprecedented play-off, set for 26 May at Villa Park, were the two clubs' overall statistics to finish equal.
However, should Wenger's side slip up against the Magpies, who are now safe from the threat of relegation after FA Cup winners Wigan were sent down following a 4-1 defeat at Arsenal on Tuesday night, then Tottenham could leapfrog them by beating Sunderland.
Having fought so hard through a superb nine-match unbeaten league run to stand on the brink of what, given the circumstances of earlier in the campaign, would be a quite remarkable turnaround, Wenger expects his side to hold their nerve when it matters most.
"We know how to behave to win the games, so it's (about getting) that certainty from our long run and bringing that into our next game. It's as simple as that," the Arsenal manager said.
"It is a football match and recently we have shown that we can win these games.
"We will just continue to do what we did until now."
"We will just continue to do what we did until now" - Arsene Wenger
Arsenal deserve great credit for still being in contention to secure a top-four finish having dropped some seven points behind Tottenham when they lost 2-1 at White Hart Lane on March 3.
It is a similar scenario to the end of last season, when victory at West Brom kept them in third place and would eventually see Spurs miss out on even the chance to play a Champions League qualifier when Chelsea went on to win the European Cup.
Wenger would rather have his men involved in such an all-or-nothing encounter than to just be going through the motions.
"The pressure is big, of course, but I always said the worst (thing) in my job is to play games without any pressure," said the Frenchman, whose side have not won a trophy since the 2005 FA Cup.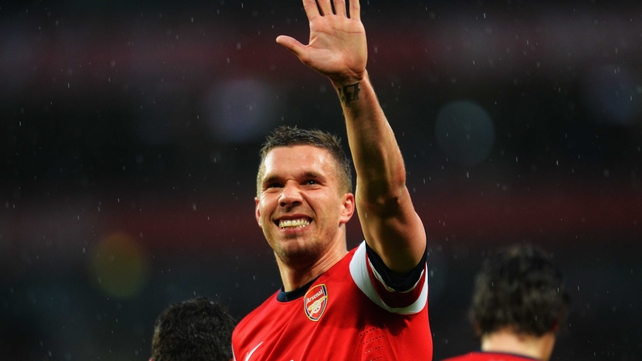 "Sometimes you think it would be nice to have a game with no pressure, but when you have one you think, 'let's get it back, it's so boring'."What would be terrible would be to go to Newcastle and have nothing at stake for us.
"We have what we wanted, so let's just finish the job."
Wenger acknowledges no-one can allow thoughts of the consequences of failure to enter their minds ahead of the match.
He said: "Defeat can happen in football, but you deal with that after the game. Before, you focus on being at your best and giving your best."
Arsenal, who are set to complete the free transfer of France Under-21 forward Yaya Sanogo from Auxerre, will have striker Olivier Giroud available again following his three-match suspension, but midfielder Mikel Arteta (calf) is a major doubt.
Giroud feels Newcastle's security could work in Arsenal's favour.
"We have to do the job and keep focused on our qualities and our game," he told Arsenal Player.
"Never mind if they are a little bit relieved - they will maybe play without pressure. I am not sure, but I think it is better for us."
PREMIER LEAGUE SOCCER
Highlights and analysis of all the action in the Premier League on Premier Soccer Sunday from 20:00 on Sunday 19 May on RTÉ Two.