Tottenham manager Andre Villas-Boas will be out to rewrite the history books once again when he returns to Chelsea tonight.
Villas-Boas heads back to Stamford Bridge for the first time since he was sacked by Blues owner Roman Abramovich after less than nine months at Stamford Bridge.
The Portuguese, 35, has rebuilt his reputation since replacing Harry Redknapp at White Hart Lane last summer, and Spurs now stand on the brink of another crack at Europe's elite club competition.
However, if they are to move back into the top four of the Barclays Premier League - they are two points behind Arsenal and three off Chelsea - then they are going to have to record a first win at Stamford Bridge since 1990.
Yet having already broken a 23-season duck by beating Manchester United at Old Trafford earlier this season, Villas-Boas is in confident mood.
"We tried our luck at Old Trafford, it worked. We managed to change the history and the pattern. We will try the same way (against Chelsea)," he said.
"The knowledge that I have, I will try to pass it onto my players to see if in any way it can help in the decision-making."
Villas-Boas added: "We have had an excellent season. We beat all the big teams in the country, apart from Chelsea.
"We have an opportunity to go there and put our destiny in our hands, so we have motivation factors that go along with a fixture like this, we have the players' ability that is absolutely outstanding."
"If you don't have a style, it makes you invisible in football. Only teams with style succeed" - AVB
Redknapp lost his job after failing to secure Champions League football, as Chelsea, who finished sixth last season, went on to win the competition and so returned as holders.
Villas-Boas is all too aware of the level of expectation from within the White Hart Lane boardroom.
"The club is ready, but getting into it is the most difficult thing," he said.

"The resources that UEFA makes available in the Champions League are not available in the Europa League and I don't have to speak about the amount of notoriety you get from playing in the Champions League.
"It is the ultimate objective for any club going forward."
During his tenure at Stamford Bridge, Villas-Boas had intended to overhaul what was a relatively aging squad, moving the likes of Didier Drogba, Frank Lampard and John Terry out in favour of younger, more dynamic players such as Juan Mata to take the club forwards.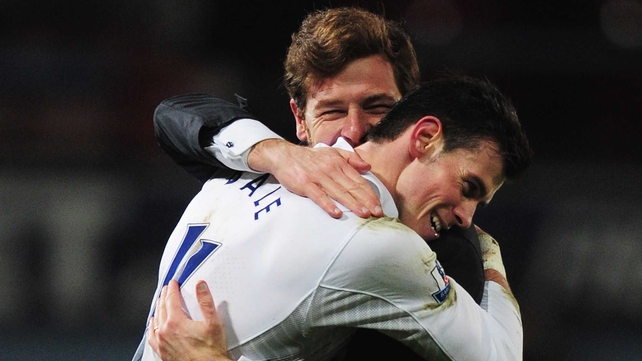 With a few minor adjustments, it appears to be a philosophy the Portuguese coach - who was part of Jose Mourinho's backroom staff at Chelsea - continues to follow as he looks to push Spurs on towards their own goals of Champions League qualification once again.
"If you don't have a style, it makes you invisible in football. Only teams with style succeed, but in the end, success normally is what matters in modern Europe," Villas-Boas said.
"Obviously what is attractive to me is maybe different to the style of football you might find attractive.
"There are various types of teams, teams built along great creative players and these Chelsea teams have the ingredient to be able to play this type of football.
"If you remember the team of 2004 was an absolutely deadly machine of football, but in a different way, a great, great counter-attacking football and one of the great teams in the country."