Alex Ferguson insisted that Manchester United's 20th league title triumph has given him fresh impetus to carry on.
The 71-year-old celebrated after a 3-0 win over Aston Villa at Old Trafford handed United the Premier League title with four matches still to play.
Asked about his own future plans, Ferguson joked: "Look at me - it's taken 10 years off me today. It's these tablets, they're great!"
Ferguson also hailed Robin van Persie as having a similar impact as Eric Cantona after the Dutch striker's hat-trick secured the victory.
Van Persie's treble included a stunning volley and Ferguson admitted the summer signing from Arsenal had been crucial.
It also ended a long wait for a Premier League title for 29-year-old Van Persie after years of trying with the Gunners.
Ferguson said: "He has made a fantastic contribution to our season.
"Look at me - it's taken 10 years off me today. It's these tablets, they're great!" - Alex Ferguson.
"In terms of impact he has as big as an impact as anyone I can imagine. Cantona was an incredible impact player and I have been very, very lucky, I have had some fantastic strikers right through, probably 10 great strikers at the club.
"I think we had an expectation. His performance for Arsenal last year was sensational and I remember Arsene saying to me 'he's a better player than you think' when we concluded the deal and I think he was right.
"He's in his mature years and winning the league meant the world to him."
Asked if Van Persie's second was a contender for goal of the season honours, Ferguson added: "Of the century for me. It was a marvellous hit, head down, over the ball, perfect timing - a magnificent strike.
"He's been unbelievable, his early form in the first six months was fantastic. He had the spell where he didn't score but he was unbelievable tonight."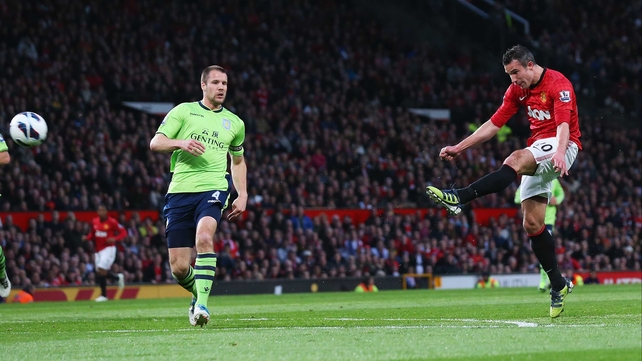 Ferguson also had a dig at Manchester City boss Roberto Mancini who had said the only difference between the two sides this season had been in "attitude".
The United boss added: "He's right in one respect - in the games between the two of us there has been nothing in it.
"But the rest of them we have been far better, we are a far better team than Manchester City in beating other teams. That's not recognised by him.
"When the two teams meet there's nothing in it, I agree with him in that respect. Apart from that stupid performance by us at Old Trafford which cost us the league last season, and we won't make that mistake again, the games have been close."
Ferguson also believes this squad of players stands equal with any of his sides of the past.
"We've won most of our games, drawn three, lost four, and the [van Persie] goal, all the great goals we've scored over the years, from David Beckham through Ole Gunnar Solskjaer, Eric Cantona, that goal has joined that. These players have joined the pedestal," he said.
"I think Rafael will eventually be comparable to Gary Neville; Jones, Ferdinand, Evans, Vidic are comparable to all the other centre-backs we have had.
"I'm not saying they are better but great players are great players and the nostalgia thing does play tricks with your mind."