By Alan Cawley
The Sligo Rovers bandwagon just keeps on rolling. The feel good factor that surrounded the title winning squad and the club at the end of last season remains and at this rate is showing no signs of abating.
If anything, it looks like they are getting stronger and stronger, a scary thought for the rest of the League of Ireland clubs.
On Saturday evening Sligo made it a magnificent seven wins from seven in the league, making it the second longest winning run in the club's history and the best winning run since 1936/37. As we are only seven games into the new season nobody will want to get carried away - especially manager Ian Baraclough - but surely even he didn't envisage a start like this. At the current rate he will find it difficult to keep a lid on expectations but he is a very intelligent and level headed man.
When he arrived here just before the start of last season he realised there wasn't an awful lot wrong with the team he inherited so he just managed and oversaw everything. He didn't look to make any drastic changes to the brand of football either because the fans were used to seeing a style of play from Paul Cook's reign, a very clever move on the part of Baraclough.
However in this current over analytical world of football we live in today people still said it was easy to win the league with that team and that they weren't his players. I think that is just the nature of the world we live in and whether we agree or not it is always going to happen.
"Elding has become a folk hero in just seven games"
For what it's worth I didn't agree. I think he has been a breath of fresh air since the day he walked through the gates of the Showgrounds. The way he carries himself and deals with people and the media is an example to us all. One thing that is certain this year nobody will be giving him any such labels as the squad he has assembled is very much his own and has his qualities written all over it.
Eyebrows may have been raised during the close season when the club lost two of its most influential members of last year's squad, Jason McGuinness and Mark Quigley. However, Baraclough handled the situation fantastically and was quick to reassure people these two players were very much replaceable. Again lots disagreed but how right has the manager been yet again. He replaced them with Evan McMillan and Anthony Elding.
Evan has made a seamless transition from Bohemians partnering stalwart Gavin Peers at the heart of the defence and Elding has become a folk hero in just seven games. The biggest compliment that can be paid to both these signings is that Sligo Rovers have not missed players of the quality of McGuinness or Quigley one iota.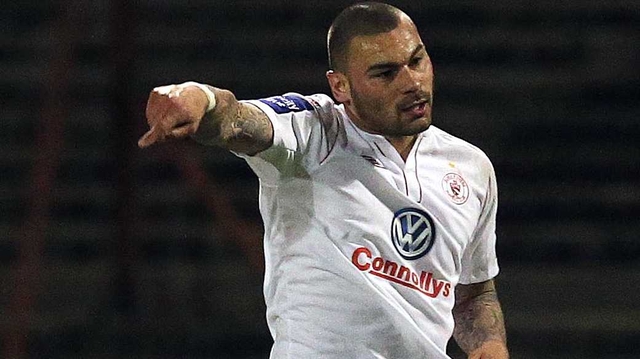 Elding, or The Beast as he is now known in Yeats county, has been nothing short of unbelievable. He has taken to his new surroundings like a duck to water. He scored his eighth league goal in seven games on Saturday night and who knows how many he can score this season if this early purple patch is anything to go by.
He is almost a throwback to a big old fashioned centre forward, excellent in the air, mobile for a big man and very good at holding the ball up and bringing people into the game. He has struck up a clinical partnership with Raffael Cretaro who himself has made a blistering start to the new season.
I have never known things to be any better In the Showgrounds. Off the pitch people are working tirelessly to sustain all that is good on the pitch and with a combination of both these things its putting bums on seats and putting smiles on the faces of the people of Sligo.
Until next week.