Andre Villas-Boas has warned Inter Milan that Gareth Bale is now even more capable of wreaking havoc against them than when he tore them apart the last time around.
Bale caught the world's attention in October 2010 when he scored a hat-trick at the San Siro and then went on to make a mockery of Brazil right-back Maicon when Inter went down 3-1 to Spurs in the reverse fixture the following month.
That victory will live long in the memory of Tottenham fans, but Bale's determination not to dine out on those two games for the rest of his career has allowed him to develop in to an even more devastating player.
Bale starred for Tottenham last season, but it is only in this campaign that the 23-year-old has come to be regarded as having similar quality to the likes of Cristiano Ronaldo and Lionel Messi.
Bale has scored 20 goals this season - comfortably his best return as a professional - and his manager thinks the Welshman is primed to cause yet more damage to Inter when the two teams lock horns in the first leg of their Europa League last-16 tie at White Hart Lane tonight.
"I think Gareth has evolved as player. He is even more threatening now," the Tottenham manager told a press conference.
"I remember seeing the highlights of Inter - Tottenham, and how Tottenham came back into the game late on.
"Maicon was an outstanding right-back, one of the Brazilian right backs, so to see a young player like Gareth play like he did against him demonstrates his talent.
"Now, two years on, he plays in a different position. He's become a different player; a bigger player and a more complete player.
"He's the kind of player who can determine the outcome of a game, as we've seen in recent matches."
"Gareth has evolved as player. He is even more threatening now" - AVB
Bale, as Villas-Boas points out, has been crucial to the unbeaten 12-match run that has seen Spurs climb above Chelsea in to third place.
The Welshman has scored nine times in seven games. Without those goals Tottenham would be seventh.
Bale has struggled with injuries in the past, but Villas-Boas sees no reason to rest the forward.
"He is fine. Most of the players feel fine and fresh," the Portuguese said.
"There is a lot of rest time between a Thursday and a Sunday (when Spurs play Liverpool)."
Villas-Boas confirmed that striker Emmanuel Adebayor has only a slim chance of playing due to a knee injury he suffered in Sunday's north London derby win.
The manager is likely rotate his goalkeepers again, with Hugo Lloris making way for Brad Friedel.
Inter's plans to stop Bale tearing them apart once again have been hit by an injury crisis.
Inter had hoped to mark the 23-year-old out of the game but they are without defenders Matias Silvestre and Yuto Nagatomo while serious doubts remain over the fitness of international centre-backs Andrea Ranocchia and Walter Samuel.
Coach Andrea Stramaccioni, who could also be without midfielder Fredy Guarin due to injury, has had to call six youth players up to his squad.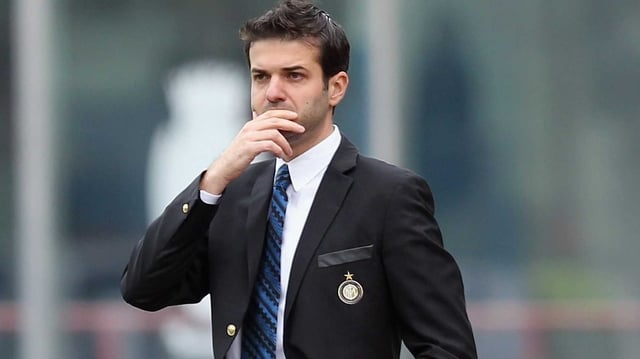 "My team should be aware of Bale's strengths, but obviously, the problem now is I don't have too many players available," Stramaccioni said.
"This is a very important game for us, but unfortunately we have lots of injuries.
"We gave a few of them tests this morning, but most of them are still struggling and we don't want to risk anyone.
"The Europa League is important, but we don't want anyone to get longer-term injuries. Our main target is third place in our league.
"That's why we brought six young players here. It's going to be difficult."
Despite their injuries, Inter arrived in London today full of confidence having come from 2-0 down at the weekend to beat Catania and move up to fourth in Serie A.
A row between Antonio Cassano and Stramaccioni has threatened to overshadow the team's trip to the English capital, however.
Stramaccioni, who replaced Claudio Ranieri as coach in March, dropped Cassano from the game in Catania after he fell out with the Italy striker, but the two appear to have patched up their differences.
"Antonio is here with us," Stramaccioni said.
"He trained regularly this morning. I don't know if he will be in the team, but I'm sure he's going to be important one way or another for us. I don't have any issues with him."
KEY BATTLES
PA Sport takes a look at the battles which may decide the outcome of the match.
GARETH BALE v CRISTIAN CHIVU
Chivu needs no reminders as to how deadly Bale can be as the Romanian was in the Inter team which Bale scored a hat-trick against in the San Siro two and a half years ago.
The Welshman has become even more deadly since that night and now operates in a central role which will mean the 32-year-old centre-back is in for a busy night.
MOUSA DEMBELE v ESTEBAN CAMBIASSO
Dembele scored a peach of a strike in Lyon to send Tottenham through to the last 16, but he has otherwise struggled of late due to a niggling hip injury.
His creativity and dribbling skills still make him a big threat for the hosts, though, and 32-year-old Cambiasso will need to draw on all his experience to shackle the Belgian.
WILLIAM GALLAS v RODRIGO PALACIO
Palacio could start in attack for Inter after manager Andrea Stramaccioni had a falling out in training with Italy frontman Antonio Cassano.
Centre-back William Gallas' experience has been vital for Spurs, but at 35 years old he remains vulnerable to a burst of pace and Argentinian Palacio would hope to take advantage of that tonight.