By Ed Leahy
Trevor Croly is about to embark on his first campaign as a League of Ireland manager and the new Shamrock Rovers boss feels very comfortable in his new role.
Croly has returned to Rovers after spending last season as Liam Buckley's assistant at St Patrick's Athletic and the former Rovers number two believes that his new club have made the transition an easy one.
Speaking to RTÉ Sport ahead of the new season, Croly said: "Shamrock Rovers is the best club to be at because you have such a great support network, although I know I shouldn't comment as I don't know what other club structures are. But I know that I am lucky to have a fantastic support network with the board and the club so that makes it somewhat an easy transition."
Croly has already put his stamp on the Hoops squad by bringing Sean O'Connor, James Chambers and Barry Murphy with him from city neighbours, St Pat's, as well as signing two of last season's best players, Jason McGuinness and Mark Quigley, from Sligo Rovers.
"I will deal with what is within my control. Expectations are for fans." - Croly
And the former Rovers defender believes that he was very lucky to arrive at a club that already had plenty of quality in the ranks.
Croly added: "We were lucky to inherit really, really good players that were at the club and then were able to bring some in to strengthen that and to blend them in."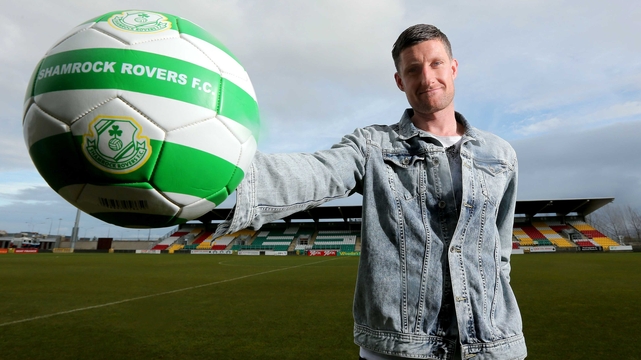 But the new boss knows that the work is only starting and is planning to take one game at a time and prepare his team for the next game and deal with every situation as they arise.
Croly said: "I will deal with what is within my control – preparing the team to play and to perform. And there will be days when we will not perform, so then there will be more preparation required.
"We'll need to assess and work out. That's our job. Hopefully we can give (the fans) performances that they can be proud of."
Croly previously spent time at Shamrock Rovers as a player and then more recently as assistant to Michael O'Neill when the club enjoyed two league-winning seasons and a place in the Europa League group stages.
But the expectation that naturally goes with the manager's job at Ireland's most successful club is not something that Croly is concerned about.
"Expectations are for fans," added Croly. "That's their job; to support and have expectations. Our expectations and goals and targets are private and they will be within our group and they will stay there."
Croly's first league game in charge sees Rovers travel north to Oriel Park on Friday night to take on former manager Stephen Kenny's Dundalk.