Tottenham manager Andre Villas-Boas sees no reason why Gareth Bale cannot win the Golden Boot this season.
With 11 matches of the season left, Bale has already racked up an impressive 15 goals in the Barclays Premier League - five more than his previous best in an entire season.
That tally leaves Bale four short of current top scorer Robin van Persie, and three adrift of Liverpool's Luis Suarez, but if the trio keep on scoring at their current rates then it will be the Welshman who ends up finishing the season as top scorer.
Over the last seven games Bale has averaged 1.28 goals per match, significantly more than Van Persie (0.28), Suarez (0.71) and Swansea hitman Michu (0.42).
Should Bale maintain this ratio he will end the season with 29 goals, with Suarez three behind on 26 and Van Persie even further adrift on 22.
"It is possible (that Bale can win the Golden Boot), yes," Villas-Boas said.
"That would be excellent. I am not sure (if he will). It is difficult. There are a lot of players competing. Van Persie, Suarez, and Jermain Defoe is still in the mix, but it is possible."
"There are a lot of players competing. Van Persie, Suarez, and Jermain Defoe is still in the mix" - AVB
Few would have predicted that Bale would become one of the hottest properties in world football when he made his debut for Spurs in 2007 as a gangly left-back.
The second goal the Welshman scored for the north London club following his arrival from Southampton six years ago was against bitter rivals Arsenal - the team they face tomorrow at White Hart Lane.
Back then Arsenal were always big favourites to beat Spurs in the derby, but it has been a much more even affair of late, with both teams winning three games, and three being drawn, over the last five years.
Villas-Boas yesterday played down the suggestion that Spurs are now the masters of north London, but he knows the seven-point gap they will open up over Arsenal if they win will prove crucial in the race for Champions League qualification.
"We are focused on trying to win because it's important to establish our position in the Premier League," the Tottenham manager said.
"Our objective is to gain the most amount of points as we can and against Arsenal, we have the chance to move further away from them and put ourselves in a more comfortable position.
"It's an opportunity. The players are ready, prepared and we all know what we want to achieve this season.
"This is a very specific game, anything could happen really.
"I think it will be an open game from both sides, full of emotion, full of adrenaline, unpredictable. I think that's the sort of game we expect and most of the fixtures have translated like that."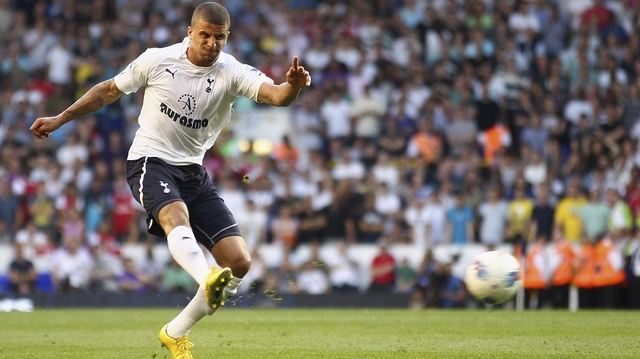 The fixture has produced some cracking games in recent times. The 4-4 draw in 2008, Spurs' second half-comeback in the 3-2 win at the Emirates in 2010, and last year's 2-1 win at White Hart Lane will be the most memorable among those devoted to the blue and white half of north London.
Arsenal fans, on the other hand, will have no trouble recalling the two 5-2 thrashings at the Emirates Stadium over the last 12 months.
Emmanuel Adebayor scored the opener in the last derby, but was then sent off after 18 minutes and Arsenal showed no mercy by putting five past their opponents.
Tottenham right-back Kyle Walker wants to avenge that defeat tomorrow.
"If we had 11 men it would have been a totally different game," Walker told Spurs TV Online.
"We might have gone on and won, but we have to put it right on Sunday."
Walker wrote himself in to White Hart Lane folklore by hitting a thunderbolt of a winner in the corresponding fixture last year (above) - which Tottenham won 2-1.
"It's a big London derby, we've got to do it for the fans and hopefully I will score a screamer again," he said.