Hearts have been hit with an indefinite transfer embargo over a failure to make payments to players.
The Scottish Premier League has announced Hearts have "not paid a number of bonuses and appearance payments" and also face a disciplinary hearing, with a full range of sanctions at the SPL's disposal.
Hearts insisted bonus payments from the William Hill Scottish Cup final win over Hibernian on 19 May had been paid.
However, it is understood bonuses had not been received last week, so the payments were likely included in this month's pay packet, on 16 December - six months late.
Payments of bonuses due this season - such as a goalscoring or clean-sheet fee - are understood to be in arrears, amounting to a six-figure sum.
"All Scottish Cup Final bonuses have been paid." - Hearts via Twitter
A statement from the SPL read: "As a result, and as described in SPL Rule A6.23, Heart of Midlothian is subject to an embargo on the registration of players until such time as the SPL board is satisfied that the remuneration default no longer continues."
The rules Hearts have been cited for relate to failure to pay players and club officials and were brought in during the summer following a series of late payments by the Edinburgh club last season. Hearts acknowledged the SPL's statement and are taking legal advice.
A notice on the club's official Twitter page read: "All Scottish Cup Final bonuses have been paid."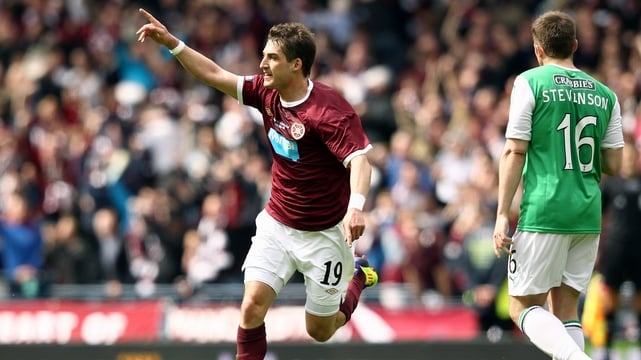 A statement on the club website read: "Heart of Midlothian today received notification from the SPL of an embargo on the registration of players in relation to an alleged remuneration default. The club is consulting with its legal advisors and will make no further comment at this time."
Hearts were initially placed under a 60-day transfer embargo on 24 October for failing to pay their players and some staff their monthly wages on time for two consecutive months. That sanction was due to end on 23 December.