Barry Murphy is returning to Shamrock Rovers for his second stint at the club after signing a deal with the Hoops.
The former Rovers number one, who spent the 2012 season at St Patrick's Athletic, played for the Hoops at schoolboy level and spent six years at the club before joining Bohemians in 2010.
Speaking about his return to Rovers, Murphy said: "I'm delighted to be back at Shamrock Rovers. I spent a couple of years away from the club, but before that I was here for most of my career.
"I worked with Trevor at St Pat's last season and I'm looking forward to working with him again next season. I think Trevor is putting a good squad together and I'm delighted to be part of that."
Rovers boss Croly has further added to his squad signing former UCD midfielder Daniel Ledwith and re-signing left back Conor Powell.
Powell (25) signed for the Hoops at the start of the 2012 season and will stay with the club for the 2013 campaign.
Pictured below: New Rovers signing Daniel Ledwith in action for UCD against his new club during last year's league clash at The UCD Bowl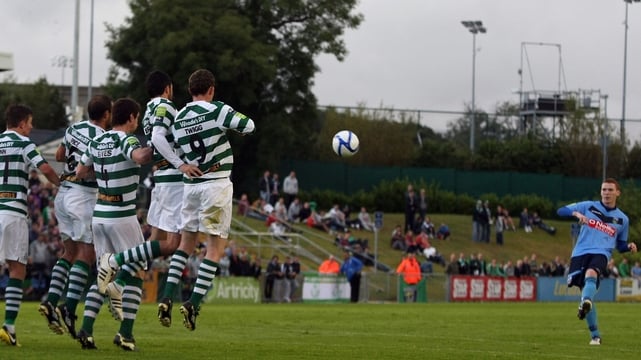 Powell said: "I'm really glad to be staying at the club. Last year was massively disappointing and I'm glad I'll get the chance to stay on and make amends for that. I think we'll have a very good side next year.
"It's good to have my contract sorted early. It can be an uncertain time for players, but now I can just concentrate on getting ready for next season."