The 2012 season will come to a close today with an intriguing final match of the year as St Patrick's Athletic and Derry City meet in the FAI Ford Cup final in the Aviva Stadium (Live RTÉ Two from 2.35pm).
The Cup final is the showpiece game of the year and a chance to showcase the league's talent to a wide audience and hopefully to a large crowd in the home of Irish football.
It is the third year the final will be held in the Aviva Stadium and if the game is anything like the previous two cup finals, we are all in for a treat.
"If the game is anything like the previous two cup finals, we are all in for a treat"
The previous finals were won on penalties with great entertainment in normal play and then the drama of the cup being won in such decisive fashion.
On this occasion, I can't see this game going to that extra length.
St Patrick's Athletic go into the match as strong favourites and rightly so in my opinion.
Their approach this season has been fantastic with exciting football played all year in Richmond Park and if there is any justice in football they should lift the cup for that alone.
Football does not work that way and Declan Devine and his troops will be a tough nut to crack after a strong end to the Premier Division season.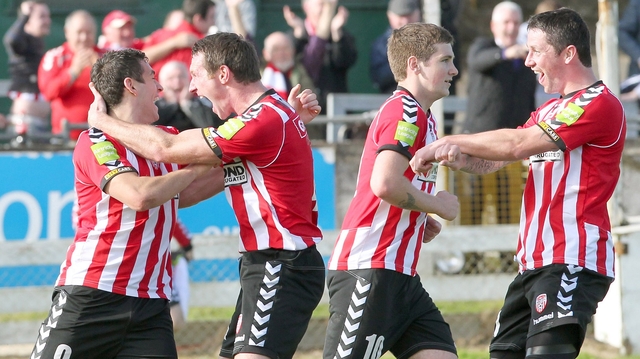 This season has been very much a mixed bag for Derry with injuries to key players playing a large part in that, but what better way to make up for it than bringing the cup back to the Brandywell on Sunday?
The open spaces on the large Aviva pitch will only enhance the game St Pat's play and Derry will have to cope with that on Sunday.
The midfield battle will be crucial and this is where I see this game being won and lost.
Pat's will play with the three central players of James Chambers, John Russell, and Jake Carroll (or Greg Bolger) and they should have an advantage over Derry's Kevin Deery and Barry Molloy.
It will give the Saints lots of possession and it is just a question of can they create enough chances to break Derry down.
Herein lies the defining aspect for this year's final - the 51-year hoodoo that hangs over the Saints and puts huge pressure on them in every cup game.
This is the closest they have been in years and my only complaint about Pat's play is sometimes they are not penetrative enough.
There is a lot of possession in front of the opposition's defence rather than being a threat in behind.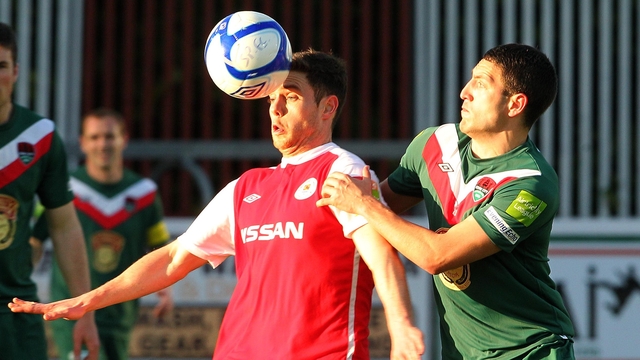 That is why I think it's crucial Pat's start with John Russell because he is the ideal player to make those surging midfield runs and offer that threat in behind.
Pat's need to make the breakthrough to settle themselves into the game because Derry have players to exploit them, if they stay in the game.
The Candystropes have a of young, talents players like Stephen McLaughlin, Barry McNamee and David McDaid and with the experience in midfield and defence, there is no reason why they should not rise to the challenge in the biggest game in Irish football.
It remains to be seen which Derry we will see this Sunday and that is the task for Devine.
Some Derry fans doubt him, others still support his leadership and this is a game to prove he has what it takes to make his time a success and move on from the Stephen Kenny shadow.
The 51 years will weigh on the mind of the Saints and the ongoing speculation of assistant manager Trevor Croly being linked with one of the club's biggest rivals Shamrock Rovers has not helped preparations.
It is last thing a team needs going into a cup final and with mixed messages in the media from Buckley and Croly, it definitely must be crossing the minds of the Pat's players at a time when they need complete focus.
With all of this in mind, I do think St Pat's will have enough to win the game and the extra class in the attack will tell, regardless of how long it takes. There is lots to look forward to on Sunday and I hope it lives up to expectation.
Until next time,
Alan.
This is my final blog of the of the season and I would just like to thank everyone for reading and all your feedback all year. It has been greatly appreciated.