By Ed Leahy
Giovanni Trapattoni has not ruled out James McClean's chances of making the Republic of Ireland squad for Euro 2012, admitting he is still undecided about the possibility of him making the cut.
Speaking at a Euro 2012 workshop for competing national associations in Warsaw, the Ireland manager was quizzed about the former Derry City star and his impact in the Sunderland team this season.
Trapattoni was full of praise for McClean praising the attitude and ability of the in-form winger.
However, the Ireland boss also emphasised that there are several players ahead of McClean in the position, hinting that it is unlikely that McClean will be an automatic choice this summer.
Trapattoni said: "McClean is not important at the moment and he will have lots of opportunities in the future to play many, many games. We change things slowly but he is a good young player so at this moment I have not made any decision.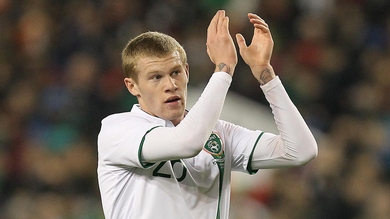 "We have a good squad and the competition for him is tough as we have McGeady, Duff, Hunt and many players for this situation.
"But we are following him because he is young and his mentality is very strong, so I have not decided at this moment if he can participate in the Euros or not."
Trapattoni also confirmed that Richard Dunne would be fit and ready for the championships, despite the influential centre-half currently sidelined with a long-term shoulder injury.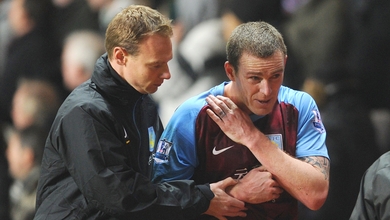 He added: "I spoke to Richard and he assured me that he will be ready for the last two games of the season. Also the doctor said that Richard should be ready before the end of the season."
Looking ahead to the tournament, Trapattoni admitted that Ireland would have a tough task qualifying from their group due to the quality of the opposition with Ireland facing Croatia, Spain and Italy in Poznan and Gdansk.
Trapattoni said: "We have a strong group. But we have met Croatia in a friendly game and the result went well for us (drawing 0-0 at Aviva Stadium last August).
"It's not easy to play against the big teams but I will study our opposition and we'll be ready for our first game in Poznan.
"They (Spain) have many great players but in my life in football I have learned that anything can happen in 90 minutes. They lost to Switzerland (in their opening game of World Cup 2010) so we are allowed to dream."
And what of Ireland's chances of landing the trophy on 1 July in Kiev?
"Spain, England, Holland and German are usually the four favourites, but then Greece won the tournament so anything is possible and every country and manager has the possibility to dream," added Trapattoni.