Juventus v Shamrock Rovers is live on RTÉ Two and on RTÉ.ie (Ireland only) from 7:30pm here.
By Rory Houston - sportonline@rte.ie
Full-time - Juventus 1-0 Shamrock Rovers (3-0 agg)
Full-time - Liverpool 2-0 FK Rabotnicki
2137 A very enjoyable evening as a beneficial one for Shamrock Rovers. They will look to draw on this experience in the title run-in from here on in.
2135 It is also all over in Anfield as Liverpool sail through.
2132 A great effort by Shamrock Rovers as they go down to a 1-0 defeat. The fans look distraught, their dream is over but it is some pride restored for the Airtricity League.
Full-time - Juventus 1-0 Shamrock Rovers
2131 One last attack from Shamrock Rovers but Murphy lets the ball run out.
2128 In the final minute now, it looks like a narrow defeat for the Tallaght side.
2126 Del Piero is allowed time to burst through the Shamrock half, the Juve great fires a shot just over the crossbar.
2125 Murray wins another header in the Juve box that he heads back to go but the goalkeeper gets ahead of Dennehy and Turner with the Hoops players set to pounce. Shame.
2124 Del Piero gets between Murray and Flynn to head to the far post but the ball goes narrowly wide. Four minutes to go.
2121 That was the best piece of Hoops play all night. Turner and Bayly combine to send Tommy Stewart down the left. His cross is headed wide by Gary Twigg. It'd be fantastic if Shamrock Rovers could grab a leveller.
2120 I think the referee should abandon the game now.
2118 Trezeguet is coming on for Juve. The tie is over but Shamrock Rovers can be proud of their efforts. Tonight was a great way to bounce back from the Aviva Atrocity.
2117 Juventus look like they will get a second as the Hoops tire.
2115 The Shamrock Rovers fans are bouncing up and down and still singing away despite that goal.
2113 That was a goal to sum up the talent, the brilliance and the class of Alessandro Del Piero.
Juventus win a free about 35 yards out, Del Piero steps up and unleashes an unstoppable drive that fires in off the crossbar. Mannus has no chance, Shamrock Rovers are going out, what a strike.
GOAL - JUVENTUS - DEL PIERO
2111 Liverpool are comfortable in Anfield, four goals up on aggregate.
2110 Bayly's cross-come-shot lands just over the bar. Tallaght's finest have to go for this now, they'll leave gaps in defence but that doesn't matter now.
2109 Lanzafame is booked for handball inside the Shamrock Rovers area.
2106 Sissoko's shot is cleared by Murray, it was destined for the net after Mannus' fist away landed on the edge of the area. Shamrock Rovers were hanging on there.
2105 There are 23 minutes left but no sign of Rovers scoring.
2104 Some of the near 1000 Shamrock Rovers fans in Modena. They're still singing and dare I say, still believe.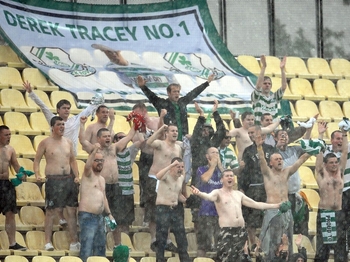 2102 Juve go close three times in a minute with Del Piero twice forcing Mannus into saves. Mannus did well to palm one wide and knock the other shot away.
2057 Bayly comes on for Rice as the rain starts to get heavy again. The Juve fans are getting restless, we have 30 minutes left and Shamrock Rovers have to go for this soon.
2056 Del Piero whips in another brilliant free-kick that the flawless (tonight anyway!) Dan Murray clears.
2054 Pepe fires over the bar, the Italians have raised their game in the last few minutes. Can Shamrock Rovers respond?
2051 Amuari's header from six yards does not have enough power to trouble Mannus. The Tallaght side cannot afford to give the big striker space.
2049 Juve are bossing the game now, the Hoops will have to ride this storm out.
2046 Del Piero flicks it on for Amuari but the Shamrock defence clear.
2045 We're underway and the Hoops are definitely adopting a more attacking formation.
2042 Alessandro Del Piero is coming on for Juve but more importantly Chris Turner and Tommy Stewart are entering the fray for the Hoops.
Brave move by O'Neill. Chambers and Kavanagh go off, it could be to rest the players but Stewart and Turner posess as a definite goal threat.
2031 It is also half-time in Anfield with Liverpool cruising through.
2030 Half-time in Modena and Rovers have done very well in tough conditions. The question is now when they go for broke. They need two goals and a creditable draw will mean nothing really.
2028 Juve clear and Bradley is booked for a late tackle as the Italian side were breaking. Dennehy was booked a short time ago as well, Shamrock Rovers will have to keep their discipline in the second half.
2027 The Hoops win a corner as Sissoko is forced to clear.
2025 The first of many. Gerrard strokes home a penalty to cement Liverpool's progress. Good play by Ngog to win the penalty.
GOAL - LIVERPOOL - STEVEN GERRARD
2023 Great turn from Ngog and he is brought down by a Rabotnicki defender. Penalty to Liverpool.
2021 The ball is lumped up to Amauri, he turns quickly away from Dan Murray but the striker drags his shot wide.
2017 What a chance for Shamrock Rovers! The ball is lashed into the back post, Murray heads across goal but Dennehy and Rice are inches away from connecting to it with an open goal in front of them. So close for the Hoops.
2016 Flynn lashes out at a Juve player when winning a free-kick near the touchline. He gets away with it, Rice will swing in the free.
2015 Mannus does well twice to firstly punch the ball away from from a corner and then grasping the ball from a Motta cross.
2012 Juventus are coming into the game more now but the conditions are proving very difficult. The tackles are flying in with Sissoko unhappy with Bradley's lunge. How can you now slide tackle when it is like slippy slide?!
2008 Shamrock Rovers win a throw-in that Stephen Rice delivers but Dan Murray commits a foul in the area. There are 25 minutes gone, the away side will be happy with this start.
2006 David Ngog puts Liverpool ahead with a close-range header that hits the underside of the bar and finds the net.
GOAL - LIVERPOOL - NGOG
2004 Bonucci heads wide from a corner, it was a free header so he could have done better. The Hoops fans are in fine spirits getting absolutely soaked in the rain.
2002 The Hoops escape as Flynn lets the ball bounce and Lanzafame drags his shot wide with just Mannus to beat. The ball should have went out of play but it got held up in the rain and Price had to hoof it clear.
2000 Liverpool are very much on top in Anfield but they have yet to make the breakthrough.
1958 Amuari beats Mannus to the ball with Murphy clears it off the line. It is amazing how this game is going ahead. It reminds me of Fingal's game with Bray last year in the promotion play-off in the Morton Stadium.
1955 And it is now working! Twigg's shot from distance is saved by the Juventus keeper. The pitch is in a horrendous state. The near touchline is drenched in water.
1953 I have a stream available to me now. Shamrock have started well in very wet conditions.
1952 Juve are having some early pressure according to our team in Modena. No goals as of yet.
1950 Unfortunately pictures are still not available.
1947 We're underway in Modena and Liverpool.
1946 I'm afraid the bad weather in Italy has affected coverage of the game so there are no pictures available yet from Modena. I'm assured all is being done to fix the problem.
1932 Gary Twigg does indeed start for the Hoops. Michael O'Neill is still resting some players with the clash with Bohemians on Sunday in mind.
1930 Shamrock Rovers: Alan Mannus, Pat Flynn, Dan Murray, Aidan Price, Danny Murphy, James Chambers, Paddy Kavanagh, Stephen Rice, Billy Dennehy, Stephen Bradley, Gary Twigg.
1928 Juventus: Marco Storari (GK), Marco Motta, Giorgio Chiellini , Mohamed Sissoko, Claudio Marchisio, Amauri, Leonardo Bonucci, Davide Lanzafame, Simone Pepe, Diego, Paolo De Ceglie

1917 Liverpool: Cavalieri, Johnson, Skrtel, Carragher, Kelly, Jovanovic, Gerrard, Lucas, Cole, Pacheco, Ngog.
Subs: Gulacsi, Aquilani, Kyrgiakos, Maxi, Wilson, Spearing, Eccleston.
1915 Still waiting on team news, I am informed it is quite wet in Modena which should suit Shamrock's game.
1903 New signing Joe Cole has handed been his competitive debut for Liverpool's Europa League third qualifying round second-leg tie at home to Rabotnicki.

As promised manager Roy Hodgson brought in his England quartet, who sat out last week's 2-0 victory, with starts for Cole, Steven Gerrard, Jamie Carragher and Glen Johnson.

Milan Jovanovic made his first appearance at Anfield, having played seven days ago, with Danny Wilson, signed from Rangers last month, named as a substitute.

There was no place in the starting line-up for midfielder Alberto Aquilani, who endured an injury-plagued maiden season having arrived last summer, with promising Spain Under-19 forward Dani Pacheco preferred.

1901 Roy Hodgson takes charge of his first competitive game in Anfield tonight, with a two-goal lead the Reds will be confident of reaching the next round.
1900 Realistically the Hoops have no chance of progressing tonight but hopefully the can put on a good show.
1840 We're waiting on team news from both matches, Gary Twigg is rumoured to be starting on the bench.
Neale Fenn is ineligible for the Tallaght side. I will inform you if he decides to retire again this evening.
1645 Good evening and welcome to text commentary on tonight's Europa League action.
It looks as if Juventus and Liverpool will advance to the next round of qualifying.
But around 1000 Shamrock Rovers fans in Modena dare to dream.
Wednesday night was demoralising for the Airtricity League.
Outclassed and outnumbered by the football powerhouse that is Manchester United, it was not nice to watch.
It was the best example of the gulf in class that exists between the Premier League and the League of Ireland, as big as the Irish sea but one that the likes of the Hoops fans refuse to sail through.
Tens of thousands of Irish supporters cheered as an Irish team were heavily beaten in the country's new national stadium.
A fraction of the 50,000 wondered why, the rest thankful that United bothered to come to Dublin.
Nobody can deny how much better United are, it would be delusional to say they are not.
It really is an argument that I'm fed up of. The Premier League is always going to be better, it is a billion-euro business at this stage.
Comparing them is pointless, both league have their positives and addictive qualities.
Shamrock Rovers aren't going to beat Juventus tonight.
But it is about representing Ireland, Dublin, Tallaght and the small number of football fans in this land who have pride in their county and country and not a business in the north of England.
The Hoops have worked very hard to get to where they are and they will enjoy tonight no matter what happens.
Rant over, I'll see you back here at 7pm.