Ronnie O'Sullivan claimed a sixth Masters title with a dominant performance in the final, beating the unfortunate Barry Hawkins 10-1.
This was the Rocket's first tournament since he was knocked out of last year's world championship in April.
And while he looked a little rusty at times during the week at Alexandra Palace, he barely hit a loose shot in the decider.
He lost the opening frame to Hawkins, but he bounced straight back and finished the first session with a commanding 7-1 lead.
And he finished the evening session off with the minimum of fuss, taking the three frames required, barely giving his opponent a chance.
In their 10 previous matches Hawkins had won only once, in their first meeting during the Scottish Open in 2002.
This one really went with the form-book as O'Sullivan moved level with Stephen Hendry on six Masters titles by beating a man who had never won a match at this tournament before this year.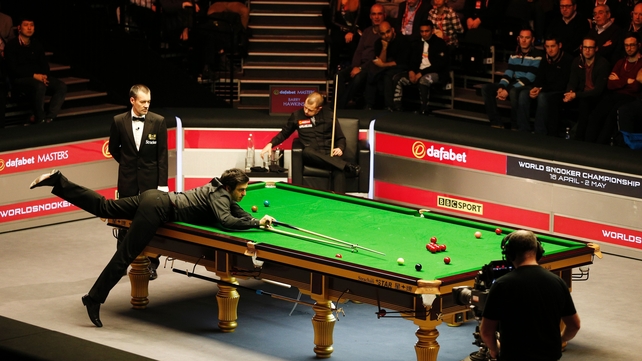 "I'm over the moon," O'Sullivan told the BBC.
"I watched Barry play in his semi-final and I knew I needed to raise my level and I was able to do that. I managed my emotions well on such a big occasion.
"I'm delighted I've been able to play as well as I have done. I'm never normally surprised that I win tournaments but I'm surprised I've won my first one back in eight months.
"But if I can produce some form it doesn't matter how much time you take out, it is all about producing it and I was able to do that this week."
2016 Dafabet Masters trophy presentation Watch @RonnieO147 pick up his 6th Masters title https://t.co/TLBwykGckP

— World Snooker (@WorldSnooker1) January 17, 2016
For Hawkins, it was a case of what might have been as he was beaten by O'Sullivan for a 10th time in succession.
"I wish he would retire, to be fair!" he joked about his conqueror.
"I'm disappointed with my performance today, I didn't give him a game today at all. I didn't feel like I could pot a ball in the end.
"If someone said to me I would have got to the final at the start of the week and play Ronnie I would have ripped their arm off but when you get to the final you want to perform.
"I'm sure I will look back at it and think I have done well but it is just one of those things."