Neil Robertson won a dramatic final-frame decider to knock Mark Allen out of the Masters for the third year in succession.
The Australian repeated last year's 6-5 win over his fellow left-hander, who he also knocked out in 2012.
The match was not of the highest quality but Robertson showed great resolve to come from behind five times before taking the deciding frame.
The pre-interval frames were shared, Allen taking the opener with a 114 break before play turned scrappy and the players asked for the cue ball to be changed.
Allen won a messy first frame back with a 38 break to the blue, having earlier missed the simplest of reds.
Robertson levelled with a marvellous 101 break but a 65 restored the Antrim man's lead.
Robertson won the next with the help of a 41 and though Allen responded with 52 to lead 5-4, the world number one set up a decider.
He was in first with only 13 but Allen's response, sparked by a superb long green, reached only 30 before a foul.
Robertson survived a huge kick on a blue to clear with 59 to the pink for victory but admitted afterwards he had struggled with conditions.
"It was similar to the UK (Championship)," said Robertson, who last month labelled the second table at York's Barbican Centre "unplayable" and "garbage".
"When the arena is so hot the balls just spray off all over the place," he added. "We had to get the white changed because it was playing like a ping-pong ball.
"After the interval it got a bit better but it was hard work. But I'm really happy with that clearance there, especially with that kick off the blue.
"I feel for Mark, it's similar to last year and how he went out 6-5 to me."
Robertson next faces Stephen Maguire, who beat Joe Perry 6-4 on Monday.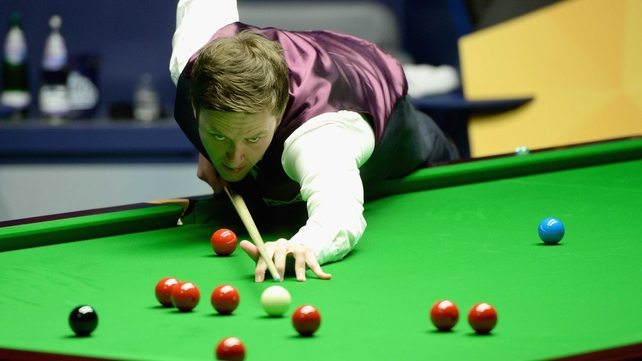 There was more final-frame drama in the late game as Walden hit back from three frames down to beat Hawkins 6-5.
The pair met in last year's World Championship semi-final, which Hawkins won 17-14, and it was another tense encounter here as Walden recovered from 5-2 down to triumph.
Hawkins won the first three frames with fluent breaks, starting with 85 in the opener before fluking a red to set up a 57 in the second.
Even better was to follow with a 132 in the next, meaning Walden desperately needed to win the final frame before the interval.
He was first in with a break of 50 but looked set to lose the frame as Hawkins battle back. The latter missed a tricky final brown, though, and Walden got over the line.
Hawkins returned from the interval to again fluke an opening red, following it with an excellent black to set up a break of 112 and a 4-1 lead.
Walden responded with his first century to close to 4-2 but got a kick when playing safe in the next, letting Hawkins in for a 59 break which set him on his way to 5-2.
Walden closed to 5-4 with breaks of 73 and 46, though Hawkins took frame nine to a re-spotted black only to play a dreadful shot and leave Walden an easy pot.
A hit-and-hope escape from Walden turned into a fluke plant and a break of 28 but the frame ran for 52 minutes before he finally got over the line by potting the yellow.
He established a 34-point lead in the decider and a break of 31 left Hawkins needing snookers, with Walden sealing victory by potting the final red to reach the quarter-final of the Masters for the first time.