Barry Hawkins will play Ronnie O'Sullivan in the Betfair World Championship snooker final after beating Ricky Walden tonight.
Hawkins trailed 6-2 after the opening session on Thursday and by 12-8 at one stage this morning, but he turned the match around in extraordinary fashion and reeled off eight frames in a row on the way to earning a 17-14 victory.
The Kent-based world number 14 fired breaks of 66, 60 and 79 to move to 16-12 at this evening's mid-session interval, with 30-year-old Chester cueman Walden's game in disarray.
Walden is a two-time ranking event winner and pulled two frames back to revive his flagging hopes, but Hawkins kept his cool amid growing tension to eliminate his good friend and achieve every player's dream of reaching the Crucible final.
"I can't believe it, I'm in bits" - Barry Hawkins
Emotion overcame 34-year-old Hawkins as he dropped in the final red, and he and Walden hugged warmly at the end before departing the arena with a wide smile across his face, to be met by another embrace from his coach Terry Griffiths.
"I can't believe it, I'm in bits," Hawkins told the BBC.
"I've got nothing to lose now. I'm just going to go out and enjoy it and see what happens."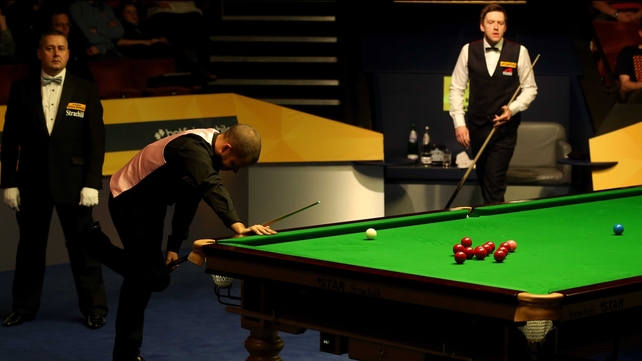 Walden said in his press conference: "Barry started to play better towards the end of the match. Barry deserved to win in the end.
"I'll look back and take the positives but just now it's a bit sore.
"If Barry gets off to a good start in the final he can definitely keep Ronnie at bay."