After a classic in Twickenham on Saturday, Andy Farrell's team conspired to give us more drama than we really wanted or needed on Sunday in Edinburgh.
Ireland looked like they were in full control of their fate with 55 minutes on the clock. They had opened up a 14-point lead, turned over six Scottish lineouts and managed to thwart the Scottish threat, with the obvious exception of the shambolic defending for Finn Russell's try.
Before the game, I felt that Ireland were facing into a slippery fixture, an away fixture at Murrayfield against a Scottish side really on the rise. Gregor Townsend had steered his team to a rare Twickenham win and played all the rugby against Wales, before the dismissal of Zander Ferguson contributed to their downfall.
I can't say I had great confidence in Ireland's chances until I heard Ronan O'Gara mention during the week that every time this Scottish side threatens to fulfil their potential, they beat themselves. It made me think slightly differently about the game, because I knew he was right.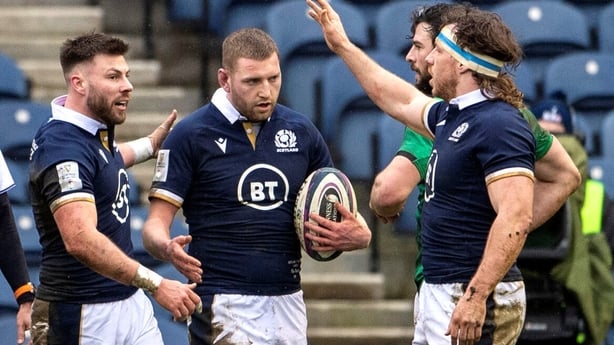 Essentially, we saw a lot of that from Scotland.
Their lineout capitulated and Ireland were able to dominate possession for large parts of the game. We witnessed more of what Paul O'Connell has brought into the coaching team, a rapid impact on the Irish set-piece. The men in green were rock solid on their own throw too, with Rob Herring more than justifying his inclusion, despite the dynamism of Rónan Kelleher around the pitch.
To get this team back on the front foot, the set-piece is crucial, and it played a massive role in turning over Scotland in Murrayfield when it felt like it was Scotland's turn to dominate.
'Simple plays, you'd see them at club level' - Eddie O'Sullivan on Ireland's bewildering attack play #RTERugby #RTESport #IREvENG #SCOvIRE #AgainstTheHead https://t.co/ao1mpOaPtE pic.twitter.com/ia5PH66PW2

— RTÉ Rugby (@RTErugby) March 17, 2021
Unfortunately, Ireland weren't as clinical with their possession. Sexton had managed the team through the first half quite well and he was gifted a penalty late in the half to give the visitors a 14-10 interval lead. There should have been a bit more daylight between the teams considering the Irish dominance and the fortunate Scotland try.
Some handling errors in the first half didn't allow Ireland to build the scoreboard the way we've seen when they've been most dominant.
Farrell persisted with the kicking game, which Johnny Sexton implemented to good effect, but it was a combination of Keith Earls, and in particular Robbie Henshaw, that brought success to this part of the game.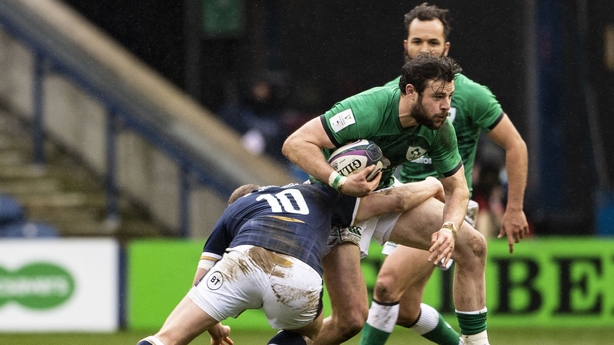 Henshaw was the one that disrupted Stuart Hogg in the air after the Sexton Garryowen into the Scottish 22 and he was on hand again to pick up the scraps from a poorly-executed Sexton cross-field kick that Earls managed to make the most of.
Ireland weren't cruising, but that's to be expected at the current stage of their game-plan. Yet, they were building nicely and everything seemed quite relaxed at 55 minutes with a raft of changes on both sides.
Throughout the competition, and indeed for the past two years, Ireland have been guilty of isolated defensive lapses. To their credit on Sunday, the defence had been superb all day, especially when you consider how dangerous Scotland can be with ball in hand, but then the defensive line got very narrow and therefore the line speed dropped.
The home side played on the gain-line far too easily and for all three of their three tries, the Irish management will undoubtedly feel that there was so much more that could have done.
Unfortunately, James Lowe had a day to forget and contributed to the spirited Scotland comeback with a horrendous defensive error leading up to the Huw Jones try. Had Ireland kept the Scots out in this attack, they would have cruised to victory on the road and confidence would have been mostly recovered with England next up at the Aviva.
There were stand out performances from the Irish big guns. Sexton, Henshaw, Earls, Tadhg Furlong and Iain Henderson were constant thorns in the Scottish side. Add player of the match Tadhg Beirne to that list and Hugo Keenan for his dominance in the air.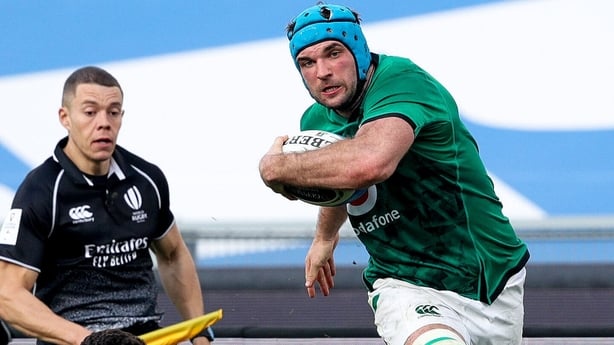 However, the thoughts of England coming to Dublin in the form they showed last week is still a little bit frightening. France kicked the ball back to England far too often, and astonishingly loosely. We can only hope that the Irish kicking game is much tidier than that, and to their credit it really has been. It was a hugely contributing factor in their win at Murrayfield.
Nonetheless, the point about Ireland kicking the ball too frequently is what's most important here. Their game is built around exiting and playing as far up the pitch as possible, and that works against some teams.
There's far too much power, pace and dominance in the English pack for Ireland to survive large parts of the game in their own half defending
It's not going to work against England.
There's far too much power, pace and dominance in the English pack for Ireland to survive large parts of the game in their own half defending. It's what killed the French at the end of the game last week. Les Bleus managed to be in a position to win the game because of their ability to score from nothing.
There were times when they had no momentum or threat, and then all of a sudden, they can score straight from the set-piece due to the ominous threat of the Fickou-Vakatawa axis in midfield, causing the opposition to double job and leaving the outside positions free to run into.
Ireland don't currently have that ability from set-piece, or against the run of play, to score freely. The Irish game is built on dominance of possession and chipping away at a lead before we can really open up. We won't be afforded that against England, and definitely not at this late stage of the tournament.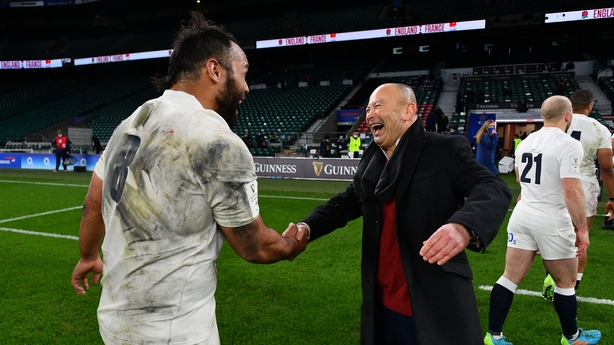 One of the dangers for England is that they were playing with one-fifth of their team lacking match practice. They have that now, and their confidence has returned after beating the tournament favourites.
Fortunately for Ireland, their most experienced players have stood up and have been backed up nicely by the guys around them. Beirne has been exceptional, so too has his ally in blue head gear, Will Connors, and there's been an injection of energy from the likes of Ryan Baird when he's taken to the pitch.
It's not often that Ireland play England in the last round of the tournament with both sides out of the running, but we're still set up for an exciting weekend of rugby
If Ireland can perform at home to finish off the tournament, it will be a phenomenal turnaround since the lows of weeks one and two. However, they are still in murky water and a loss at home, despite England's form, will leave lingering question marks over the direction the team is going in.
It's not often that Ireland play England in the last round of the tournament with both sides out of the running, but we're still set up for an exciting weekend of rugby, with loads to play for.
Follow Ireland v England (kick-off 4.45pm, Saturday) via our live blog on RTE.ie and the RTÉ News app or listen live on RTÉ Radio 1's Saturday Sport. Highlights on Against the Head on RTÉ2 and RTÉ Player, 8pm Monday.