Andy Farrell backed his team's decision-making in the aftermath of a dispiriting loss to France in Paris that scuppered Ireland's Six Nations hopes.
During the week the head coach had dismissed the notion of playing a "high-risk" game in order to secure a try-bonus point, which in the end, following eventual winners England's 34-5 victory over Italy, was not required.
Conor Murray took a shot at goal early on and later in the half, captain Johnny Sexton turned down a relatively straightforward three-pointer.
Asked what the plan was, Farrell told reporters: "The plan is pretty simple, it's the feel and flow of the game.
"And the guys out there have that feel and flow.
"Conor fancied himself early doors, even though it was long-range kick he'd been banging them over for fun in the warm-up and he backed himself to do that.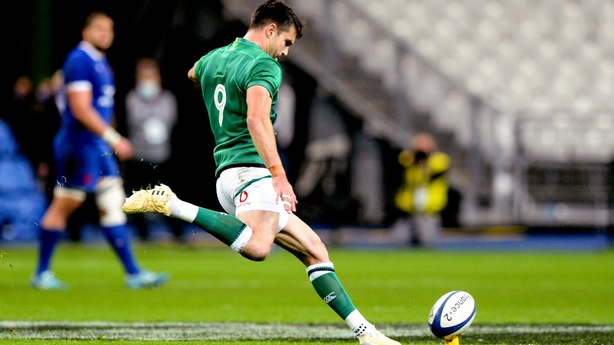 "You're probably getting to the point just before half-time as well whether to go for posts or to the corner.
"I back the players to feel what's right, feel the flow of the game, and I suppose everyone would judge the decision what's right and what's wrong.
"But I would more go down trying and go down the line once you make a decision it's how you execute that.
"And those are the bits that I'll be critical of."
Sexton said he had no regrets at turning down kickable shots: "No, because they had the yellow card so for 10 minutes we had the extra man.
"We should have scored from a couple of those we kicked to the corner, then just before half-time we could have taken three points and gone in with the lead.
"But look, we knew we had to win the game by six or get four tries, so we were trying our best to put the pressure on.
"We knew they could score tries out of nothing, it's a bit like when you play the All Blacks.
"You have to have the mentality to score tries, sometimes it comes off, sometimes it doesn't.
"The decision was brave but the execution didn't back up the decision."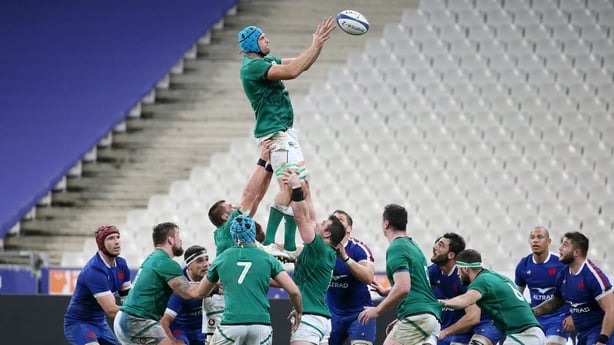 Farrell, whose son, England captain Owen, was one of the main beneficiaries of Ireland's 35-27 loss, the margin of France's victory not enough to propel them over the line after finishing level on points, added that he'll have a busy time pouring over the video and lamenting how many chances they had.
"Quite a few things [went wrong] actually," said Farrell of the overall performance, which saw Ireland lose three of 17 lineouts and concede 14 turnovers.
"There were enough opportunities there for us to win two games.
"We certainly weren't clinical enough with the opportunities that we had and if you don't take your chances in big games like this then you'll come unstuck eventually.
"It's an obviously thing to say but we'd enough entries into the French 22 and didn't come away with points.
"It's as simple as that really."
Ireland were still in the game at the break, but an 11-point salvo at the start of the second half by Fabien Galthie's side, who finished with four tries to Ireland's three, proved costly.
He added: "At half-time the chat was about belief, it was a little bit off and we shipped a score just after half-time, it wasn't great.
"We killed our own momentum at times and then that stopped the fluidity of things, I suppose the errors that we made were across the board, it wasn't just one area but I suppose being clinical in the last third of the pitch was the main point.
"I actually thought at half-time we were 80%, not quite 100% at it fully and believing.

"That's what I'm saying about having opportunities close to the line, and not quite getting there with our rucking, with our collision work.
"I thought it was okay at times, but you've got to make your own luck in big games like this against big guys like that.
"We didn't 100% go for it as far as accuracy and physicality, we could have come away with more points in that first-half.
"At half-time you try to correct a few things and give belief, but they scored that try.
"There were quite a few big moments in that game, 28-20, we had a lineout on their line and came away with nothing.
"The set-piece a couple of times, we spilt a few balls, missed touch twice, there's an array of things that sap you and feed energy to the opposition."