The RTÉ rugby panel have reflected on what Friday night's 22-9 loss to Wales in Cardiff means for Ireland and coach Joe Schmidt.
Former Ireland coach Eddie O'Sullivan says that other teams have figured out Schmidt's attacking approach and that our game plan needs to change: "There are questions about where we're going. We can't break teams down and we're becoming a bit predictable.
"Last night we had 60% possession and territory in the second half and we had three points to show for it. That's a problem.
"The lineout didn't function in Scotland or last night and the back row has been chopped down before. There are obvious problems that aren't being fixed.
"We have underperformed in that area against teams who front up defensively, as we knew Wales would.
"We were picked apart defensively in the World Cup by Argentina, which was flagged before it happened. The last two tournaments we've been shut down with the ball in hand. We haven't been able to batter our way through teams but we've persisted with it.
"Teams are not afraid of our attack anymore"
"Our back row were shut down again last night. One of the key elements of our game plan is our back row running over people, but teams now how to stop that, so going in with that is flawed. It's not going to work against smart teams.
"Teams are not afraid of our attack anymore. If they defend with any bit of sense and intensity, they can lock us down.
"We catch teams now and again or overpower teams but in terms of picking teams apart and breaking them down strategically, I don't see it consistently.
"Maybe it was there at the start (of Joe Schmidt's reign) it isn't there for the last two or three tournaments.
"The job of a coach is to find a way to break that down. Whatever way we constructed ourselves, we didn't get there, we didn't get the space with the ball in hand.
"The plan might have been the right intention but whatever way we went about it, we didn't succeed."
"There are questions about where we're going" @TheRealEddieOS thinks Ireland have become predictable #rterugby pic.twitter.com/L00yVkKWfo

— RTÉ Rugby (@RTErugby) March 11, 2017
Analyst Brent Pope thinks that Wales have Ireland's number and that Schmidt needs to make personnel changes.
"It's not rocket science to suggest that under Warren Gatland, Wales knew how to beat Ireland.
"They did it in the 2011 World Cup by chopping down (Sean) O'Brien and Heaslip, they did it again two years ago and they did it again last night.
"Running out the same thing that 'we were the better team but we lost' just doesn't wash with the public anymore.
"Wales deserved their win. Three tries to nil tells its story. You've got to score tries.
"Yes, there are positives but you've got to give credit to the opposition as well. It's not always about Ireland not performing rather than the other side performing.
"I think they've left this championship behind them.
"Something is not working"
"We all thought after the performances against New Zealand, Australia and South Africa, that Irish rugby could consistently dine at the top table, and that would have meant a match for a Grand Slam or at least a championship against England this season.
"Something is not working. You can say 'we're building to something' but you're based on results.
"The lineout misfired against Scotland and again last night.
"He's got to have a serious look at selections now, the back row and the composition of the lineouts.
"You've got options there. Iain Henderson, playing Stander at 6,7 or 8 or moving Sean O'Brien around. He's got to have a look at Rory Best and the lineout throws."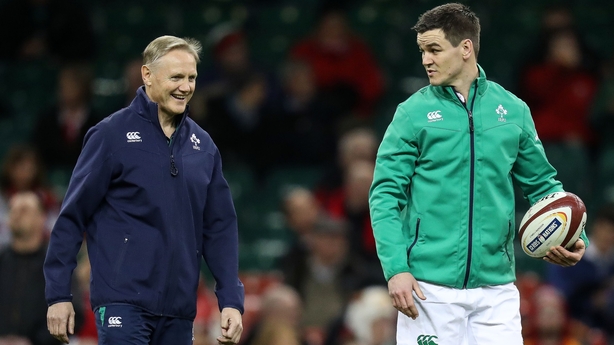 65-cap Ireland international Shane Horgan still believes Joe Schmidt's approach is correct but that the players are failing to adapt when things don't go their way on the field.
"Is the game plan Joe Schmidt is presenting to the players and trying to implement fundamentally wrong?
"I believe it's not, it's a correct game plan.
"Against Wales I think they tried to play more rugby than I've seen them do a lot of times.
"Maybe to their detriment, because they played a lot of rugby in their own 22 to 40.
"Ireland were trying to go after Wales on the corners. There were defensive frailties there that we had seen in the Six Nations already but the accuracy wasn't present from the players.
"The game plan wasn't perfect in every way but Joe Schmidt has a fundamental understanding of how best to set up Ireland to win games."
"I think technical fixes are the key. When something doesn't go right for Ireland that they expect to go right, like their rolling maul or their power running, that causes big distress.
"It's more likely that he'll make changes in personnel than change his philosophy"
"When a couple of key elements of our game break down, the rest of our game becomes very difficult.
"It's more likely that he'll make changes in personnel than change his philosophy.
"It worked against New Zealand incredibly a couple of months ago.
"The game plan isn't always perfect, or players don't always implement it perfectly and you have to be able to adapt to that.
"It's very hard to move the ball wide if you're getting no forward momentum off your initial carry.
"They were trying a little bit more sophistication around the carriers further wide but that didn't work either so they're going to have to go for another fix.
"At the moment they're being chopped down too early and when that happens, the whole game is off.
"But that shouldn't mean you lose the game. What you do then is you go into the corners with your kicking game. We did some of that last night but not enough."