Gallant failures, heroic victories and chastening tumpings - it's never boring when Ireland travel to Twickenham. We look back on five of the most memorable encounters with the old enemy.
2014 - England 13 -10 Ireland
Brian O'Driscoll matched George Gregan's record of 139 Test appearances for his country but the day was marred as Ireland fell to a disappointing defeat against a gritty English side in Twickenham.
Stuart Lancaster's men were the better of the two sides throughout, and were it not for one brilliant move from the Irish backline England could have won more comfortably.
Rob Kearney's 42nd-minute try was straight from the training ground and it cracked open the English defence. However, even that couldn't prevent Danny Care's sting in the tail.
Remarkably there was only score in the first half as England held a 3-0 advantage at half-time. They could have been further ahead.
Jonny May had a gilt-edged opportunity to get them on the scoreboard after just six minutes, but the Gloucester winger failed to get the ball down in time, and a combination of Conor Murray and Andrew Trimble knocked the ball from his grasp.
Ireland had beaten England three times since 2002 and under Joe Schmidt they looked a rejuvenated side. They fell behind after 24 minutes though - after being penalised in the line-out Owen Farrell stepped up to slot the penalty from distance.
That was the only score of the half as England held a three-point lead going into half-time, and then Ireland conjured up a defence-splitting move for Kearney to race home.
With Johnny Sexton's conversion Ireland held a 7-3 lead. Six minutes later they went further in front. England lock Courtney Laws was guilty of not rolling away, and Sexton split the posts.
Ireland were in command coming up towards the hour but when Chris Robshaw constructed an opening for Mike Brown the Ireland rearguard were in trouble.
The Harlequins full-back was eventually brought down but kept his hands free to off-load to the on-rushing Care, and he made no mistake.
Scorers – England: D Care try; O Farrell 2 pens, con.
Ireland: R Kearney try; J Sexton pen, con.
England: M Brown; J Nowell, L Burrell, B Twelvetrees, J May; O Farrell, D Care; J Marler, D Hartley, D Wilson; J Launchbury, C Lawes; T Wood, C Robshaw, B Vunipola.
Replacements: T Youngs, M Vunipola, H Thomas, D Attwood, B Morgan, L Dickson, G Ford, A Goode.
Ireland: R Kearney; A Trimble, B O'Driscoll, G D'Arcy, D Kearney; J Sexton, C Murray; C Healy, R Best, M Ross; D Toner, P O'Connell; P O'Mahony, C Henry, J Heaslip.
Replacements: S Cronin, J McGrath, M Moore, I Henderson, J Murphy, I Boss, P Jackson, F McFadden.
Referee: Craig Joubert (South Africa).
2010 - England 16-20 Ireland
Tommy Bowe bagged the first and last Irish try as Ireland left Twickenham with England's Grand Slam dreams in tatters following an epic finish in London.
The then-Ospreys flyer dotted down in the third and 83rd minutes as Ireland required a late late comeback after Jonny Wilkinson had nudged England 16-13 in front with a trademark drop-goal.
Ireland took an 8-6 lead into half-time and a Keith Earls try pushed them further ahead. But England fought back through a Dan Cole effort and Wilkinson's exploits fell just short.
Ireland made the best possible start to the game and the omens weren't great for England when the kick-off went all wrong for Wilkinson.
He was then caught in possession, and as Ireland stripped the ball, possession found its way to Jonny Sexton and his kick through was dived on by Bowe for Ireland's first try. Sexton missed the conversion.
Wilkinson made amends when he kicked England's first points from a penalty after 17 minutes. Sexton hit back when Dylan Hartley was pinged, but another Wilkinson penalty kept England in it, and they only trailed by two at half-time.
The pair were off target with a couple of efforts off the tee after half-time, but Ireland landed a major blow just before the hour.
Munster wing Earls slid over in the corner, after Sexton set him up but another missed conversion kept England well in the game.
And it didn't take long for them to make Sexton pay for his inaccuracy, as Cole barged over just five minutes after Earls had crossed for Ireland. Wilkinson's conversion meant that it was 13-13 moving into the final quarter of the game.
Wilkinson looked to have won it with a late drop-goal, before Bowe dotted down his second try to snatch it.
Scorers – England: D Cole try; J Wilkinson 2 pens, drop-goal, con.
Ireland: T Bowe 2, K Earls tries; J Sexton pen; R O'Gara con.
England: D Armitage; M Cueto, M Tait, R Flutey, U Monye; J Wilkinson, D Care; T Payne, D Hartley, D Cole; S Shaw, S Borthwick; J Haskell, L Moody, N Easter.
Replacements: B Foden, P Hodgson, L Mears, D Wilson. L Deacon, J Worsley, T Flood.
Ireland: G Murphy; T Bowe, B O'Driscoll, G D'Arcy, K Earls; J Sexton, T O'Leary; C Healy, R Best, J Hayes; D O'Callaghan, P O'Connell; S Ferris, D Wallace, J Heaslip.
Replacements: A Trimble, R O'Gara, T Buckley, L Cullen, S Jennings, S Cronin, E Reddan.
Referee: Mark Lawrence (South Africa).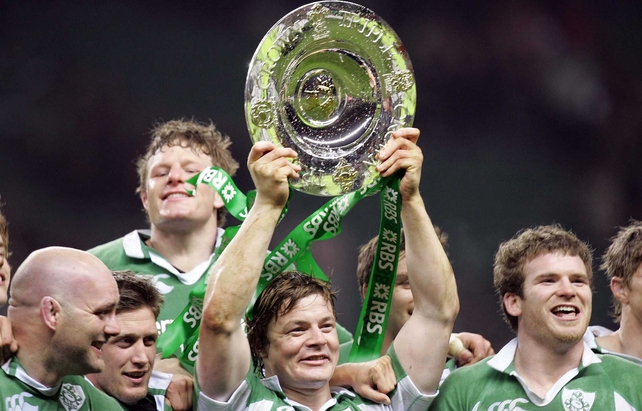 2006 - England 24-28 Ireland
Shane Horgan struck with just two minutes remaining as Ireland clinched the Triple Crown against England at a stunned Twickenham.
It was the Leinster winger's second try and was a magnificent finish despite the attention of opposing flanker Lewis Moody.
Andy Goode had kicked England in front in the dying minutes, but Horgan's effort secured Ireland's second Triple Crown in the tree years, and their third win in a row over England.
Ireland held an 11-8 lead at half-time and even though Goode did his best, it was the 13-point haul of Ireland out-half Ronan O'Gara that proved decisive in the end.
England raced out of the blocks in the first half. The quick thinking of Martin Corry, led to Goode putting centre Jamie Noon across the whitewash inside two minutes to give them a big lead.
Horgan was on hand to hit back, he kicked through and latched onto the ball before touching down to ensure Ireland stayed in the game with his first of the day.
O'Gara [two] and Goode [one] traded penalties before the break as Ireland took a deserved three-point lead into half-time. The Munster No 10 added another penalty on the resumption when Moody was pinged, but again Goode hit back.
England then went on the offensive again, and after a period of intense pressure on the Irish line it finally yielded dividends, when Goode set-up Steve Borthwick's try as England re-took the lead, with the conversion pushing them 18-14 in front.
But the drama wasn't over yet, and Ireland hadn't given up. Denis Leamy seized upon a poor English line-out to get in ahead of Moody and touch down. When O'Gara slotted the extras Ireland were in charge.
Two more Goode penalties looked to have stolen it for England, but Horgan dived full stretch to wrestle back the Triple Crown.
Scorers - England: J Noon, S Borthwick tries; A Goode 4 pens, con.
Ireland: S Horgan 2, D Leamy tries; R O'Gara 3 pens, 2 cons.
England: T Voyce; M Cueto, J Noon, S Abbott, B Cohen; A Goode, H Ellis; A Sheridan, L Mears, J White; S Borthwick, S Shaw; J Worsley, L Moody, M Corry.
Replacements: S Thompson, P Freshwater, D Grewcock, L Dallaglio, M Dawson, D Walder, M Tindall.
Ireland: G Murphy; S Horgan, B O'Driscoll, G D'Arcy, A Trimble; R O'Gara, P Stringer; M Horan, J Flannery, J Hayes; P O'Connell, M O'Kelly; S Easterby, D Wallace, D Leamy.
Replacements: R Best, S Best, D O'Callaghan, J O'Connor, E Reddan, D Humphreys, G Dempsey.
Referee: Nigel Whitehouse (WRU).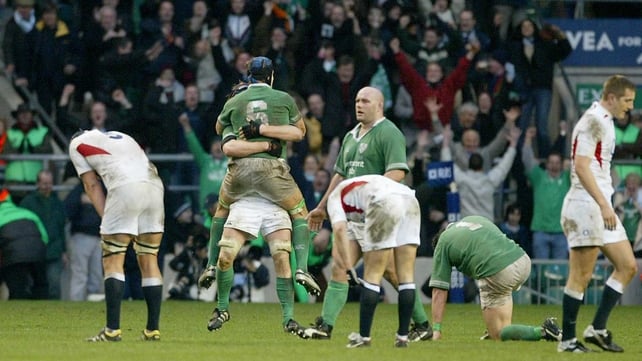 2004 - England 13-19 Ireland
Girvan Dempsey's second-half try sealed a famous win for Ireland as they ended England's 22-game unbeaten home record at Twickenham.
The reigning world champions, who only claimed their prize last November, had no answer to a dominant Irish display with Ronan O'Gara the central figure.
The Munster out-half missed an easy penalty early on but kept his composure to kick four penalties, and the extras after Dempsey's 50th minute try.
The defeat was England's first at Twickenham since 1999 and put Ireland back in the hunt for the Six Nations title with games to come against Italy and Scotland.
Ireland led 12-10 at half-time and when a potential Ben Cohen try was ruled out for double-movement on the resumption, Ireland took off and England couldn't catch up.
Ireland have not won the Six Nations since 1985, but began brightly against the world's best – an O'Gara penalty after 17 minutes pushed them into the ascendency.
O'Gara continued to impress from the tee, and another penalty gave Ireland a 6-0 lead. Before a momentary lapse gave England a way back.
Off and Ireland scrum, scrum-half Peter Stringer was forced into a mistake by his opposite number, Matt Dawson. And when the ball broke Paul Grayson stepped in to set-up his No 9, to score.
It was badly needed after 27 minutes but after Grayson landed the conversion, and tagged on another penalty, Ireland got back on the scoreboard.
Again it was O'Gara who punished the English ill-discipline to reduce the margin – another effort from the tee saw Ireland take a 12-10 lead into half-time.
And Cohen went within inches of turning the game on its head when he was ruled out by the TMO, one minute after the break.
It was Brian O'Driscoll who made the break for Dempsey's try – when the ball was spread the Leinster full-back slid over in the corner.
Scorers - England: M Dawson try; P Grayson 2 pens, con.
Ireland: G Dempsey try; R O'Gara 4 pens, con.
England: I Balshaw; J Lewsey, J Robinson, W Greenwood, B Cohen; P Grayson, M Dawson; T Woodman, S Thompson, P Vickery; S Borthwick, B Kay; J Worsley, R Hill, L Dallaglio.
Replacements: M Regan, M Stevens, C Jones, N Back, A Gomarsall, O Barkley, J Simpson-Daniel.
Ireland: G Dempsey; S Horgan, G D'Arcy, B O'Driscoll, T Howe; R O'Gara, P Stringer; R Corrigan, S Byrne, J Hayes; M O'Kelly, P O'Connell; S Easterby, K Gleeson, A Foley.
Replacements: F Sheahan, S Best, G Longwell, V Costello, D Humphreys, G Easterby, K Maggs.
Referee: Paul Honiss (New Zealand).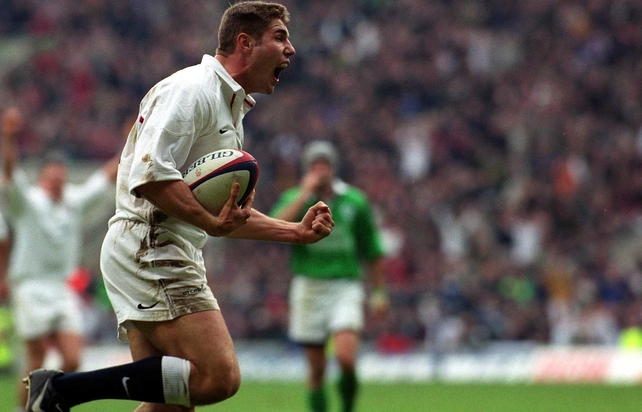 2000 - England 50-18 Ireland
Ireland youngster Brian O'Driscoll gave glimpses of what he could do but they were insignificant on a day when England lit up Twickenham.
On the opening day of the newly-formed Six Nations, straight away Ireland were on the back foot in the torunament after a record-breaking demolition by their closest rivals.
England notched six tries in front of their home fans with Ben Cohen [two] and Mike Tindall [one] delighting on their debuts.
Leicester wing Austin Healey was also a menace and crossed the line twice, with a further effort from Neil Back making it a day to forget for the Irish in London.
Jonny Wilkinson was sublime with the boot, and his 20 points put a glorious look on the scoreboard for Clive Woodward's charges.
For Ireland they only had tries from Kevin Maggs and Mick Galway in response, along with the eight points from out-half David Humphreys. And after they trailed 25-3 at half-time there was only going to be one outcome.
England got to work early, and new winger Cohen showed what he could do when darted inside the Irish defence to dot down England's first try after 18 minutes.
Then Cohen turned provider as Healey crossed the whitewash and England took a stranglehold of the game. A Humphreys penalty was all Ireland could muster, and that didn't come until the 33rd minute.
Healey doubled his tally before half-time as England went in with a comfortable 22-point lead. Back eased them further ahead when he crashed over shortly after the break, but Ireland would get their purple patch.
Bath based wing, Maggs touched down after O'Driscoll chipped and re-collected before providing the assist. It was piece of individual brilliance that was missing from Ireland's play all day.
And although Galwey also dotted down, further efforts from Tindall and Cohen ensured England had their easy victory.
Scorers – England: B Cohen 2, A Healey 2, N Back, M Tindall tries; J Wilkinson 4 pens, 4 cons.
Ireland: K Maggs, M Galwey tries; D Humphreys 2 pens, con.
England: M Perry; A Healey, M Tindall, M Catt, B Cohen; J Wilkinson, M Dawson; J Leonard, P Greening, P Vickery; G Archer, S Shaw; R Hill, N Back, L Dallaglio.
Replacements: I Balshaw, A King, A Gomarsall, M Corry, J Worsley, T Woodman, N McCarthy.
Ireland: C O'Shea; J Bishop, B O'Driscoll, M Mullins, K Maggs; D Humphreys, T Tierney; P Clohessy, K Wood, P Wallace; R Casey, M O'Kelly; D O'Cuinneagain, K Dawson, A Foley.
Replacements: G Dempsey, E Elwood, P Stringer, T Brennan, M Galwey, J Fitzpatrick, F Sheahan.
Referee: Steve Walsh (New Zealand).