By Tadhg Peavoy
The single fact that has become most evident over the last four matches is that Ireland are a team in transition; over their last quartet of clashes there have been glimpses of a side that could challenge for a Six Nations title, but in reality, this season has been about growth - not victory.
The Declan Kidney-Jamie Heaslip driven team was dramatically improved against France after their far below par performance against Scotland.
And while failure to win is still failure – especially as Ireland blew a ten-point lead against Les Bleus and failed to record a point in the second period – there are still plenty of positives to be gleaned from the Irish performance.
Heaslip's performance greatly improved
Heaslip was roundly criticized in the wake of his worst performance for Ireland when he delivered a very poor showing against the Scots.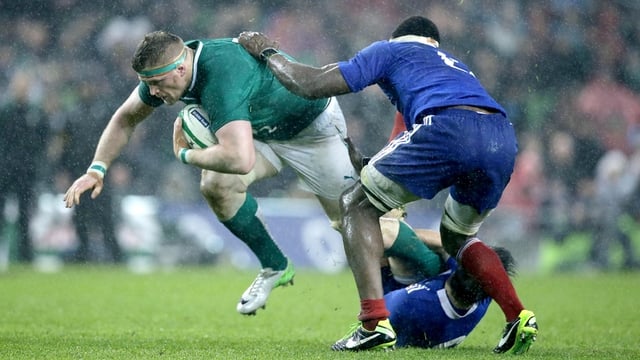 This time out he was greatly improved in all aspects of his game.
Yes, he was outshone in metres carried by his opposite number Louis Picamoles – the Frenchman carried for 68m, while Heaslip only carried for 10m – but he made important contributions all over the pitch. Most notably his contribution at the breakdown, where he performed Trojan work on behalf of his team; dare I say it, much like former captain Brian O'Driscoll does on a regular basis.
The current captain also led with aggression and was decisive with his decision-making. His performances are not yet at the level he produced in 2009, but this was a step back in the right direction.
Outhalf options are greater than they were prior to the championship
At outhalf, Paddy Jackson added good place kicking to his play out of hand, and delivered a wonderful retort to his critics, as he delivered a fine performance for Ireland at ten.
His ability to bring his backline into the game was exceptional and his confidence from the kicking tee was superb, given his Murrayfield ordeal.
Ian Madigan's debut came late in the tie – after 72 minutes – but he defended stoutly and his introduction into the international scene will only benefit the competition for the two outhalf slots in any given Ireland matchday 23.
In a strange way, Sexton's injury has been a blessing in disguise as it has forced Kidney's hand: he has had to blood alternative options at No 10 to the man who will ply his trade in the French capital next season.
Murray delivered a performance to hang his reputation on
At scrumhalf, Conor Murray was immense. The powerful No 9 boxkicked better than he ever has in a Test match, and his passing was devoid of any wind-up.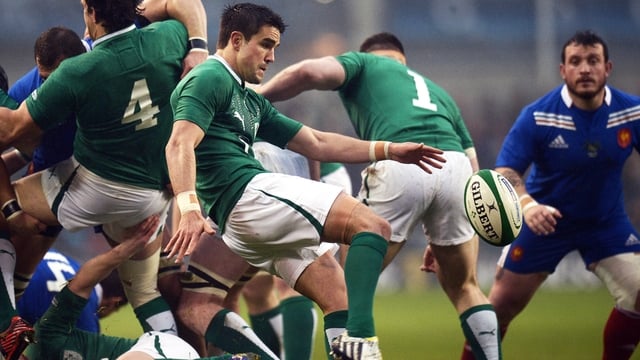 He has set down his benchmark and must deliver this performance on a regular basis.
His only major error was boxkicking down the left wing when Rory Best was the only man on the blindside to chase.
Yes, Kidney was wrong to withdraw Murray after 63 minutes as many others have pointed out. However, this was the only major error the head coach made on Saturday.
The engine room is sucking diesel
One of the major benefits of this season, which was emphasised at the Aviva against France, is Ireland's new second row pairing. Donnacha Ryan and Mike McCarthy combine exceptionally well in the lineout, scrum and as the water carriers at the breakdown; their partnership has been a huge find this season.
Credit to Kidney for blooding players
Indeed, Kidney must be given credit for blooding other players this season. I alluded to this last week, and it became all the more evident against France, as many of the new-look Ireland performed with aplomb.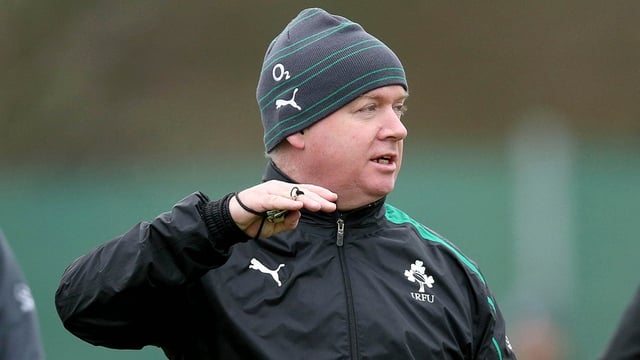 If we look back to last autumn, so many players have been given vital Test experience since then. The list is long: McCarthy, Ryan, Peter O'Mahony, Jackson, Madigan, Luke Marshall, Craig Gilroy, Simon Zebo, Dave Kilcoyne, Richardt Strauss, Iain Henderson, and also the return to the international fold of Luke Fitzgerald, being the key names that have been developed since Ireland played South Africa.
Critics of Kidney will argue that this should have been done in 2012, and that it has come too late; time will judge Kidney on that one.
Eddie O'Sullivan was given seven years as Ireland's top dog, Kidney will certainly advocate in his upcoming contract talks with the IRFU that he is developing players this season in a bid to end a seven-year stint of his own as head coach with a semi-final place at the 2015 Rugby World Cup, or another Six Nations title.
More depth needed in attack
The hard fact remains that the championship has seen a poor return for Ireland thus far: just one win, 57 points scored (34 less than England, 35 less than Wales) and only five tries scored.
It's not been Ireland's inability to break the gain line – Ireland have recorded 11 line breaks in their first four games – but their failure to finish off attacking moves with a killer blow that has cost them dearly against England, Scotland and France.
The ability to finish off sides, like Ireland did in 2009, is what is missing, and what needs to be addressed ahead of the clash with Italy in the Eternal City next Saturday, as well as in the 2013/14 season.
Key to Ireland's failure to do get the tries they need has been a very obvious lack of depth when players are taking the ball on.
Too often, Ireland's players are static and taking the ball from a standing position, lending them little acceleration or momentum going into contact.
Even Sean O'Brien – one of Ireland's best ball carriers throughout the championship season – was caught flat-footed several times against Les Bleus.
Ireland's future as a scrummaging nation
Ireland only won 33% of their scrums against France, highlighting once more the problems in the set piece, albeit against two wonderful scrummagers in Nicolas Mas and Thomas Domingo.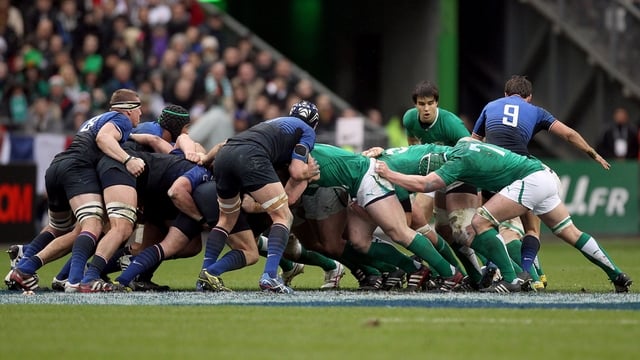 There are no short-term answers to the scrum problem, but there is a long-term one.
France and Italy have developed propping as a rock-star position; Ireland must do likewise.
Training of props needs to be addressed from schools level right up to senior level, and a dedicated national scrums coach appointed, who along with designated assistants, will organize scrum clinics throughout schools and clubs across the country.
This won't change Ireland's scrum prospects in the short term, but come the Rugby World Cups in 2019 and 2023 it should lead to a far better set piece for Ireland to attack from.
Twitter: @TPeavoy