By Tadhg Peavoy
Email: Tadhg.Peavoy@rte.ie
Fresh from her sixth place at the World Sailing Championships, Annalise Murphy has revealed her disappointment at missing out on a medal in Perth, Australia, but believes she can medal at London 2012.
Murphy, recovering in Bali, Indonesia, after the blue-chip event, said: "After the medal race on the last day I was pretty disappointed, just because I felt I had been so close to being a bronze medallist at the worlds, then for it to slip away in the last few minutes of the race.
"Of course now, looking back, I am delighted with finishing sixth, but my expectations of myself have been raised and I know I had the potential to be a medallist at these worlds, which has given me a huge confidence boost for what is to come next year."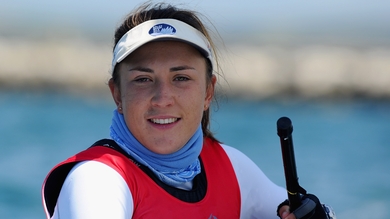 Despite her frustration at placing sixth at the worlds, Murphy feels renewed by how close she came to medalling and believes a medal at the London Olympics has now appeared in her crosshair.
The Dubliner said: "After this year I feel like I am a medal contender for the Games. 2011 has been a brilliant year for me: I've finished in the top ten at every World Cup - bar one where I was 11th - and sixth at the Olympic Test Event and now the worlds.

"The feeling of being in a medal position then losing it in the last few moments of the race is something I don't want to have to experience again; it's definitely going to be my motivation to train harder than ever for the next eight months."
Consistency is crucial to success at any level of sport and it is in this area that Murphy feels she must improve in order to move up to the next level.
She explained: "I won four races over the event, more then any other girl.
"I just have to improve my consistency, a friend told me some very good advice - "You won't win a regatta on the first day, but you can certainly lose it". My 30th place in race one cost me a medal at the worlds, so cutting out big scores is going to be one of my main focuses in training now.
"The worlds had huge media attention surrounding it, this has been the first event where I have had helicopters follow me around the race course, and cameras onboard my boat, so it's been a very good preparation event as the Olympics will have the same kind of media attention."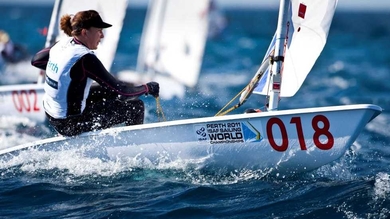 On day six at the worlds, Murphy tore apart the opposition, winning both of that day's races. She believed her concentration on that day was at its pinnacle, which led to those two flawless performances.
Murphy stated: "Halfway through the event I was in second place. I let this distract me from racing properly. I started focusing on the possibility that I could win the worlds rather than on each race.
"I then had two bad races and realised I just had to race. So, on the last day of racing, I just went out sailing and didn't put a foot wrong."
The countdown to London 2012 is now firmly on and with eight months to go, the sailor is determined to up her preparations for the biggest event of her career thus far.
She said: "The next eight months are going to be hard. I will base myself in Weymouth for March onwards to be as prepared as I can for the sailing conditions in Weymouth [at the Games].
"I'll be sailing five days a week; in the gym doing weight training three days a week; and cardio sessions six days a week.
"I'm pretty sure my strength and conditioning trainer Mark McCabe is going to make life tough for me.
"I'll also be competing in four World Cup events; the 2012 Worlds in May; and the Europeans in June.
"Having qualified for next year already it means I can focus entirely on the Olympics without the stress of having to worry about qualifying."
Watch Jacqui Hurley's Mission 2012 interview with Annalise Murphy here.