By Tadhg Peavoy
Leinster's victory over Castres in the Heineken Cup showed them at their best. Their pack was strong and technically sublime, and that was backed up by flair and talent in a backline that was firing strongly.
The stats backed up their dominance against the current Top 14 champions: 22 defenders beaten compared to Castres' 4 and 82 rucks/mauls won compared to 46 for Castres.
Leinster outmuscled up front and then had far more killer instinct behind the pack.
Connacht, meanwhile, come in to this cross-country derby with form of their own. A 33-6 away win against Zebre kept their Heineken Cup hopes alive and has put them in a confident mood heading into Saturday's clash.
The Westerners victory in Italy was secured through effective use of the ball when they had it. They only 38% of possession, and 35% of the territory, but out-of-hand they kicked 40 times, compared to Zebre's 22, to put themselves in field positions where they could apply attacking tackles and force their opponents into mistakes.
When they didn't have the ball, Pat Lam's team amassed 107 tackles to their opponents 56 to stop Zebre passing their line, and also to force turnovers and create tryscoring opportunities of their own.
In truth, it's also hard to see Connacht achieving parity in the crucial areas of possession and territory against Leinster. Instead, they will rely on a similar tactic to that deployed last week: kick themselves into good areas of the pitch, and attempt to force their way back into possession, and capitalise on Leinster's mistakes.
Lam has kept his side more in less intact from last week in an attempt to replicate that excellent performance. Three changes have been made, two are enforced by injuries, Tiernan O'Halloran in for Danie Poolman and Gavin Duffy in for James So'oialo, and a third is positional with Andrew Browne dropping to the bench for Mata Fifita, a tryscorer last week.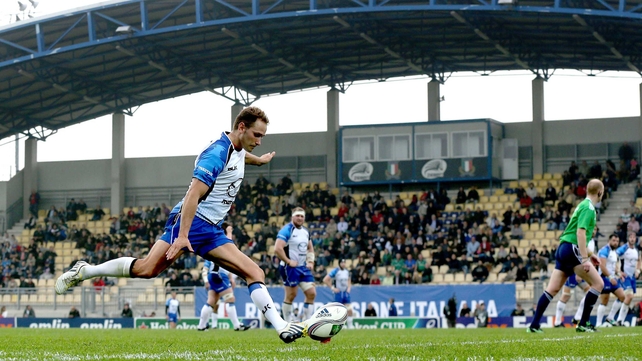 With Duffy at fullback, Connacht have a solid defender, as well as someone who adds an injection of pace to the attack. While Dan Parks will be a crucial man in leading the line and placing those all important relieving kicks deep into Leinster territory.
Man for man across both XVs, however, Leinster look stronger. With Rob Kearney (No 15), Fergus McFadden (No 14), Dave Kearney (No 11) and Eoin Reddan (No 9) all named by head coach Matt O'Connor there is danger everywhere for the home side.
The Kearneys made 108m alone between them against Castres and need to be stopped with first up defence and man-and-ball tackles, with Duffy and Tiernan O'Halloran needing to be on form to quell this double threat.
In the Leinster pack this year, one man has stood head and shoulders above the herd: Sean O'Brien. He made nine carries, making 43m, and executing seven tackles against Castres.
O'Brien was the centre of Leinster's eight in everything he did, and the team fed off his energy and stamina. Alongside him Jamie Heaslip made 13 tackles and supported ably with superb understanding of where the attack would become a breakdown.
Nullify the O'Brien-Heaslip axis and a team has time and space to create opportunities of their own. Fifita, Jake Heenan and George Naoupu must swarm the breakdown and make double tackles on both players, reducing their effectiveness and creating chances for their team-mates.
It's a task that most club sides in Europe find challenging and to that end Michael Swift and Craig Clarke in the second row will be relied upon to break quickly from the set piece and support the backrow in the loose and at the breakdown.
One fissure in Leinster's game last week was their lineout, where they lost four out of 13 balls on their own throw. Connacht should contest strongly each time in an attempt to repeat this 31% error rate, in order to feed off it, and potentially garner penalties.
Another area Connacht should apply pressure is the centre, where Leinster have the untried pairing of Luke Fitzgerald and Noel Reid. Both players are skilled but playing them together at 12 and 13 is a new ploy that may produce errors.
In addition, Ian Madigan returns to the side after two weeks on the replacements' bench, and any potentially rustyness should be targeted. He is a flair player that can light up a backline, but if he his harried and hassled, he is also prone to bad decision making. Heenan needs to be in his face from the get-go.
It's a teak, tough challenge for Connacht, and with Leinster in their current form, it may prove too difficult an obstacle to overcome.
Verdict: Leinster to win by 14.