By Micil Glennon
Former Ireland international Victor Costello says that the IRFU did the right thing by terminating Declan Kidney's contract.
Kidney, who took over from Eddie O'Sullivan in 2008, was contracted until 30 June but the IRFU today decided to replace the 53-year-old with interim coach Les Kiss and RTÉ analyst Costello agreed that there was no point in delaying the inevitable.
"It's time to start looking now," he told RTÉ Sport. "I think if the IRFU had waited until the end of his tenure, time would have gone on.
"The sooner they start interviewing, the better for Irish rugby but from a talent-base point of view, Ireland have the talent and it will be a very attractive job for many coaches.
"There's [former South Africa coach] Jake White available, there's Joe Schmidt, who obviously coaches Leinster. When a coach decides to go with a team, they want a talented team. There's no doubt Ireland have that talent, from the production line, from the provinces."
"I believe you have an unhappy squad with the way things were going" - Victor Costello
Costello, capped 39 times for Ireland, added that the players, who will tour North American in June, will benefit from the IRFU's early decision.
"Professional sport is a cruel career and mostly short-lived. You have to commend the IRFU for making a decision so fast. The Irish rugby public and the squad were somewhat in limbo as to what might happen and I think it gives a more definite picture.
"The World Cup is only two years away, you have a great squad. Ultimately, I believe you have an unhappy squad with the way things were going but that can be turned around.
"I think Declan Kidney is a very successful coach. There were some decisions he made over his tenure that I wouldn't necessarily agree with.
"I think those decisions would have been suited to a day-to-day coach job, like Munster. But when you're coaching an Irish team you don't have the luxury of a lot of games throughout the year. Being a professional sport, it's a results game and to a certain extent the results weren't there," he said.
Meanwhile, IRFU chief executive Philip Browne told RTÉ Sport that the former Munster coach was disappointed to get the news and that they will get outside help when choosing a new man.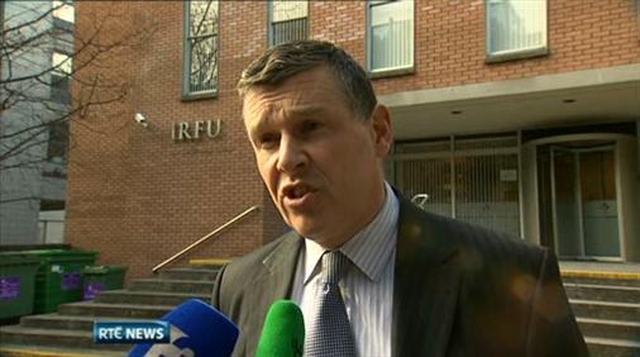 "We looked at results over the last 18 months, we looked at the Six Nations, taking into account the injuries, and really what we are tasked with doing is putting the best coaching structure that we can in place to take this team forward, and we decided that now is the right time to change the head coach. It was very difficult," he told Game On on RTÉ 2fm.
"I spoke to Declan this morning, went over things and outlined the decision to him. He was disappointed, naturally. Declan is a proud man...he would have liked to continue.
"We'd like to identify a new head coach sooner rather than later but these things take their own course. We'll be engaging professional advisors, we've already had discussions with them.
"The reality is you can write down the names of all the head coaches on professional rugby across the world on two pages of foolscap who would be qualified to take on this role so, of course, we've been considering names.
"It would be unfair for me to confirm or deny as to who we may or may not have approached, that rests within the process and in fairness to the individuals concerned," he added.