Paul O'Connell wants his Munster team-mates to back up their European heroics with a performance of the same calibre against Leinster in the RaboDirect Pro12 clash on Saturday night.
The Munster captain led his men to a superb victory over the reigning Premiership champions to claim a place in the semi-final of the Heineken Cup.
But the visit of Leinster is vitally important, not least as Munster seek to reclaim the unofficial title of 'best team in Ireland'.
Munster have been under the microscope more than ever this season and travelled to London under huge pressure after conceding over 50 points against Glasgow the previous week.
Speaking to RTÉ Sport about the 18-12 win over Quins, O'Connell said: "It was a great feeling. A lot of people didn't expect it and I have to say maybe we didn't expect it a little bit."
But O'Connell is keen for Munster to give another big performance this weekend.
He added: "It was just a question of producing it on the big stage and once you do that it becomes a question of producing on the big stage consistently.
"We have just beaten Harlequins away from home and now we have Leinster, who are playing some great rugby, coming to our home ground. We need to back it up week on week now."
"I'm very grateful to be back now and very grateful we produced such a big performance against Harlequins"
O'Connell's own performance against Harlequins was hailed as inspirational, particularly in light of his recent struggles with injury. The Limerick native is simply glad Munster's season is still alive.
"I thought I'd be back a lot earlier but certainly, I'm very grateful to be back now and very grateful we produced such a big performance against Harlequins at the weekend and our season is still going.
"It looked like our season would be over very early there for a little while."
The Munster coaching ticket and head coach Rob Penney have also been under pressure of late.
According to O'Connell, players need to step in and take responsibility while operating within the structure provided by the coaches.
The loss of old heads has been a particular challenge.
"The moving on of senior players has been the big thing. Rob has put in a brilliant framework for us to play with and it is up to us to play whatever game we see fit to play within that framework.
"The big transition for Munster has been the moving on of senior players and that loss of decision making and experience."
"The big thing is that the players need to step up and take control. Rob gives us so much excellent information. Anthony (Foley), Simon Mannix and Ian Costello give us great information.
"We need to use it better at the weekend. We've done that from time to time this year."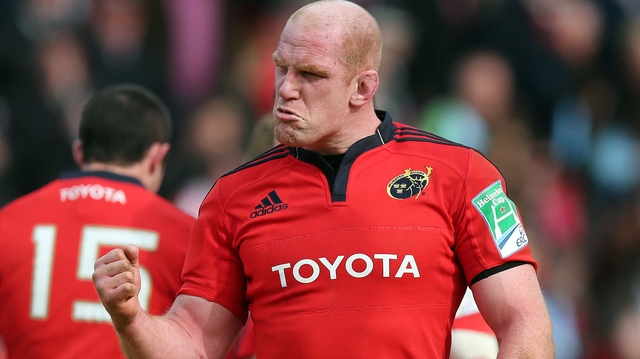 But despite the fact that Munster are in the semi-final of Europe's premier competition, with Leinster ploughing an unfamiliar furrow in the Amlin Challenge Cup, O'Connell is under no illusions about the current pecking order in Irish rugby.
"We are in a different place compared to Leinster. They have so much experience in their squad. When I first came into Munster we were the team with a lot of experience.
"It's changed now. Leinster are a very experienced side who seem to do the right thing at the right time more often than other teams. That's where we need to get to.
"We want to win on the big stage, but a big part of it is trying to be the best team in the country. It is a fact that if you are the strongest province in Ireland you will always have a great chance of winning in Europe.
"I think we have made each other better and better down through the years."
And even though Munster's play-off hopes are somewhat remote, they are sixth and eleven points from a top four spot, the Leinster fixture remains important and O'Connell expects a typically tough contest.
"There is very little said on the pitch during the games. They are just very hard games.
"I think we have made each other better and better down through the years."
"We're chasing them at the moment in terms of their standards and their performances. They are back-to-back Heineken Cup winners and they are performing very well in the RaboDirect at the moment.
"They were probably very unlucky they had Clermont in their (Heineken Cup) group. They are very much the front-runners in Irish rugby at the moment.
"We are fully knowledgeable of that and we don't claim to be anywhere near them at the moment.
"But a home game at Thomond Park should be a great game. Hopefully we can produce some of what we produced at the weekend and give them a good game.
"It's always a tough game. There are no friendlies with Leinster. It's a game you get reminded about by players, fans and the media for a long time after."
O'Connell has also pushed himself back into the frame for the Lions. Having gone on difficult tours in 2005 and 2009, a sense of unfinished business and wanting to play on a winning tour.
"It will probably still be very difficult for me to go. I've only played three games. Obviously I'd love to go. It is something that is very special to me."
"I've just got to get back and play as well as I can as often as I can for Munster.
"If I can go on the plane from the start that would be great, or if I can go out in the middle of it that would be great. I don't know. It is very hard to say what will happen," he added.
Watch this space.
Live television coverage of Munster v Leinster from 18:00 on Saturday 13 April on RTÉ Two and RTE.ie (Ireland only).
Tune in to Game On on 2FM from 7pm tonight for a special Munster v Leinster preview broadcast live from Thomond Park