IRFU CEO Kevin Potts says the union would be 'honoured' for Andy Farrell to become British and Irish Lions head coach in 2025.
The Ireland boss looks like being the frontrunner to lead the Lions on their tour of Australia in two years time, after Warren Gatland held the position for each of the last three series.
Farrell was an assistant to Gatland for the tours of Australia in 2013 and New Zealand in 2017, but didn't make himself available for the 2021 tour of South Africa, instead choosing to concentrate on his job with Ireland.
With Ireland rising to number one in the world rankings, Farrell has emerged as the favourite to take on the job in 2025, with Gatland backing the Englishman for the role in December.
And IRFU chief executive Potts says it's something the association would welcome.
"I think if Andy Farrell or any Irish coach was to have the honour of being selected as head coach for the Lions, Irish rugby would of course be honoured," Potts told The Daily Telegraph.
"I think any coach or assistant coach or player to be stepping up to Lions would be seen as a good thing for Irish rugby.
"We've had people - logistics people, administrative people - and they're asked, and we say, 'of course', it's never a question of saying that they can't do it. The Lions are the pinnacle of our sport.
"And if Andy Farrell or anybody else, of course, they'd have our blessing and full support and it would be an honour for us to have somebody associated with the Lions. I'm sure this is not a topic that's at the forefront of Andy's mind at this point."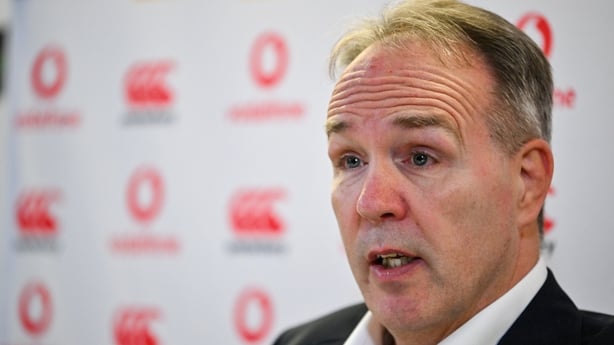 Farrell signed a contract extension with the IRFU until the summer of 2025 last year, although should he be appointed Lions head coach he would likely have to take a sabbatical from the Irish job.
In 2013 and 2017, Rob Howley took temporary charge of Wales in the months leading up to the Lions tours, with Gatland having to concentrate full-time on the position, while the New Zealander also stepped away from his role with the Chiefs in Super Rugby leading up to the 2021 series in South Africa.
However, speaking last October, IRFU performance director David Nucifora said he would have full faith in the Irish backroom team to cover in Farrell's potential absence.
"We've done it [his contract] in such a way to have another couple of years of continuity," Nucifora said.
"It does tie in with a Lions year, and we'd be ecstatic if Andy was the Lions coach, we think that that would be fantastic.
"If he gets offered that job and chooses to take it, we'd be fully supportive of him because for us that's part of the growth of the game here.
"So, there are things that would be assessed along the way. We feel that we've got a world-class head coach, a really good coaching ticket that supports him and we'll be working to try and secure them for as long as we can."
Listen to the RTÉ Rugby podcast on Apple Podcasts, Soundcloud, Spotify or wherever you get your podcasts.
Watch live coverage of Ulster v Stormers (Friday, 7.35), and Leinster v Cardiff (Saturday, 5.05pm) on RTÉ2 and RTÉ Player, or follow our live scoring on RTÉ.ie/Sport and the RTÉ News app