With just under five minutes left in a level game, the penalty was close enough to the touchline to make it risky, but close enough to full-time to make it tempting.
Before many of those watching on TV or at the Aviva Stadium had processed the risk and reward, Ross Byrne had pointed for the posts and called for the tee.
"Ross came straight up to me with a little smile on his face, and I knew that was a good sign," said James Ryan, who filled in as captain in the final 30 minutes of Saturday's 13-10 win against Australia.
"He had unbelievable confidence, unbelievable bottle to come in late and be 24th man and come onto the bench and then into the game and kick the winning penalty.
"It was brilliant."
Byrne's strike floated straight between the posts, enough to see Ireland hold out for victory, and cap off a remarkable week for the Leinster out-half.
Twenty one months since his last Irish cap, Byrne (below) had been called into camp on Monday afternoon after training with his province that day. Initially brought in as emergency cover, he was promoted to the bench shortly before kickoff on Saturday evening after Johnny Sexton tweaked his calf.
Having come on for Jack Crowley with eight minutes to play, he made himself the hero with the game-winning kick, a deserving moment for a player who has often been thrown into the most unforgiving situations in his previous 13 caps.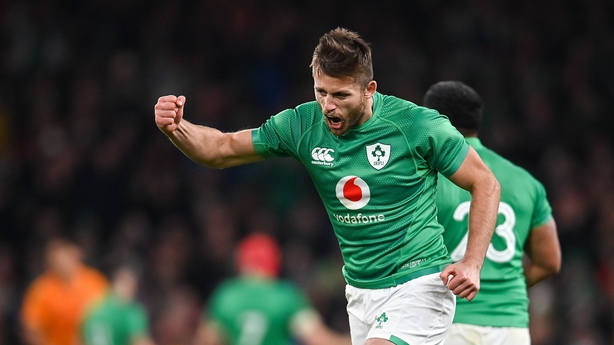 It was a tough kick, close to the right touchline, and had he missed, the scrutiny would likely have fallen on Ryan rather than Byrne, for pointing at the posts rather than the corner.
The stand-in captain experienced the fickleness of hindsight earlier this year when Ireland were beaten 30-24 by France in Paris, with his decision to kick a late penalty rather than push for a potential winning try heavily criticised afterwards.
This time, however, he says there was no decision to make.
"I didn't even have to make a call," he added.
"He [Byrne] came up to me with the ball and had a smile on his face. And yeah, it's just he's a very confident player, and I knew when I saw that, there was a very good chance that he would knock it between the sticks."
While the captain makes the final call, it's never a dictatorship, and for Ryan the shoe was on the other foot earlier in the Autumn Nations Series.
Early in the second half of Ireland's win against South Africa this month, it was Ryan's insistence that Ireland went for the jugular rather than a kick at goal that led to Josh van der Flier's opening try, as Johnny Sexton recalled last week.
"I was saying, 'We'll take three?' And he said, 'No, we'll go the corner.'" explained Sexton.
"I disagreed with him and then he told me again, 'No, we are going to the corner'.
"So, you can't argue with him when it comes to that because you have to back him. They thought they had a move that worked, but it's fine margins, isn't it?
"Like, if we didn't score there, it's a poor decision and ultimately it is a poor decision by me because I have to make the call at the end but great finish by Josh and they produced, just about, it was literally that far away. So it's fine margins but fair play to him."
Those decisions are the unseen moments, but Ryan produced plenty of big, visible moments in the games against South Africa and Australia.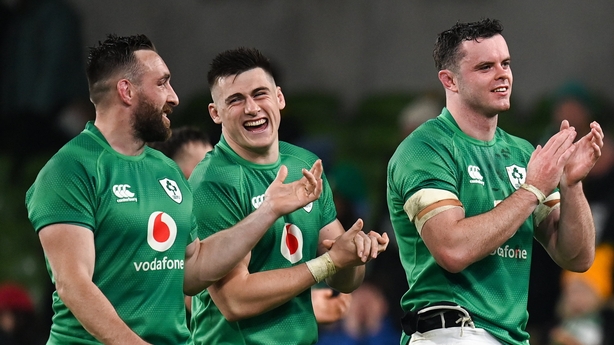 He had a game-changing lineout steal just before half time against the Springboks, who were within five metres of the Irish line, while he continued to be disruptive at the lineout versus the Wallabies and contributed 30 tackles across the two games.
"Pretty sore, it was a seriously tough game tonight, very physical," the second row said after Saturday's win.
"I'm sure the stats show we'd to make a lot of tackles, particularly in the first half. It was a proper game, they were probably hurting after their loss to Italy last week, and it was a proper Test match, we had to work hard to get a result."
Before the game against South Africa, the 26-year-old spoke of how he had rediscovered his confidence after a year or two that had been heavily disrupted by injuries, as well as the more serious matter of his long term health after a series of concussive incidents.
If Ireland are to kick on to even bigger heights in 2023, Ryan should be central to that in his role as lineout caller.
And he says it's important they build on their dogged autumn wins when the Six Nations, and World Cup roll around next year.
"It's big for us. I think they're all-important milestones on the way. Over in New Zealand it was important for us to beat a team like that in their own backyard. And then to beat teams at home here in November was important for us. So we're in a good spot but every game you've to keep improving.
"By the time the Six Nations comes around, we've got to be hungrier than ever because every other side will be getting better and improving. For us, the Six Nations is the next thing now.
"Definitely, we've got to keep improving because when you come up against the very best sides like we saw tonight, like we saw a couple of weeks ago with South Africa, there is so little in the game, it's really fine margins, tonight could have gone another way."