Andrew Porter would have been a nervous man in the third quarter yesterday.
Sin-binned for a dangerous tackle on Brodie Retallick after 49 minutes, the Ireland loosehead would first have been sweating on the colour of the card he would face. He'd have been relieved when he saw yellow.
But when Akira Ioane scythed his way through the Irish defence to score New Zealand's second try within seconds of Porter being sent to the bin, the Leinster man was likely fearing the worst.
When he returned to the pitch, Ireland's lead had been cut from 12 points to just three, after Will Jordan sprinted clear to bring the hosts right back into the contest.
It was the last blow they would land though. Ireland had weathered the All Black storm.
"We always know what the All Blacks are capable of," Porter told RTÉ in the moments after the series-clinching win.
"They're incredibly dangerous, and they put it up tp us with that comeback. We knew it was coming and we knew they were going to have their purple patches in the game, but we did incredibly well to hold them off at the end. I'm delighted with how it went today."
The 32-22 win capped off Ireland's greatest summer tour, coming from behind against the three-time world champions to win their first ever games on New Zealand soil within seven days of each other.
Porter played an influential role in that comeback, scoring both tries in last week's leveler in Dunedin, while he answered a lot of critics with his scrummaging in the two decisive Tests.
The 26-year-old is part of the new age of Irish professionals for who winning is expected of rather than hoped for, and after helping Ireland break new ground in New Zealand, he's hoping they can inspire the next generation to become more used to success.
"It's unbelievably hard to put it into words how this feels. I spent my whole life growing up, seeing Ireland play against the All Blacks, and the results we had in the past. It's an incredible day for Irish rugby. Not just this team, but for Irish rugby.
"We came out with an intent to inspire the next generation, and hopefully we've done that today. It's an incredibly emotional day, for myself, for this team, for my family as well.
"It's an incredibly exciting day, and it's incredibly hard to put into words how I'm feeling right now," he added.
Along with Porter, Josh van der Flier has now firmly established himself as a nailed-on starter in Andy Farrell's team.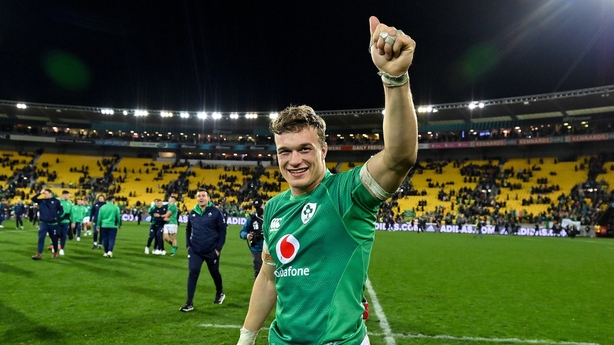 It would be tough to pick out Ireland's best player across the three Tests, but it would be hard to argue against the flanker for that honor.
His 22 tackles yesterday brought his tally to 61 across the three Tests, considerably more than any other player in both green and black, with the European Player of the Year now moving into World Player of the Year contention.
Speaking to RTÉ after the game, the Leinster openside said Ireland weren't content to go home with just one win.
"We set out at the start, the goal was to win the series," he said.
"We knew it couldn't be tougher conditions than playing in New Zealand, but full credit to everyone, they really fronted up and put in our best performance and managed to get the series win. It's an unbelievable feeling."
And he has also credited head coach Andy Farrell with instilling the belief in them that they could do it.
"He told us before the game that this is the dream, to play in these huge games.
"It's what every little lad dreams of, to play in the bigger game, the tougher the better. That's what it was today, a tough, tough game against a really good side, and we managed to come out on top to win the series. An unbelievable feeling.
"It was very, very pleasing. They came at us really hard in that second half, but the most pleasing thing of all is we managed to come back at them. You see New Zealand a lot, running away with it when they get a purple patch. It's really pleasing we managed to keep going at them and get the win in the end," he added.
'We came out with an intent to inspire the next generation, and hopefully we've done that today'

Ireland loosehead prop @AindriuPorter spoke to @MichaelC_RTE about what this series win means

📰 Read in full 👉 https://t.co/wgfCZN6YOG pic.twitter.com/VWDWKvxl7M

— RTÉ Rugby (@RTErugby) July 17, 2022
Both Van der Flier and Porter were also at pains to credit the traveling support in Wellington, with huge pockets of green jerseys among the 34,500 in attendance at the Cake Tin.
"You'd think it was a home game with the cheers and noise of it all, it's unbelievable the amount of people, Irish in New Zealand, and Irish who flew over to see us," said Van der Flier.
His Leinster teammate Porter added: "I couldn't believe how many Irish supporters were out here, you could here them throughout the game.
"It was incredible, seeing all the green jerseys, Irish flags, seeing an Ulster flag right now, seeing how far people have travelled to come watch us, our fans are everything to us. You'll never meet a better fanbase with Irish rugby supporters.
"You'll always hear them, we heard them today and last week and throughout the series. They mean an incredible amount, a driving force for us, and that's who we're play for; our fans, our country, our families and everyone back home."