Caolin Blade says he had a "good, hard" look at his role in the dramatic defeat to the Leicester Tigers last Saturday.
The scrum-half replaced Kieran Marmion just after the hour mark with his team 28-17 in front, before two more Leicester tries saw them complete an 18-point comeback to break Connacht hearts.
It was a result that left Connacht's players devastated on the pitch, and head coach Andy Friend declaring it one of the toughest losses of his career in the immediate aftermath.
The general consensus is that Connacht's collapse was a result of them becoming too safe rather than being caused by individual errors.
But Blade says it's led to plenty of introspection in their camp.
"The 15 lads on the pitch are responsible for it, but we're a big unit in here, coaches and players," Blade says.
"Everyone has to take it on the chin. It's nobody's fault, it's easy to blame people but as a nine, I had a good, long, hard look back at the 20 minutes I played, and I think it's just to take the learnings as an individual but also as a collective. We need to learn from it and not let it happen again."
Once the dust settled on the heartbreaking nature of the loss, and the weekend's results were tallied up, the reality is that Connacht remain well placed in Pool B heading into this weekend's final round of games.
Indeed, they will be guaranteed qualification for the Round of 16 by Friday night unless Castres pull off a surprise bonus-point win away to Harlequins. In the unlikely event of that happening, a losing bonus point away to Stade Francais on Sunday - whom Connacht beat 36-9 in December - would be enough for them to advance.
As one of Connacht's homegrown players, being a part of the province's first ever team to reach the knockout stage of the Champions Cup would be a huge honour to Blade.
And while it would be a bloated 16-team knockout stage rather than the traditional quarter-finals, Blade says it's a sign of much progress they have made in the last decade that their goals have moved beyond simply qualifying for the tournament.
"It would be massive," he adds.
"I was lucky enough to be involved the year we won the Pro12. One of the biggest things I remember from that year is how much it meant to the fans.
"I am a Connacht player but I am a Connacht fan as well. How proud we are here and to even be talking about making the knockout stages shows the growth we've had in the last few years.
"I think for us as players, is not to let that too much into our performance, hopefully we see where we finish on the table and reassess in April.
"It's a testament to the coaches who have come through here and laid the foundations.
"It's on us as players to represent everyone in Connacht. It's a great feeling to be going into Champions Cup games knowing we have a really good chance and expecting to win."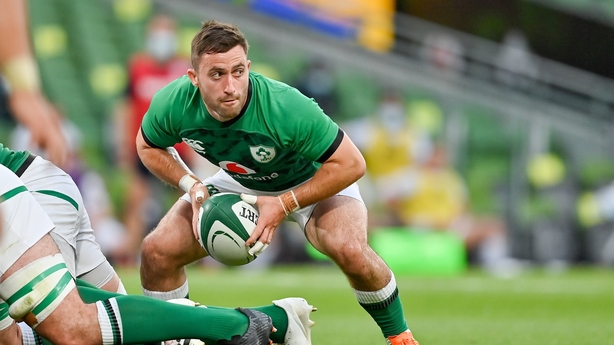 It's been a difficult year for the 27-year-old, who had worked his way back into Ireland contention last summer, making his debut in the win against USA in July. But injury and illness have seen him stutter this season, coupled with the fact that Kieran Marmion has bounced into some of the best form of his career.
With Marmion and Blade both fighting for a starting jersey, not to mention international recognition, every success and failure is important. Despite the heavy competition, Blade concedes that if he or Marmion weren't at Connacht, it's unlikely the other would be hitting the high standard. A real catch 22.
"Coming back in, I started two games, had a little bit of illness crept in as well," the Galway native sayd.
"It's more about getting a run of games. I don't think my confidence is low but the more you play, the better you are."
"When you're involved in an Irish setup and you see the players and standards you have to get to, it's only going to give you motivation.
"I suppose that's why I am a little bit frustrated this year, I came back and had an injury and couldn't push on.
"I'm still only 27, I feel like I am getting better every month, every year. I just need to push on and back myself."
One of Blade's three starts this season came against Stade Francais at the Sportsground, as he scored the first try of the 27-point victory.
The former finalists can still qualify for the last 16 with a win at Stade Jean-Bouin, despite two defeats so far, their only points coming from their cancelled Round 2 meeting with Bristol in December, which was declared a draw retrospectively.
"We're going over there to win, we're going over there to get higher in the table, but it's all about the performance and the result will follow after that," Blade adds.
"I watched their game against Bristol [Round 3] and I thought they were actually very good in that game, it got loose at times and they looked dangerous.
"As any French team are they are proud at home and the fans will be behind them, so I'm sure it'll be a different beast."
Listen to the RTÉ Rugby podcast on Apple Podcasts, Soundcloud, Spotify or wherever you get your podcasts.
Follow Bath v Leinster (Saturday, 1pm), Ulster v Clermont (Saturday, 5.30pm), Stade v Connacht (Sunday, 1pm) and Munster v Wasps (Sunday, 3.15pm) via our live blogs on rte.ie/sport or on the RTÉ News App, or listen to live radio coverage of Bath v Leinster on RTÉ Radio 1 Extra and RTÉ Radio 1.