Ulster continued to impress in their Heineken Champions Cup pool on Friday night, beating Northampton at home to top pool A.
I didn't think I'd be saying that two weeks ago but you've to give Dan McFarland's side credit for the way they've upped the ante again in the last two weeks.
While there was a continued confidence and cohesion in their backline, particularly from James Hume and Mike Lowry, their dogged breakdown effort has resulted in an injury for the returning Iain Henderson.
There was a less sinister injury to Stuart McCloskey, who was unfortunate to tweak his hamstring, but it was the breakdown penalty given against David Ribbans that brought back bad memories for me, and new anguish for the Ulster captain.
The breakdown has been the source of the most law variations and adaptations in the last decade of rugby and rightly so. Players are getting bigger and stronger, the S&C departments of professional teams have them moving with more velocity, and this speed and power has been curtailed slightly by amending the laws to make the breakdown safer.
My eventual career-ending injury came in the ruck. Not through foul play, but because of a mismatch in strength and weight at the ruck. You could call it the Paul O' Connell injury because he brought more awareness and stardom to the injury itself in the 2015 World Cup. Being doubled over in a ruck by someone entering at pace will leave me wincing a few times while watching a game, but still fearless forwards attempt to win the ball back for their team.
This is exactly what Henderson was doing and he won a penalty for his troubles. It's what Marcus Rea, Nick Timoney and Duane Vermeulen had been doing for Ulster all night. They disrupted the Northampton flow in attack in a heavily-contested battle of the breakdown.
Referees are becoming very quick at awarding penalties when players are in a poach position. The reason for world rugby clamping down on this is because the less time a player is spending with their hamstrings in a lengthened position, hips higher than their head, and while static at a ruck, the less time, speed, and power the opposition will have to clear them out.
You can see the change in laws in the last two seasons, once a player gets their hands cleanly on the ball, while supporting their body weight, a quick tug to highlight the lack of release from the tackled player and they should emerge with the penalty and the ball in hand to show the viewers who won the penalty.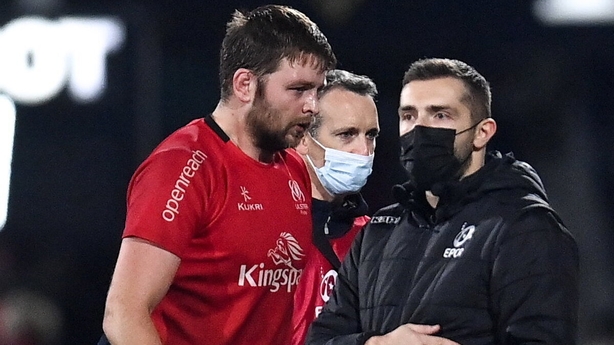 In some situations, the arriving support player doesn't win the space over their tackled player and the opposition get to the ruck before them, locking on to the ball. This is what Henderson had done. As an arriving player, you're already too late at this stage and under pressure. If you're arriving to a bigger player, or someone that is notoriously good at the groundwork, then there's not much option left to win the ball back for your team.
The onus is on the attacking player to physically move the poaching player with force. If that's not possible, they will try to roll the player, which often now results in an illegal neck roll, so it is becoming less popular, combined with the fact that you're demonstrating how late you are to your clear out.
The only other way of moving that player is to do it illegally, which is what the Northampton second row did to Henderson. He came around the side and targeted Henderson's leg, resulting in awkward twisting motions and a penalty against him.
There was nothing more in it. It wasn't a malicious effort; it was just late and inaccurate. However, Henderson was left limping down the tunnel and could face some time on the sidelines with a resulting ankle injury, after just recovering from his hamstring injury.
There is a lot of inconsistency in the breakdown. If you look through the game forensically, there are quite a number of breakdown penalties that go unnoticed. Of course there are, the game is played at a fast pace and there's more than just the breakdown to referee.
You're not allowed to go off your feet at the breakdown, not unless you're in the act of clearing an opposition body, and even at that you have to control your feet and pace, or it could be deemed reckless. You must come in the 'gate' at the hindmost foot, because otherwise you're attacking a defender from a side angle, which evidently results in more injuries. And all the while, leaving enough of a contest for the opposition to have a crack at slowing down your ball, should they so wish.
The breakdown is such a battle of power and quite often dictates the result of the game. If you can create a mess for the opposition, their ball will be slow, their attack will have less time because the defence will have more time to set, more time to call out the opposition plays and more time to talk each other through who they have.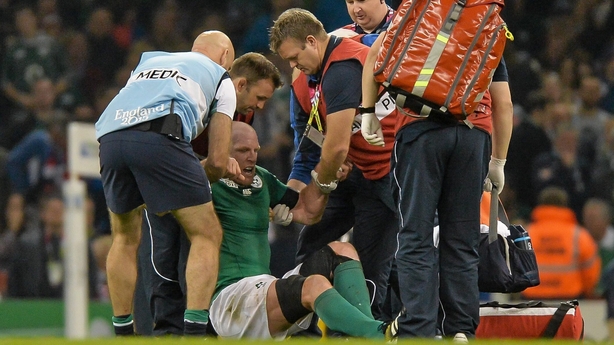 In defence, you have to control the pace of that ruck, or you'll be chasing shadows for the day. In attack, you need to be accurate and physical and then you can play with fast ball, which in turn creates faster ball and quicker rucks, resulting in more territory, possession and hopefully more points scored.
Yet, this is still the most dangerous part of the game. At least when there's a tackle contest, both players are ready for the contact and can attempt to control their own speed and accuracy. In the breakdown, one player is static while the other is in motion. It creates a momentum that is very hard to brace for.
I've obviously had a traumatic experience in a ruck and won't be going into one again. However, I have the height of respect for players that spend their 80 minutes surveying the landscape to enter a ruck with their head down and hips up. It's a high risk, high reward strategy for the game plan, and also for the players playing health.
Henderson is the victim of the ruck this week, which is happening to players weekly.
Rucks are an integral part of the game and should take up a large part of the tactics board but they're responsible for many rugby injuries. The law variations that are continuously evolving are doing something to keep the players fitter and healthier, although I don't know if the injuries will stop. It is one of the most fascinating parts of the game, dangerous, but definitely interesting.
I felt for Iain Henderson on Friday night, I hope it doesn't rule him out of the Six Nations, but we'll have to wait and see.
Follow Ulster v Connacht (Sunday 5.15pm) and Munster v Leinster (Sunday 7.35pm) via our live blogs on rte.ie/sport or on the RTÉ News App.
Listen to live radio coverage on RTÉ Radio 1. Watch Munster v Leinster live on RTÉ2 and RTÉ Player.