Ireland head coach Andy Farrell says the summer tour has been crucial in growing depth within the squad after naming four uncapped players in his side to face USA on Saturday.
After overcoming an often dazzling Japan side 39-31 in the Aviva Stadium last Saturday, Farrell has opted for a more experimental starting XV for the visit of USA this weekend, with four uncapped Ulster players selected.
Tom O'Toole, Nick Timoney, James Hume and Robert Baloucoune will all earn their first caps in green, while Munster's Gavin Coombes, who saw some game-time last weekend, will make earn his second cap and first start.
From the newcomers, Farrell says he's eager to see whether they can contribute to the team, while also urging them to stay calm.
"As we keep on banging on about, coming into an international camp for the first time is pretty daunting," Farrell told RTÉ Sport.
"Because you've so used to a way of playing, it's ingrained in you in your province. Learning new calls, getting to understand new team-mates. Getting about your work within six or seven days to be able to perform at your best. It's a difficult one. It takes time to be able to get really good at that.
"I'm looking to see from the newcomers whether they can deliver for the team and what we're trying to improve on as a team - they have got to be part of it.
"What tends to happen, when you think you've got an opportunity, you can get a bit desperate. The desperation can get in the way of how we want to perform. So you're just trying to calm them down. Getting them to understand what they need to focus on, getting the detail and the togetherness of the team right."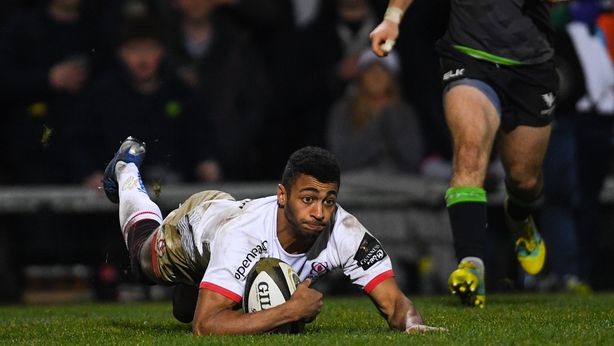 Having missed out on the scheduled summer tours in 2020, Farrell says these summer games are vital in building depth within the squad and giving more players on the fringes of the set-up game-time.
While acknowledging that there's always one or two positions where more depth would be welcome, Farrell pronounces himself satisfied with the wealth of options at his disposal, comparing it favourably to when he arrived in the Irish set-up in 2016.
"I think it's pretty good, I think it's getting better and better. That's why these windows are so important. We've talked about missing out on tours, etc, and they're pretty important to growing the depth. There's always one or two positions where you would like to see people coming through and have a little bit more depth. But that's a given in any squad, I would have thought.
"We're unbelievably happy with the depth. It's about the competition now. It's people going home after this window and really having a good think on whether they consistently want to be back in the room. And be not just a one-capper or a five-hunger.
"Can they have the hunger and the consistency to get themselves to 30 caps? And that's the type of attitude we want.
"As a coach, you're always about the here and now, and the next competition that's coming down the line, and the next one after that. And a little bit about the future as well. Growing competition is absolutely key.
"We've got five or six players in each position that are really, really competing against each other. The next competition and certainly two years on from that, when we get to the World Cup, it'll start looking after itself."
Joey Carbery is selected again this weekend, having returned to the Irish number 10 spot for the first time in 20 months against Japan last Saturday.
Farrell praised his display in seeing the game out against a endlessly troublesome Japan team and also extolled the input of the slightly more experienced players in this window, some of whom have graduated to leadership roles after just a couple of years in the team.
"He's been through a lot but he coped fantastically well last week. I'm sure the nerves are well settled after knowing he can perform in a very difficult game against a well-drilled side in Japan.
"For some of the lads who've been in camp for maybe just 18 or two years, to see them step up to a leadership role and see how they cope with that, that's been fantastic to watch.
"The likes of Caelan Doris and Joey (Carbery) and Hugo Keenan, along with James - who's new enough to the leadership group, never mind the captaincy - they've worked overtime in making sure the team is as prepared as it should be.
"They've done a marvellous job, they've loved the experience, I'm sure they'll learn from it."
Follow Ireland vs USA (7.15pm, Saturday) via our live blog on RTE.ie and the RTÉ News app or watch live on RTÉ2 or RTÉ Player, listen live on RTÉ Radio 1 Extra and RTÉ Radio 1.