It wasn't without its faults but Leinster and Munster managed to serve up a thrilling, hard-fought derby as rugby returned to Ireland.
A six-month hiatus, with rugby the last of the main field sports to return following the coronavirus shutdown, meant that just getting the game played was a victory in itself.
Yes, there were multiple handling errors and penalties conceded but the sides shared six tries and despite looking down and out at one stage, Munster were still in with a shout of an upset at the death.
That all coming after they had lost RG Snyman and Dave Kilcoyne to injury after seven minutes, while James Cronin was a late withdrawal due to a groin issue. Jean Kleyn was also withdrawn before the end.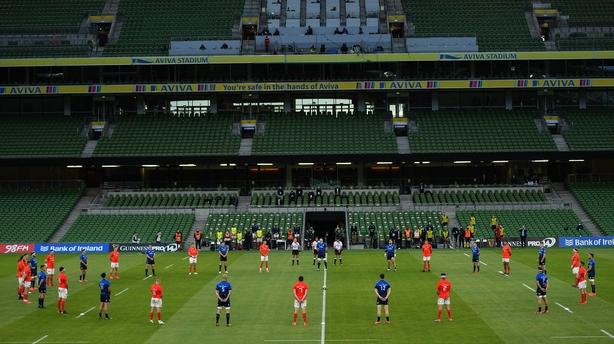 "You've got to come through tough times," Johann van Graan said after the 27-25 Guinness Pro14 defeat. 
"We're really proud of the effort of the lads. We came and played against Leinster, who haven't lost here for a very long time. 
"To lose two of your ball carriers in the tight five within the first seven minutes of the game, coming up against a team of that calibre, with six forwards on the bench, it took a lot of guts from our guys to fight through that. 
"Like I said, I'm very disappointed with the loss but it's the first game in six months so I'll just take a step backwards in terms of looking at it."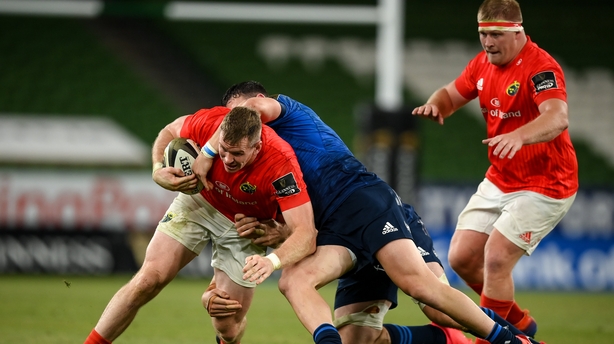 Man of the match, Ireland centre Chris Farrell admitted that the setting, with the game played behind closed doors in a 51,000-seater stadium, took a bit of getting used to.
"It was really weird," he told Eirsport. "There's no doubt about it, coming out of the tunnel at the start and you're expecting to hear fans, you are expecting to hear a roar and there's just none of that.
"It's something we have to get used to, we'll have to draw energy from each other. We're a tight-knit group here in Munster and we'll do that." 
Leinster head coach Leo Cullen agreed that it was "a little bit different".
"We got to come down to the Aviva and experience what the new world looks like in a rugby sense," he told reporters. 
Asked what the biggest adjustment was, he said: "It's probably the noise, the way the players create that sense of noise.
"The momentum shifts in the game are slightly different.
"Normally, if you've got a very vocal home crowd and the home team get in the ascendancy you can see sometimes the away team shrinking into their shells a little bit.
"You see that a little bit but there's no real advantage for either team."
Leinster had already qualified for a home semi-final in the redrawn competition, while Munster remain second in Conference B, four points ahead of Scarlets.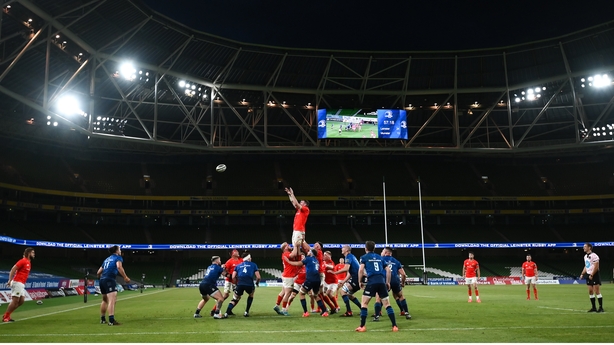 Trailing by two points in overtime, the visitors had possession deep in their own half and captain Peter O'Mahony defended the decision to kick the ball out to avoid the risk of slipping out of bonus-point range.
He said: "A bonus point is important. We had just turned over the ball, but a lot of guys had gone 80 minutes, a lot of guys were out of position. So that was the correct call for us. 
"There are aspects that are very pleasing. We stayed in the fight. It's a tough place to come and play. 11 [points] down and we came within a kickable penalty. 
"Every time we come to play here it's a serious battle, but we certainly were in the mix there."