In a weekend of elation for the Crusaders, who became the inaugural winners of Super Rugby Aotearoa, New Zealand's national team captain Sam Cane was experiencing different emotions.
He left the field after about 25 minutes due to a concussion sustained when he caught the powerful hip of Jordie Barrett after the full-back flew through the air to gather possession.
Barrett's momentum took him straight towards Cane, who was unlucky to be hurt in what appeared to be a textbook tackle from the openside flanker.
With some of the chat surrounding Cane in recent weeks I wanted to see what the thoughts on his injury were.
After all, some of the New Zealand public aren't on board with his captaincy decision and others think his injury record is too serious to continue in the game.
Cane suffered a broken neck two years ago while playing for his country against South Africa. You can understand the fear surrounding a concussion where he lost consciousness for a brief period, but I cannot understand how supporters can speak so liberally about a player's health and career.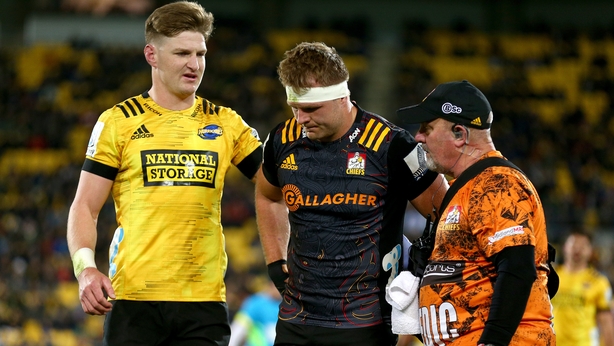 When a player gets injured, supporters and the general public forget that they didn't get injured on purpose.
The last intention of a rugby player, or any sportsperson for that matter, is to be sidelined with a frustrating injury where they can't fulfil their purpose of competing on the pitch.
Cane plays in a destructive position where it is his job to get involved physically, to get his head in the ruck to look for turnovers and to disrupt the opposition as much as possible.
His risk of a resulting injury is higher than some of the other positions on the pitch and he plays the game with an honest work ethic covering as much ground as is physically possible.
Maybe the All Blacks supporters were blessed with someone like Richie McCaw, who went before Cane and racked up 148 test caps. However, McCaw wasn't without his own injury risks and concussions.
What we don't think about when we see a player get injured is the amount of work that goes on behind the scenes to get back on the pitch. Cane would have tortured himself to get back after his most recent neck injury.
He would have felt that he was close to 100% before going back after that, and it takes long, lonely days doing rehab away from the squad sessions to get back to being the player you were before the injury.
People don't realise just how tough that is for a sportsperson.
From the public's perspective, someone else puts on the jersey, we get to watch the game regardless and almost forget about those that are injured until they are making their comeback.
Out of sight, out of mind.
There will be nobody more frustrated than Sam Cane at this moment. People's harsh comments and wishing retirement upon him certainly doesn't help.
I'm aware that it is the minority that voice these opinions and that there has been plenty of support for Cane as well in the past couple of days, but human nature takes over and it would take 10 positive comments to make up for every negative one that he is exposed to over the next couple of weeks or months before he gets to wear his All Blacks jersey with pride once again.
As a professional player and leader he should be able to take some of those comments on the chin and ignore them.
We can say whatever we want and he has to be strong enough to shrug it off but it doesn't have to be that way. As supporters we must find our voice of support for players that are going through tough times, whether that is a poor run of form or a serious injury.
Cane will now be dubbed 'injury prone' as if he is more likely to get injured than anyone else. But you have to wonder, how many collisions is he involved in every game?
How much ground is he covering and is he exposed to much bigger collisions, at higher speed than some of the rest of the positions on the pitch?
Ruby Walsh had an extensive injury history as a jockey. I've never heard him being called 'injury prone'. It's just the nature of the sport because if he falls off a horse at high speed or gets trampled, he is expected to come out with an injury. Yet someone like Sam Cane can take high speed collisions and if he comes out with an injury he should be doing better.
Johnny Sexton had the spotlight for a while due to a couple of concussions.
Despite being the best player in the world, there would have been a cohort of people saying he had to give it up, and England head coach Eddie Jones memorably said he was "worried about his welfare".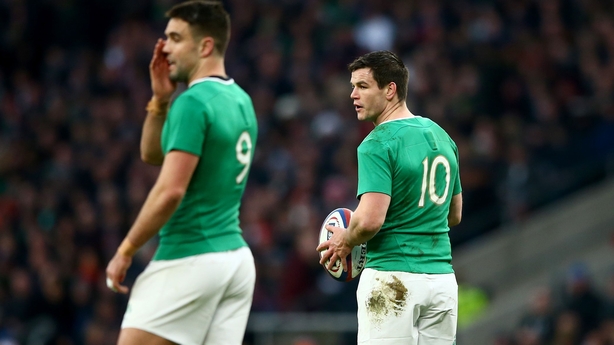 Apparently it wasn't good for him and for his own sake he should call it a day. I'm not sure if it was really for Sexton's own sake that these comments were made, but he is fit and able with no evidence to suggest otherwise.
Despite that, people were calling for the end of his career, a profession that he worked so hard to get to the top of.
Conor Murray is the same. A neck injury that he couldn't even speak about because of the public perception. If he spoke about it he would be asked to retire by some.
When he kept some of the details between himself and the medics he was in the spotlight too, rumours were growing arms and legs.
Surely players like that have built up enough credibility and support that we can get behind them in a time of need. It doesn't matter how good you are, you feel the effects of these comments and public perception.
There are those who are getting frustrated with Joey Carbery as well. Imagine how frustrated Joey is himself. How much he wants to play the game, he wants it more than what anyone else wants for him.
Maybe these things just hit a nerve with me. I would have been called injury prone. I don't think I was injury prone.
I was a young fella playing twice the amount of sport as some others my age. I was over-trained and under-recovered. Of course I was going to pick up a niggle but everyone wants their slice of the pie.
In my professional career, I think I picked up one hamstring strain that kept me out for four weeks at the end of a season. Fast forward to my career-ending hamstring injury when it was torn from the bone and subsequently is still not attached.
"Sure you've always had hamstring issues haven't you?" was what I was asked in the aftermath.
I haven't had hamstring issues. I have had one major hamstring issue that isn't going to go away. It is merely misinformation in a conversation with people that are well-intentioned but it isn't accurate.
I've had my share of injuries but hasn't every sportsperson? Including the best in the world. Not too many go through their careers as durable as Donncha O'Callaghan, although that is a testament to how he looked after himself too.
My request is to think about the player and the person behind the injury. Take a moment to ask yourself how they're feeling before you voice your own opinion. Do you know all the facts?
Sport is a tough place to forge a career but one that is worth every moment of hardship when you get to enjoy the wins and highlights. It shouldn't be clouded by lazy opinions.