It may look like sport is back to normal and we are getting used to watching Super Rugby returning with large attendances, derby games and dramatic finishes, but closer to home we remain a bit away from that.
Despite much lower figures in terms of cases of Covid-19, we're still following the return to play guidelines outlined by the Government and IRFU.
To anyone not involved in sport, it may seem like teams are back as normal.
However, much like many workplaces, training grounds are very different to what they were before this outbreak happened.
In the club game, where testing isn't afforded, dressing rooms are out of bounds to avoid any lingering in larger groups and to maintain social distancing.
This is a necessary guideline but the dressing room is where most lads catch up and have a bit of craic after leaving a day of work behind them before they switch back on for a training session together.
That aspect of sport has to be parked for the time being, which may seem like a minor point to most spectators but to the players it is a sacred part of going to training and getting involved in the camaraderie of team sport.
Most club teams would have done their meetings and planning in the same dressing rooms so it is also taking a lot of the tactical side away from training for now.
It's probably no harm for the time being but getting closer to proper preseason training for rugby teams will involve many discussions surrounding game plans to understand what is expected of the team before they implement it on the pitch.
The aim here is to take some time to understand aspects of the game that are being focused on or areas of improvement. Hopefully it won't be long before teams can use these communal areas again, albeit in a more socially distanced manner.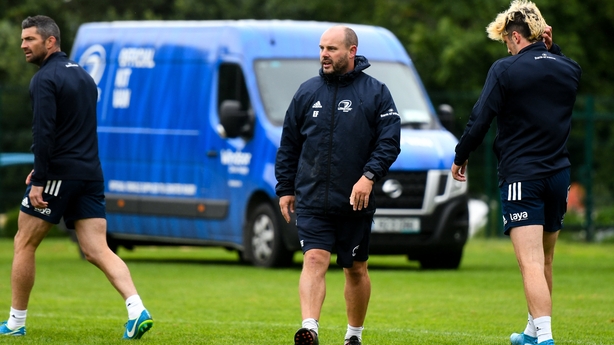 That translates to the pitch as well with no huddles allowed. You could have a quick word if needed but everyone has to be a lot more conscious in the current climate.
At present this will do no harm anyway as most teams will need to lay the foundations in terms of loading the body with appropriate fitness and conditioning to allow the players to ease back into a training load that they can tolerate without suffering any injuries.
We have seen from past experiences like the lockdown in the NFL in 2011 and from the Bundesliga post Covid-19 that injury rates are higher after a sudden pause in play.
This is despite these clubs having much bigger budgets than the club games here in Ireland, and even the professional games in this country, too. 
Teams will have to focus on their squad a lot more in the coming season and will more than likely have to deal with more injuries to starting players that will be trying to play week in week out as they were before the break.
Even if players have been training away on their own during the restrictions, going back to team sports environments is much different to doing some gym work in the house/garage or doing linear tempo and 5km runs.
Now, players are having to react to different people, getting your eye in for the ball and skill work, adapting to drills and even opposition players' movement.
There is a different mechanical load required for reactive and higher intensity game play which will take a toll on players. More musculature is at play when reacting so easing your way back into these movements is no harm.
This increase in load can be done while the tactical side of the game is still restricted. At the moment, we still can't pass the same ball between the whole team.
Reduced group sizes will be necessary to do any skill work and players are advised not to touch a ball coming from another drill or group.
The advice is to kick that ball back along the ground to save the cross contamination between groups, it will also save time not having to sanitise a ball every time it gets misplaced into another group. 
From Wednesday this is changing, heading into a new phase on non-contact rugby which will allow teams to open up their training a bit more for developing tactical and phase play structures but up to now there wouldn't have been any need for a ball based on what we are allowed to do.
There still won't be any set pieces, scrummaging and mauling allowed so those aspects of the game will have to be focused on towards the end of the summer or at least after this phase of three weeks is completed.
The amount of work going on behind the scenes has been taken for granted. Head coaches in clubs have had to put structures in place along with planning their return to preseason, recruitment and put Covid officers in place to even get back to training.
Players need to fill out forms and sign in to training for tracing purposes in case any cases do emerge so it isn't a case of rocking back up to training ready to go. There's a lot of caution needed for any business and club to get into full operation. 
Gyms and pools have re-opened under strict new guidelines, reports Dave Kelly #rtesport pic.twitter.com/ReBwsNVxlu

— RTÉ Sport (@RTEsport) June 29, 2020
Hopefully, with gyms and more public businesses being open it will set a precedent for teams to move closer to normality and get back to the usual team environment a bit quicker. Other sports are back playing matches with less restrictions on training so hopefully rugby won't be far behind. 
If you are dealing with coaches, players, businesses etc. try to exercise some patience. A lot of people are going back to unfamiliar circumstances and stepping outside of their comfort zone after the last number of weeks of staying closer to home.
As in every situation there will be many people not sticking to the guidelines but that shouldn't discourage you from operating with due diligence when going out in public places.
Sport may not be fully back yet but we are moving in the right direction and I'm sure it will ultimately be embraced by spectators and players alike.