Eddie O'Sullivan feels Ireland should have anticipated the English approach in Sunday's Six Nations match rather than being "caught cold" as they appeared to be at Twickenham.
Andy Farrell's Irish side had gone into the game with two wins from two but proved powerless against England, 12 months on from a similar setback against the same opposition in the tournament.
O'Sullivan believes England were always going to look to deliver an onslaught in attack and defensive aggression.
"First thing is the whole psychology of the game, England had to win the game. If they had lost yesterday, it would have been disastrous, so we should have expected this onslaught to come," the former Ireland head coach told RTÉ Radio 1's Morning Ireland.
"We looked like we were caught a bit cold on it. The first two tries, [England] were lucky with the bounce. But we had left that space in the back-field.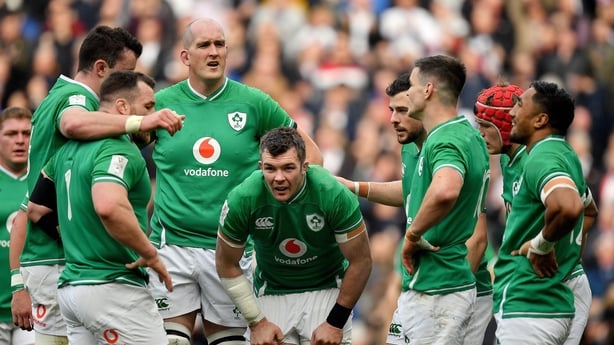 "The scrum was under huge pressure, the maul didn't work and probably the big takeaway for me was we should have expected the English defence to be every bit as aggressive as it was, and that seemed to knock us back.
"So there were a number of things there. It was a perfect storm and we looked a bit shellshocked for most of the game."
Up next for Ireland is an Italy side who have not won a Six Nations game since 2015. But after that, a vibrant young France team - still in the hunt for a grand slam heading into the final week if they beat Scotland next - awaits in Paris.
"There is not another game now before going to Paris that will give us a benchmark of where we are because the Italian game will not really be a benchmark, unless we don't play well in that," said O'Sullivan.
"But assuming we get back on track, we'll beat Italy and then going to Paris, we won't know what to expect.
"Because the French now do have the bit between their teeth. We all expected them to wilt in Cardiff as teams often do but they actually went to a new level on Saturday.
"So I think going to Paris is going to be very, very difficult. We're still in the championship but our form has to shift dramatically to give us a chance."
In regards to new Ireland head coach Farrell, O'Sullivan added that "it's very early days" and that there is "no point getting carried away" after his first defeat in charge.
"Even in my own time, I had ups and downs in my first year or two," he said.
"It's going to be tough to turn it around in this championship. But it's early doors for him and he will learn from that."