Venue: Energia Park, Donnybrook, Sunday 9 February, 1pm
Online: Live blog on RTÉ.ie and the RTÉ News Now App from 12.45pm
TV: Live on RTÉ2 and RTÉ Player from 12.30pm
Weather: If you hadn't heard, Met Éireann have issued yellow warnings covering both wind and rainfall for the weekend. Both will be in effect when the action kicks off in Dublin 4 at 1pm. Southern, western, and north western coastal areas are expected to suffer most when Storm Ciara does strike, but weather conditions are likely to impact on the match, with up to 20mm of rain likely to drench the playing surface on Sunday.
Gusts could reach speeds of up to 50km/h (31mph). Inclement weather is likely to conspire against a free-flowing game, which could put a premium on accurate kicking, well-executed set-pieces and forward play.
Ireland and Wales do battle in Donnybrook on Sunday after opening their Women's Six Nations campaigns with unsatisfactory performances last weekend.
Ireland laboured to the nerviest of victories over a Scotland side which has been wretched for well over a decade, edging the contest 18-14 after Beibhinn Parsons ran the length of the pitch to score a superb intercept try.
However, the teenage winger's piece of individual brilliance was perhaps the only positive head coach Adan Griggs could take from a second half which the visitors thoroughly dominated.
Scotland have won a grand total of four Six Nations encounters in the last decade, 'winning' the Wooden Spoon on seven occasions. They've recorded just one win narrow over Ireland in that period, while Ireland have inflicted a series of heavy defeats on the Scots. It's a perennial mismatch, but the comfortable win most pundits predicted never materialised.
It all started so well. Ireland hooker Cliodhna Moloney opened the scoring, duping the Scots with a dummy throw and barrelling by three would-be tacklers before crashing over the line after nine minutes.
Sene Naoupu also crossed to make it 13-0 before a quarter of an hour had elapsed.
However, Moloney's departure due to a head injury after 27 minutes proved a turning point, with Scotland getting back into the match when Lisa Thomson's try was converted by Helen Nelson just before the interval.
The momentum remained with Scotland after the restart and they spent long periods camped deep in Ireland territory, with Parsons try coming completely against the run of play. But a win is a win, be it well deserved or somewhat fortuitous.
Moloney is fit to start for this weekend and her inclusion is a huge boon for Ireland's prospects.
Griggs has made three changes to the side to play Wales, with Eimear Considine included after recovering from injury.
Judy Bobbett makes her Six Nations debut and features in the second row, with Claire Keohane also starting after impressing off the bench against Scotland.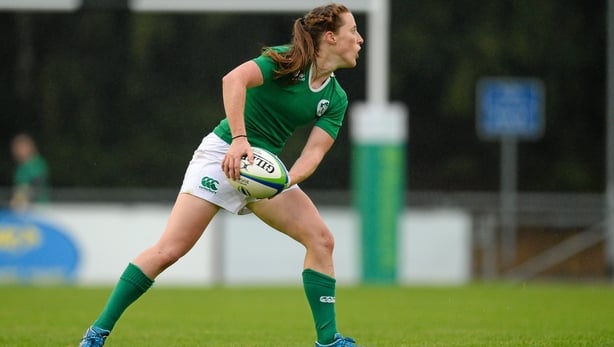 If a slightly rusty Ireland side are in need of a confidence boost, Wales could well provide it. They seem in disarray - on and off the pitch - at the moment.
They opened their campaign against Italy in Cardiff on Sunday and succumbed to a 19-15 defeat.
Italy have made giant strides in recent seasons, with the former whipping boys - or girls - filling the runner-up berth behind England in last year's competition.
But Wales enjoyed their best Six Nations season in a decade in 2019, racking up two wins an a draw, and they went into this tournament hoping to build on that relative success.
The 19-15 scoreline actually flattered the hosts. Italy had not one, but tw tries ruled out by the TMO, while their profligacy in dangerous positions meant that several other try-scoring opportunities were spurned.
Mystery surrounds just what Wales head coach Rowland Phillips is up to at the moment. The Welsh Rugby Union revealed that he was "taking time away" prior to the national side's autumn internationals.
The WRU didn't provide a reason for his absence and hasn't indicated when or if he will return. It's an unsatisfactory and unsustainable situation.
Chris Horsman, Geraint Lewis and Gareth Wyatt have been sharing Phillips workload in his stead.
The wonderfully named Siwan Lillicrap will skipper Wales on Sunday, while Manon Johnes and Alisha Butchers replace Alex Callender and Bethan Lewis in the starting line-up.
Views from the dugout
Ireland head coach Adam Griggs: "It was great to start the campaign with a win. We started the game against Scotland well, but we have areas to work on for this weekend.
"Wales are a familiar side, we played them in November, and we lost to them in the final minutes of that game. We know how strong they are and where the threats are.
"I've no doubt they will be looking for a result on Sunday. If we get the small things right, I am confident we can come out on the right side."
Phillips missed all five autumn matches in 2019 when the Welsh Rugby Union announced he was "taking time away."
Wales coach Chris Horsman: "We are extremely lucky with the riches we have available to us in the back row.
"It's a hotly contested area and it's a case of giving these players a chance to shine and provide the right balance in this match.
"Beth (Lewis) and Alex (Callender) will also play a key part, as Manon and Alisha did from the bench last Sunday.
"We are comfortable with where we are as a group. We showed how dangerous we can be in the first half against Italy. Our scrum was excellent against a bigger Italian team and defensively we were very good, but we need to manage our possession better and be more clinical with ball in hand.
Teams
Ireland: Eimear Considine; Lauren Delany, Sene Naoupu, Michelle Claffey, Beibhinn Parsons; Claire Keohane, Kathryn Dane; Lindsay Peat, Cliodhna Moloney, Linda Djougang, Aoife McDermott, Judy Bobbett, Ciara Griffin (captain), Edel McMahon, Anna Caplice.
Replacements: Victoria Dabanovich O'Mahony, Laura Feely, Anne-Marie O'Hora, Ciara Cooney, Dorothy Wall, Nicole Cronin, Larissa Muldoon, Aoife Doyle.
Wales: Kayleigh Powell; Jasmine Joyce, Hannah Jones, Kerin Lake, Lisa Neumann; Robyn Wilkins, Keira Bevan; Gwenllian Pyrs, Kelsey Jones, Cerys Hale, Natalia John, Gwen Crabb, Alisha Butchers, Manon Johnes, Siwan Lillicrap (captain).
Replacements: Molly Kelly, Cara Hope, Ruth Lewis, Georgia Evans, Alex Callender, Bethan Lewis, Ffion Lewis, Paige Randall.
Match officials
Referee: Aimee Barrett-Theron
Assistant 1: Laura Pettingale
Assistant 2: Beatrice Benvenuti
TMO: Neil Patterson