Munster head coach Johann van Graan dubbed Andrew Conway "world class" after the winger's late try secured victory for the hosts against Ulster in their Guinness Pro14 clash at Thomond Park.
The visitors nosed ahead with just over 20 minutes remaining after a dominant third quarter in which a Rob Herring try and John Cooney penalty wiped out a nine-point half-time deficit.
However, Conway's stunning individual try proved decisive, settling an otherwise error-strewn encounter in favour of the home side.
With 15 minutes remaining and Munster still without a point in the second half, Conway stepped off his wing and into midfield traffic, collecting an inside pass from replacement out-half Tyler Bleyendaal, breezing past a series of desperate tackles and diving over for a score under the posts.
Speaking afterwards to RTÉ Sport, his coach said the winger had carried his 'excellent' World Cup form into the club season.
"He's a player for the big moments," Van Graan said.
"I thought he had an excellent World Cup and he's taken that form into Munster. I thought his defence was very good, I thought his high ball was very good and it was a special try.
"You want world class players in your team and he's certainly one of those."
Aside from Conway's score, neither backline really set the world alight with handling errors aplenty, especially on the Ulster side.
However, Van Graan was minded to be too introspective on that score and was content to take an "ugly win".
"We knew it wasn't going to be a pretty game so we're happy with an ugly win. There was a lot of new guys in the squad. A good week of preparation. But it was a typical Irish derby between Munster and Ulster.
"The two sides were actually pretty positive, I thought. Massive breakdown battle, big maul and scrum battle. We had to work really hard for the win, so it's good for the week leading up to Europe.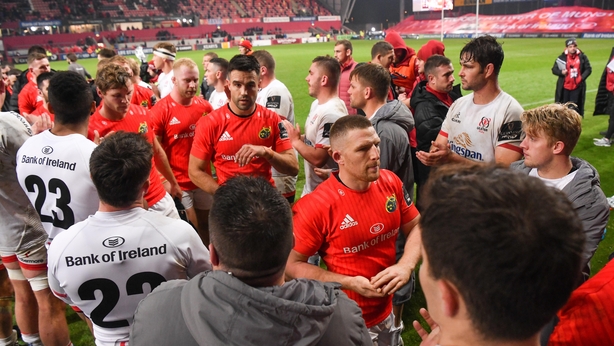 "Definitely the toughest game we've had all season. There's no love lost between the Irish when we play each other. I thought the game was played in a very good spirit.
"We'll enjoy tonight. We, as a group, made one of our focus points to enjoy every win because you work so hard for a win. We'll start afresh on Monday in a new competition. There's a lot of selection headaches which is good."
One of the more worrying aspects of the evening was the first-half injury suffered by JJ Hanrahan, who started brightly and was injured after making a break in midfield 24 minutes into the game.
"It looks like a hamstring injury," Van Graan observed afterwards.
"He was pulled off straightaway. We'll find out more on Monday, hopefully some good news. So, we might be a bit thin at 10."
Munster's Ulsterman at centre Chris Farrell was one of the large crop of international players making their first provincial appearance since landing back from Japan.
Afterwards, Farrell was quick to note the work done by the rest of the Munster squad during the internationals' absence and admitted that the home side's indiscipline made it a tighter game it might otherwise have been.
"It's really exciting to get back into the provincial game," he told RTÉ Sport.
For those of us who were away at the World Cup, we've seen that the work that the lads have been doing over the last couple of months and it's really stood to us as a group.
"They really sewed it into us in the first 10 minutes and we knew we were in for a big battle. We got our tails up a bit after 20 but they just stuck in there and it was really, really competitive.
"Our indiscipline is what kept them in the game so long and kept their heads up. You can't afford to give someone like John Cooney those opportunities because he'll take them everyday and it'll be the same next week (against Ospreys) and then against Racing as well.