It's 12 years since New Zealand last lost a World Cup game but there was a time when the most obsessive and successful rugby nation on earth were regarded as 'chokers' on the biggest stage.
The 2007 quarter-final loss to France in Cardiff was the fifth time in a row the fearsome All Blacks had been dumped out in the knockout phase.
They hadn't won the World Cup since the inaugural competition in 1987. Most of the time in the intervening 20 years, they were the best team in the world but always seemed to hit their moment of maximum vulnerability right in time for the quadrennial shindig.
In '91, Australia had overtaken them and beat them soundly in the semi-final, in '95, you had the food poisoning business the week of the final, in '99, they were overwhelmed by an inspired French semi-final display, and in 2003 they were surprisingly defeated by Australia in the semi-final though Clive Woodward's England probably had their measure in any event.
2007 was by far the most shocking of these losses and the most traumatic from a fan perspective.
This was Graham Henry's New Zealand, the New Zealand of Richie McCaw and Dan Carter. The New Zealand of 'Sweeping the Sheds' and 'No D***heads' and 'Better People Make Better All Blacks', these phrases which would migrate across sports and become the staple of coaching course powerpoint presentations for a decade to come.
(The extent of the influence of that team and their famous mantras was shown in that snapchat video when Stephen Cluxton was seen sweeping the Croke Park dressing room floor after the five-in-a-row while Cormac Costello and Brian Fenton were rapping to camera - to Versatile's 'Prefontaine'.)
New Zealand always had a formidable win:loss ratio but this was improved upon again in the mid-noughties. It hovered around 75% in the 20th century. During Henry's tenure it climbed to above 85%.
When they humiliated the Lions in the summer of 2005, with Dan Carter announcing himself as one of the greatest out-halves we'd ever seen, it seemed almost an inevitability that New Zealand would win the next World Cup.
This was the primary reason why the 2007 loss was such a jolt. That sense of accumulated World Cup disappointment intensified the pain. If they were a Gaelic football team, some 'curse' or other would have been retrospectively invented.
Footage of the time shows New Zealand fans, grown men, scooting out of the Millennium Stadium with tears in their eyes and forlorn-looking women draped in New Zealand flags ringing home as if a tragedy had occurred.
In a controversial and wide-ranging New Zealand TV interview with Graham Henry after he left the job, the voiceover announces solemnly over the footage of the French loss - "Henry's pain was our national shame."
Referee Wayne Barnes was vilified after the defeat - and Henry, who was initially gracious, joined in the vilification after a few years had elapsed. The English ref, in truth, had done New Zealand few favours and missed a clear forward pass from Freddie Michalak in the lead-up to Yannick Jauzion's winning try.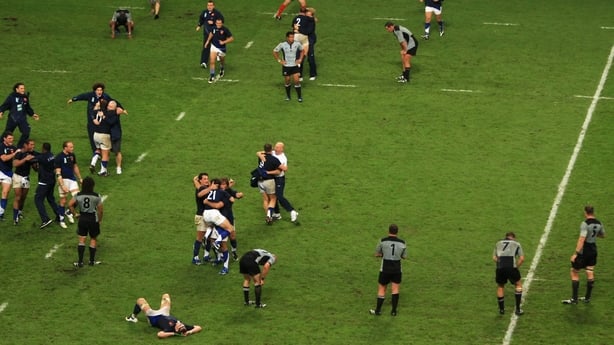 Stuff.co.nz, the website we are obliged to consult regularly in advance of Ireland-New Zealand games, ran a retrospective four years ago asking members of the press corps for their recollections of that evil night.
Their reminisces read like dispatches from a desolate war-torn region.
"The mood was exaggerated by the Kiwis inside the stadium and also out in the streets afterwards. There were All Blacks supporters who'd just arrived and had come for what they thought would be the trip of a lifetime, which had been cut short after a few days....
"I remember walking back to the hotel through Chip Alley and it was like a war zone. People were strewn all over the place, there was rubbish everywhere. Downtown Cardiff was just carnage...
"As I walked down the main high street, the floor was covered in thousands of broken, plastic beer glasses. It was then that it really hit me what had happened."
The whole thing reminded you of that old myth about admissions to psychiatric hospitals going up in Kerry in years when they don't win the All-Ireland. In New Zealand, it might be actually true when they lose rugby matches.
A colleague who was in New Zealand at the time remembers the atmosphere changing abruptly from giddy expectancy to wounded despair.
"The mood changed demonstrably as soon as they were knocked out of the World Cup," he recalls. "You were taking your life in your hands making jokes about it. There was no gallows humour at all."
One got the sense that this is a nation who are ready to commission a Genesis report every time they don't win.
Of course, this is probably a powerful reason why they do in fact win so often. Someone could easily chime in with the cliche - 'show me a good loser and I'll show you a loser'. One of the reasons New Zealand rugby fans are such bad losers is they get so little practice at it.
Heading into the World Cup quarter-final against Ireland, New Zealand's need to win - or even more to the point, their need to avoid the indignity of losing - is possibly one of the biggest weapons in their arsenal.
Former Ireland coach Eddie O'Sullivan believes that this is not the most intimidating team New Zealand have ever sent out in a World Cup.
He contends that Ireland have a more settled team and have a good chance of causing an upset.
But he warns that New Zealand's insatiable need to win is all the greater in World Cups and always a powerful factor to consider.
"If you think about it from New Zealand's point of view, if these guys have to get on a plane and go home next weekend, their life won't be worth living when they get back to New Zealand.
"It'll be misery upon misery for a long time. To go out of the World Cup in the quarter-final, there was pretty much chaos about it in 2007.
"These guys are going to be playing for their lives."
Follow Ireland v New Zealand on Saturday 19 October (kick-off 11.15am) via the live blog on RTÉ.ie/Sport and the News Now App, watch live on RTÉ2 or listen to live match commentary on RTÉ Radio 1.
***
Follow all four Rugby World Cup quarter-finals this weekend via our live blogs on RTE.ie/Sport and the News Now app, or watch live on RTÉ2.