A lot of the media are focusing on what Ireland did wrong following their record loss to England at Twickenham last weekend.
There are areas of weakness for Ireland thus far and writing off these weaknesses due to it being their first tough game sounds a bit naive at this stage with the World Cup looming.
There is a big difference in terms of where both teams sit with their preparation.
I wrote last week that it will be a tough game against a hurting English side, who have had two high-standard tests against Wales up to now but I didn't expect that gulf in preparation, especially in the contact area.
A few seasons back under Rob Penney we did very little contact throughout the training season.
It was also my poorest defensive season as far as I can remember. There's a balance to be struck between keeping players fresh and injury free but also getting enough hits in regularly for them to be able for the level of contact that's coming up.
Maybe it was only me personally, but it would be interesting to know how much contact has been done in this build up by Ireland or are they relying on these games to get that contact in.
If it's the latter then I'm sure it will only get better and it could all be part of the Joe Schmidt masterplan.
Pre-season games are tough to get your head around and it's one thing getting used to the contact but you'd wonder if players were holding themselves back in fear of causing themselves an injury.
There were some very low stats out there. Captain Rory Best only managed two tackles and three carries in 53 minutes of rugby.
But let's focus on what England did well on Sunday.
Apart from Ireland's defensive frailty, England won the gain line repeatedly. At half time they had 38 gain line successes to Ireland's 19. Ireland had 34 missed tackles in 80 minutes.
How much of that was down to England's power game? How many times did we see a Maro Itoje carry followed by Billy Vunipola or Manu Tuilagi that caused Ireland trouble?
Add to that the offloading game from Owen Farrell - who still wasn't at his most influential - and others and they had a fine balance to their attacking game.
Last week I analysed the two lines of attack that England use.
It isn't that they're the only team attacking in this style. It's been present in the game since rugby league coaches crossed to union but England run it particularly well.
That's probably because Saracens run it so effectively at present and a few seasons back George Ford and Jonathan Joseph were part of a Bath team that had a lot of success using these plays.
It helps when the front line or 'hit' lines from England are so powerful that the Irish defenders had to respect them for longer and couldn't push off to help the defenders outside them.
That created a hesitancy in the Irish decision making and they were beaten by it a few times.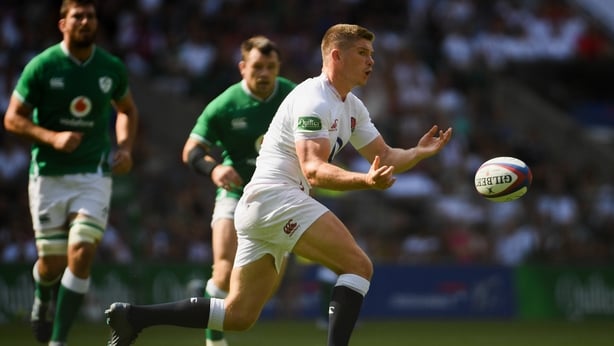 There was one particular set piece that Joe Joe Cokanasiga scored from in the corner. Conor Murray was looking at the narrow side from the scrum, which meant he didn't defend the first threat from the English attack, which was Ben Youngs.
Youngs was able to attack wider and get to Ross Byrne, which meant that the Irish defence all had to turn their hips in more than they would have liked and it created a narrow defensive line to stop the English play.
To be fair, all of the Irish defenders reacted accordingly but it was a long way for Jacob Stockdale to come in off his wing to try to shut the play down. Jonny May showed good handling to put Cokanasiga away in the corner.
Traditionally Ireland would have defended with Murray trying to come to the open side of the scrum and release Byrne a bit earlier to get to the first hit runner.
It isn't uncommon for teams to do what Ireland did. They kept Murray on the short side, which I can only assume meant that Jordan Larmour left his wing earlier to push Rob Kearney to close a little bit earlier on the far side and hope to shut the play down aggressively.
If they had their time again I wonder if Murray would have stayed open to allow an earlier shift from the Irish backline.
Again, these are things that will have to be sorted by Andy Farrell over the next couple of games. This is why tough Test matches are invaluable in the lead up to the tournament.
A positive to be taken from at least the first half was Byrne's performance. He had an array of kicks and he's quite bold in his decision making for a less experienced international out-half.
He had a high crossfield kick, a flat one to Kearney, kicked well at the posts and also kicked a short restart down the middle that Ireland won back when the pressure came on.
He controlled the game well with a grubber to the corner and a pass to Larmour who grubbered to the corner as well in the first half. It's important to have a solid goal kicker to back up Jonathan Sexton but he will also make big plays without hesitating.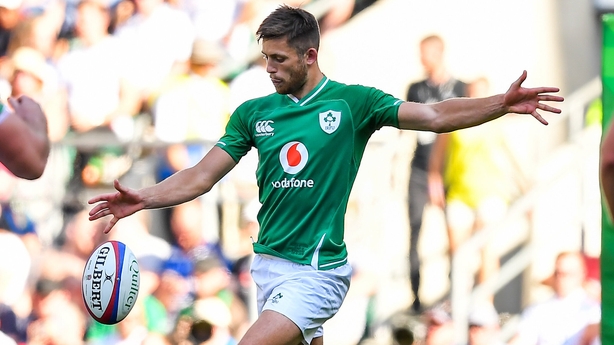 His inexperience possibly showed with his exit kick that went straight out on the full.
A more experienced out-half would execute that, even if the game was well gone at that stage. He seemed to have little time on the ball too because of England's rush defence in the inside channels.
He passed the ball quite quickly to allow his runners to have more time on the ball. I was hoping at some stage that he'd take an extra few steps deeper so he could have more time with his decision making but as a whole I think it was a promising game from him when Ireland weren't at their best and certainly weren't on the front foot for most of the game.
I'm not going to mention the lineout, there are others who are better placed than me to comment on the area of the set piece but I don't think we can rely on Devin Toner to get us through the lineout. We have enough fire power in terms of jumpers to fix that problem with and without Toner.
Relating to the set-piece, England scrummaged for a penalty early on which Farrell converted to three points. They have all the tools at the moment to challenge for this World Cup.
All in all, it was poor timing on a few fronts for Ireland last weekend. Springing a lot of their starting team into their first game when England players were a game or two ahead of them, away in Twickenham, after England had lost to Wales.
We should not get too carried away but you would hope that Schmidt, Farrell and Co have plans in place to pick it up a few levels for Wales this weekend. Wales didn't hold back last time out in Cardiff, Ireland need to bring their motivation and intensity now.
Sparring is over, if they're to get up to speed and achieve something in this World Cup it's time to start landing punches.
Follow Wales v Ireland via our live blog on RTÉ.ie and the News Now app, or listen to commentary on RTÉ Radio 1's Saturday Sport.