Competitive rugby finally returned at the last weekend but with there was a real pre-season feel to the action.
After a summer of being involved with Cork GAA, I was looking forward to getting back into my comfort zone when it came to offering up some analysis.
There were a few talking points following Ireland's straightforward defeat of the Italians at the Aviva Stadium.
Joey Carbery's injury is obviously the major concern, especially given how well he was playing.
Carbery and Andrew Conway teamed up well in terms of our kicking game and I feel Joey would have taken the man of the match award ahead of Conway had he stayed on the field. He looked so assured and confident in the game plan and in what he was doing.
One area that they combined particularly well in was the exit strategy. Ireland have implemented a contestable exit strategy and you'd imagine they're trying to fine-tune it with the knockout stages of the World Cup in mind.
It will still stand to them in the pool stages against good running and counter-attacking teams like Japan and Scotland, but the real reason for it is based on possession against the big teams.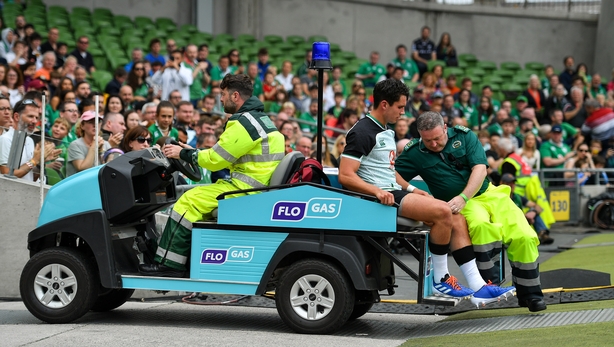 Traditionally you'd go to the air instead of kicking long from an exit if you were facing a particularly sharp counter-attacking team like some of the French sides of old.
It can simply be a case of not being too ambitious with your clearance kick and just hitting the stands so your opponents can't play a fast lineout.
The other way of dealing with it is kicking high contestables to give your chasing wingers a chance to get man and ball in the tackle, if not compete in the air to win possession back.
However, we saw in Ireland's win against the All Blacks in November that they clearly wanted to hold on to the ball for longer periods of the game.
Schmidt instructed his on-field decision makers to run the ball from their 22, something you'd think teams wouldn't do against the All Blacks.
The thing is, if you give the ball back to teams of that calibre, in the setpiece or otherwise, they hold on to possession until they score or they put you under enough pressure until your defence infringes.
It's a constant wave coming back at you and I feel that's something that Ireland are trying to become more comfortable with before the knockout stages of the tournament in Japan.
Perhaps this is where the likes of Conway and Dave Kearney could prosper because they are so good in the air. Kicking to a tall winger like Jacob Stockdale is another option and we've seen how dangerous Keith Earls can be when gathering scrappy unstructured possession from an aerial battle.
Following Carbery's ankle injury and the subsequent introduction of Jack Carty, Ireland went for the no-nonsense approach of clearing their lines.
I'm not sure if Carty was instructed to do that because he is less experienced at this level and Schmidt wanted to take the pressure off him, or if it was because the last contestable exit hadn't gone their way and Italy remained on the attack.
It could well have been a case of Carty playing to his strengths and managing the game for the team too because he produced a fine kicking performance when he came on. He clearly wanted to show the Irish management that he can replicate his form with Connacht in a different shade of green.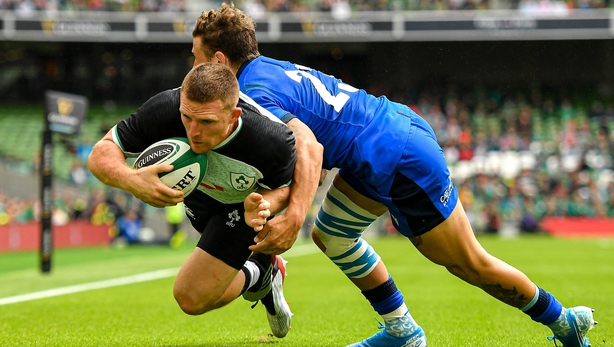 The other side of this tactic is the danger of the losing the aerial battle so deep into your own half.
If the kick isn't accurate or if you lose out on that 50/50 in the air you are under immediate pressure with a somewhat disorganised defensive line.
I'm sure Schmidt isn't naive enough to neglect that danger, and he'll likely have certain players looking for scraps and other guys filling the pitch in case there is a turnover. Still, you're potentially giving away possession just outside your own 22.
If you look at the result of the first cross-field exit against Italy, it put the pressure back on Ireland. I think it was the second kick when Conway won an excellent ball in the air, then Carbery opted for a grubber kick where Conway infringed and Italy mauled from lineout to penalty until they scored the opening try of the match.
Just before Carbery went off we saw a second period of sustained pressure because of a contestable that wasn't secured in the air. This will be one of the aspects of the tactic that Schmidt will have to think about.
Against a better side than Italy, there could have been more trouble for Ireland.

So yes, this tactic comes with its risks but it can be a real strength and a momentum changer because if you win the ball you have engaged the opposition back field and there's often more space in behind for a secondary attacking exit.
You see Conor Murray doing this quite often when Munster win the ball in the air. He often sends another kick in behind the opposition defence that runs on into space.
We saw Carbery do this in the later stages of the first half on Saturday too. The crowd love to get behind a team showing the work rate and bravery in the air to turn the ball over and it can really change the feeling on the pitch too. It'll be something to watch out for in the next few games.
Carbery did well to finish his try after slick handling by Chris Farrell. Farrell is such a threat in attack because he's so big and abrasive but can also play some rugby.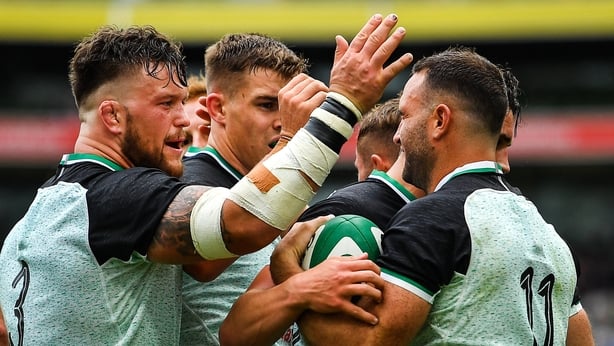 For the second Irish try he gave a quality attacking platform after crashing over the gain line from a play at the back of the lineout. It was Garry Ringrose's turn to display his handling at the tackle line to feed Larmour who sent Dave Kearney away in the corner.
Ireland are trying to become more clinical in the opposition 22 and are willing to throw passes. We see this a lot from Leinster and from Sexton. It can be a very fine line but when Sexton pulls the trigger it very often results in a try.
It wasn't as evident in Ireland's third try when Conway seemed to be waiting an age to score after a number of tight phases from the pack but Carbery stepped up and drew his defender before Conway crossed for his seventh international try.

Ireland fans will be hoping for some positive news for Carbery in the next few weeks. Schmidt has confirmed that nothing is broken but we'll wait for a more detailed injury update and hope that the New Zealand-born out-half isn't an early World Cup casualty.