Ireland may be forced to increase their kicking game at the World Cup in order to avoid being physically dominated, according to Bernard Jackman.
The RTÉ Rugby analyst watched Saracens power to a 20-10 victory over Leinster in Saturday's Champions Cup and says it has been a worrying trend in 2019 for Irish sides.
Mark McCall's side executed a gameplan based around power and possession and the former Ireland and Leinster hooker says with the World Cup looming, it may be time for a tactical rethink for Joe Schmidt and his coaching team.
"It's not the loss, it's the nature of the loss," Jackman told 2fm's Game On reflecting on St James' Park defeat.
"Leinster will find a way to adapt, Ireland I'd imagine will find a way to adapt, but it is a different challenge when you are talking about physical attributes. They are harder to overcome than technical or tactical aspects.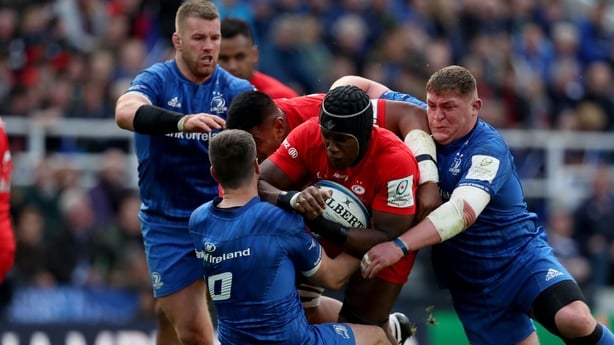 "Leinster will say the game hinged on moments and there were moments that were important, but realistically the most interesting moments were the ones we saw the most often; the sheer power and size of Saracens pummelling the gainline."
Jackman says it is the fourth time an Irish side has come a cropper this calendar year against a physically superior side, citing Munster's loss to Sarries in the European semi-final and Ireland's Six Nations setbacks against England and Wales.
With England, Wales, South Africa and New Zealand among those sides looking to flex their physical strength in Japan, the former Dragons head coach says it will give Ireland some food for thought.
I think the only way forward is to kick a lot more
"If you lose a game because you don't execute a pass, or tactically you get it wrong, you can fix that quite quickly. The reality is in those games, the Irish teams were completely overpowered.
"We [Ireland] are not going to get five or six kilos heavier before the World Cup. We are where we are physically, so it will be very interesting tactically what Joe and his coaches come up with.
"I think the only way forward is to kick a lot more."