In sport there is always an aggressor and a defender. Striking first and being proactive gives you the biggest advantage.
The opposition has to be resilient after this to catch up or turn the momentum to get back in the game which can often be too difficult depending on the size of the lead that was built up or the amount of damage done to the opposition mindset and confidence.
There are few situations where athletes come out early on with some tactical defence but it only suits some sports.
Floyd Mayweather is known for his defensive style in the boxing ring but he is the best in the business at tiring out an opponent and counter punching his way to a tactical victory. Unfortunately for Munster, rugby doesn't happen to be one of those sports.
Saracens took the game to Munster early on. They attacked Munster's back three in an aerial battle and came out on top which won possession in their opposition's territory.
Munster actually defended admirably in the first half with some strong defensive reads but it felt like they were surviving instead of thriving on some of their own play. Saracens were taking the game to them and for the first 40 minutes they surprised us in terms of the amount of pressure they could soak up and overturn.
They also turned that pressure on Saracens and some ill-discipline resulted in Tyler Bleyendaal keeping them in the game. A score of 12-9 at half time wasn't a bad position to be in, within striking distance with the sun at their backs in the second half.
Saracens brought their power game to the start of the second half and marched Munster backwards. This is where the aggressors take the advantage and finally make the breakthrough.
I've said it before but the fact remains, you don't have to miss tackles to concede tries. Saracens had 70 gain line successes compared to Munster's 36.
After 53 minutes Saracens had 60 of those. That is going to take its toll on any team no matter how valiantly they defend. There's only so much pressure you can contain.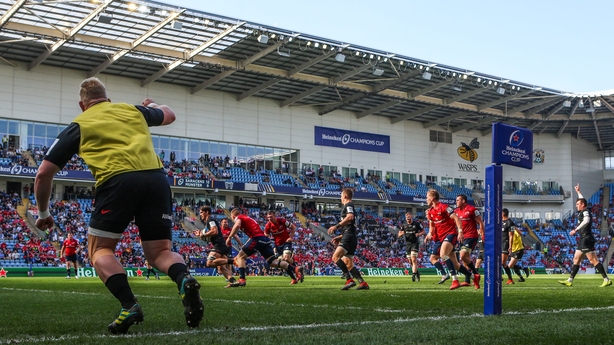 Within eight minutes after the break Saracens had added 10 points to their tally and it stretched to 13 unanswered points after 54 minutes. They had more metres gained, more defenders beaten, more tackle line success, more offloads, more passes and more clean line breaks.
You couldn't define the term 'aggressor' more accurately than that. But interestingly enough they also had more kicks from hand. There's a perception that strong attacking teams don't kick the ball but they do.
They kick the ball to relieve and transfer pressure and then unleash their strong attacking game in areas where the consequences of turnovers are much less.
Leinster weren't the out and out aggressors against Toulouse. They didn't dominate the stats as much. They did have more meters gained, better gain line success and more passes but Toulouse beat more defenders and had more offloads and clean breaks. So where did Leinster win it? They won it with the pace of the game.
They jogged to penalties, were first to set pieces and used their fitness to be on the front foot. There's nothing more mentally draining than a team that are hurrying you to play the game and setting the pace. It makes a big difference and was a point that Leinster set out to prove. Yes, they have a power game and they can dominate the tackle line, but they will do everything faster than their opposition.
Leinster are more comfortable at being uncomfortable in these situations and take teams to dark places because they are used to living there. Luke McGrath spoke last week about the intensity that they break to training and the match situations they play in.
I remember in pre-season the session plan would have been based on real data from matches throughout the season gone by.
The strength and conditioning department would have looked through Adam Sheahan's reams of GPS data and figured out the longest passages of play, the highest metres per second throughout these phases, the highest number of contacts etc. The conditioning sessions would be based around that.
As a player you know you're being looked after in a targeted way to get the most out of you in a match situation. Even if we were doing conditioning games there were conditions on it, like certain areas of the pitch you had to get to as a group when a try was scored and if one person didn't make it in the try wouldn't have been given. You couldn't carry any passengers.
The GPS data was live on the side of the pitch and if the pace of the game didn't reach a certain level you would have been warned of extra rounds if the pace didn't come up.
That's all well and good until contact comes in. In one of my more prolonged pre-seasons, I remember playing a short game on the first week that contact was introduced. It might have been 10 minutes long but I was confident that my aerobic capacity was through the roof and very confident in my ability to push the pace up.
Hitting contact and getting back to your feet while playing the game at that pace is another level altogether. There's nothing like physical contact to drain the energy from your legs while trying to clear big men from rucks.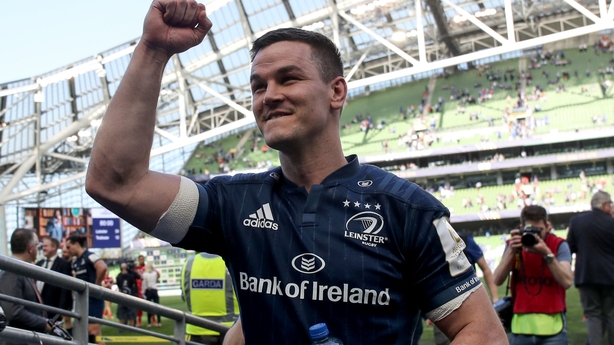 If your team are winning that contact more often, like Leinster tend to do with clever running lines and footwork into contact, it is more energy efficient and allows you to go on the attack in terms of setting the pace of the game.
You also have to train like that to practice your decision making in a fatigued state.
There are hundreds of decisions to make throughout a game, tackle technique, rucking technique, passing decisions and accuracy.
It's harder to make these decisions when your mind is overloaded with fatigue so you have to train at a pace that will set you up for matches.
The final of the Champions Cup next month is going to be a cracker. The physical battle between two very powerful sides could provide a stalemate early on but whoever takes control as the aggressor and strikes first will more than likely be the champions of Europe once again.