Ireland's defeat in the 2017 Women's World Cup play-off to Wales cost them an automatic place in the 2021 tournament in New Zealand but Fiona Steed says the new pathway provides an opportunity for the team to get their house in order.
World Rugby on Friday announced a new standalone tournament featuring Ireland, Scotland, Italy and the winners of the 2020 Rugby Europe women's championship, which currently includes Spain, Netherlands, Russia and Germany.
The winner of this qualifies for the World Cup with the second-placed team going into a repechage with Asian, Oceanian, South American/African teams where one place is up for grabs.
Ireland won championships in 2013 and 2015 but fell flat at the home World Cup in 2017 and finished a disappointing fifth in this season's Six Nations tournament, winning just one game, against Scotland, and were beaten by Italy for the first time.
The IRFU's Women in Rugby Action Plan launched last October has headline targets of a top-six finish at the World Cup, one Six Nations title within five years, with a top-three finish otherwise, as well as qualification for the 2020 Olympic 7s and 2022 World Cup 7s.
The new pathway at least provides a very clear time line for improvement, says Steed, who won 62 Ireland caps.
"Overall this is a positive," she told RTÉ Sport.
"We know that we have between now and then to get ourselves in order. The pressure is off, to a certain extent, in next year's Six Nations but hopefully we see the progress through that.
"Adam Griggs, Ireland's head coach, has tried a number of new combinations and has given a lot of new caps over the last Six Nations and autumn series.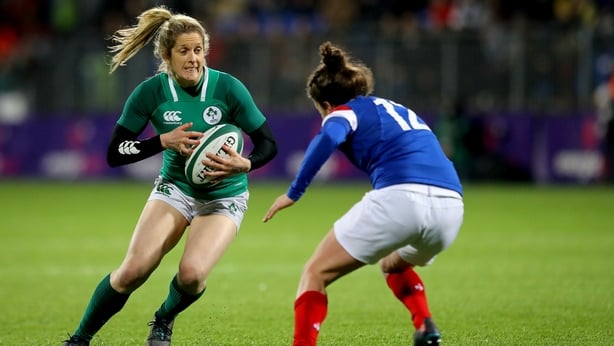 "This now needs to start to gel. We didn't see much of that over the Six Nations.
"We've seen a couple of retirements and we need to know who's in and staying here until the World Cup in 2021 and go with that squad.
"If someone has retirement in mind after next year's Six Nations then they might as well call it now. There is no point [in staying on for 12 months].
"There are a couple of older, more experienced players and we need to know if they are in it for the long haul. Age is not an issue, it's about commitment.
"If they are committed, then let's crack on, let's have a good autumn series, increase the camps and time spent together so that next year's Six Nations is much more positive.
"There needs to be more focus on the high-performance end of things and more support given to the girls. They need to be in camp together longer and they need quality opposition."
The IRFU say they see no difference between the 7s and XVs programmes, a stance that could be seen as hampering the teams' development.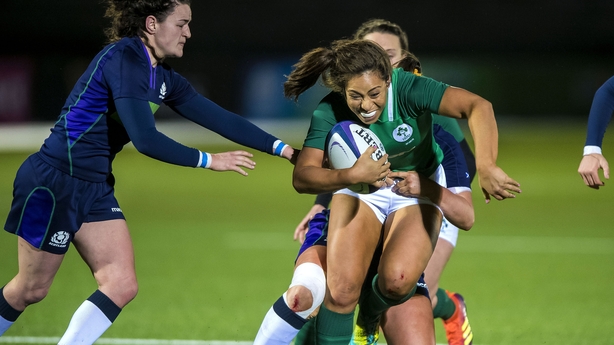 For example, commitment to 7s tournaments, where Ireland play in the World Series, has seen certain players unavailable for Six Nations games over the last few seasons.
"We don't distinguish between them," said IRFU chief executive Philip Browne in October.
"The women's programme is the women's programme, there is inter-change between the 7s team and XVs team."
Steed says: "Bringing people in and out is far from ideal and we need to look at strengthening our XVs and strengthening the people that are going to be in it."
In 2017 Ireland pulled three players from a Six Nations panel to play France to take part in a 7s tournament in Las Vegas.
One of those, Ali Miller, who retired last month, echoes Steed's call to improve the structures behind the national side.
"It would be fantastic to see them go pro or semi-pro in lead up to the qualifying tournament," said Miller, who scored 24 tries in 47 games for Ireland.
"Or have regional skills sessions weekly in conjunction with the men's provinces, joined up use of coaches in the different provinces to implement skills sessions for players in the different hubs around Ireland.
"It would be good to establish an U20's side and or a development team to identify and harness up-and-coming talent."
We need your consent to load this Facebook contentWe use Facebook to manage extra content that can set cookies on your device and collect data about your activity. Please review their details and accept them to load the content.Manage Preferences
Ireland have two chances to make the World Cup tournament in New Zealand and should be confident of getting there but RTÉ analyst Steed, who says she was "very despondent" in the aftermath of the Six Nations campaign, wants to see consistency in the build-up.
"We need to have 40 women champing at the bit to get into the 30-woman squad," she says.
"This next six months is about getting that 40 up to an elite level as much as we can and then sticking with them through the autumn, the Six Nations and on to the qualifier.
"They know the target, they know the timeline, they need to put in a process now so that the players know they are within the 40 or 44 so therefore, this is what is set out, this is what is expected, so that you can peak at the right times."