Ireland hooker Sean Cronin insists that winning the Guinness Six Nations is still a realistic goal for the defending champions this season.
Ireland lost their opening game of the campaign to England and though they recovered well enough to beat Scotland in their second outing they have failed to secure a bonus point so far.
England and Wales, who face off next weekend, remain unbeaten, with England picking up two winning-bonus points already to make them favourites to take the title.
Ireland need to win every remaining game, starting with Italy on Sunday week, picking up bonus points along the way and hope that England slip up.
Cronin knows that Ireland are on the back-foot, but he says Joe Schmidt's team haven't given up hope of retaining their crown.
Asked if he thought the title was beyond them, he said: "I don't think so, that's not the way we're looking at it.
"We probably need a few results to go our way, but we're going out to win every game and see where that gets us."
Cronin could start against Italy if Schmidt decides to shuffle his pack, though he remains second in the pecking-order behind Grand Slam winning captain Rory Best.
The Leinster man admits that it's a frustrating position to be in, but he says that he's still fighting hard for a starting place in every game.
"I would have hoped to get a bit more game time off the bench last week against Scotland, I did against England," he said.
"All I can do is be ready, bide my time and contribute when I can. It's a competitive position and I'll just try to do my best when I come on. Hopefully I'll get an opportunity - that's all I can ask for and if I get an opportunity I have to take it."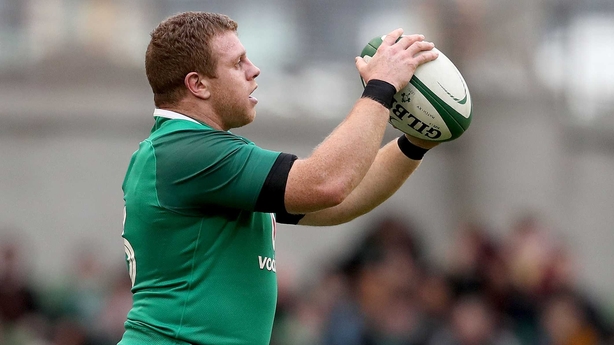 Ireland's player returned to camp on Thursday following almost a week apart, though they didn't have much time off as they were keeping on top of the work set for them by the management team.
"We got together yesterday after a few days off doing a bit of work on our own in our own centres," Cronin explained.
"We'd a few meetings and a video review today. Pretty low key, but a few bits and pieces to get through."
According to Cronin, the win over Scotland, coming so quickly after the massive anti-climax against England, was of massive importance with so many big games to come this year, including at the Rugby World Cup.
"There were a few areas we needed to improve upon and it was key to get a win - it's tough place to go, Murrayfield," he said. "There were a few positives and a few areas we want to work on going into a tough away game in Italy. We have a good week of work ahead of us.
"I can't over-emphasis how important that win was. The Six Nations is all about momentum. After losing to England it was important to get a win in Scotland to have a good foundation to build on going into he rest of the competition.
"It was a hugely important game to win. Going across there we didn't go do so well a few years ago and it was important to get a performance and a win and build momentum going into the next block of games."