The opening round of the Guinness Six Nations had many surprises, starting in Paris on Friday night.
Perhaps the biggest surprise was that the French were back to their free-flowing best in miserable conditions but showed the lack of gumption to put the Welsh away.
Sébastien Vahaamahina literally threw the game away with a looping missed pass which landed in the bread basket of George North to get the colossal Welsh winger off to a good start in a tournament that now looks like Wales have a fair chance of winning.
Why France couldn't shut the game down in such poor conditions is beyond me. It was harder to play the loose style of rugby than it was to shut up shop and take a victory in the opening round when nobody had given them a chance.
It was the biggest half-time comeback ever in a Five or Six Nations match.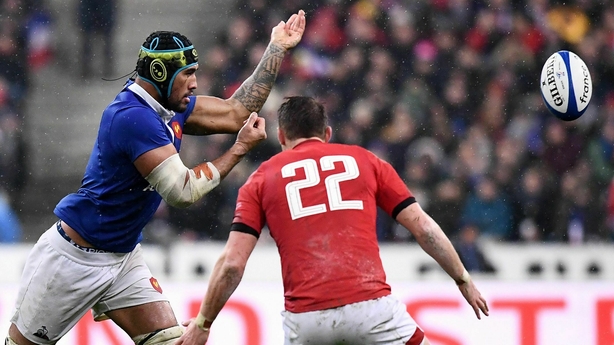 On Saturday, Scotland made light work of a travelling Italian side but still showed a careless vulnerability to leave Italy in for three late tries. It was not a good 20 minutes of rugby to lead them into a Test match against a wounded Irish side.
I'm sure the Scots will put it down to them being too comfortable. Still, it adds a talking point to their week and something that will be needlessly on the coaches minds instead of taking their momentum into an important week of preparation against the world's second-ranked team.
I've dissected the Irish game more times over the weekend than many games I've actually coached.
Most people were asking what happened because it's hard to understand how Ireland could turn up like that after the wave that they'd been riding but I think the media have looked very hard at what Ireland did wrong and not enough at what England brought.
England had to bring something different to inflict Joe Schmidt's first loss at home in a Six Nations match. Both Mako Vunipola and Mark Wilson made 27 tackles. No other England player had reached that number in the Six Nations before.
The referee's microphone was particularly loud at the weekend but it allowed a great insight into the mindset of the English players. We're used to players celebrating maul turnovers, scrum penalties and obviously tries but I've never heard the level of celebration after each tackle that was made.
It also shows how comfortable England were in their defensive line and how much energy they had left in the tank, which was probably down to how tactically superior they were on the night. England came out of the blocks and forced a bad read from Keith Earls to go ahead within the first 90 seconds thanks to a Jonny May try.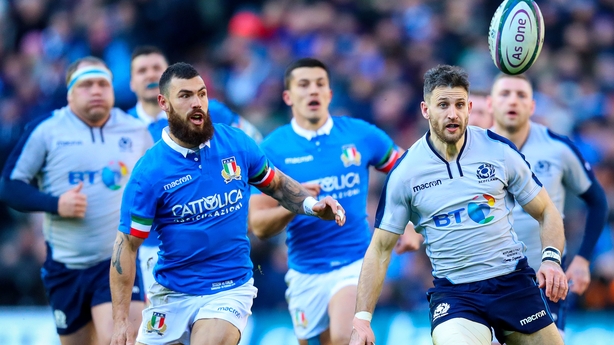 That often happens when a match is talked up as much as this one and teams almost psych themselves out of good decisions but on this occasion it wasn't down to Ireland being too up for the game. It happened because Eddie Jones' men didn't give them a second to breathe and piled the pressure on until they made a poor decision.
The English kicking game showed up Ireland's defensive system as much as Robbie Henshaw's apparent lack of fitness in the full-back position but Henshaw wasn't at fault for that Elliot Daly try, contrary to what the TV pundits were pointing out.
England were moving from right to left and Henshaw was covering last man on his right hand side. Ireland play a very high line in the 22 with both wingers only a step off the rest of the defensive line so they have a head start when covering the kick in behind.
That leaves a very isolated full-back to cover a lot of the back pitch on his own. England reversed the direction of their play which meant Henshaw wasn't able to cover last man on his left-hand side because he was too far away.
Stockdale closed on the edge of that defence too hard which meant he was under pressure when turning to gather the kick and got caught by an awkward bounce.
Conor Murray was buying Peter O'Mahony a small bit of time after Ireland's defence had been turned in by England's link play between the forwards and backs but he looked comfortable enough to hit Jack Nowell, who was England's last man.
In my opinion, Stockdale jumped the gun but was still unlucky to fumble the ball to let Daly in for an easy score. On another day he catches that and puts it down so Ireland can exit with a 22 dropout, no talking points and no drama.
I'm sure they won't be changing their defensive system on that try alone but England did exploit their back-field defence a number of times. England's kicking game pinned Ireland back in the areas of the pitch that they didn't want to be in.
It's hard to get out of there but normally Ireland do it very well.
England escorted Ireland's kick chasers so well that they couldn't get the likes of Earls on the end of Conor Murrays box-kicks and the cycle repeated itself until England attacked with the weight of the Vunipolas and Manu Tuilagi to gain momentum across the gainline which created fast ball and a slightly less organised Irish defence than we are used to.
When the ball is that quick you won't see the likes of O'Mahony and Van der Flier get too many chances at poach opportunities. England actually had twice the amount of missed tackles that Ireland had. It shows that you don't have to miss tackles to concede tries.
If a team wins the gainline repeatedly they can walk you backwards until you are playing the game in your own 22. Ireland had more metres gained but a lot of these metres seemed to be in their own half or far away from a threatening area of the pitch.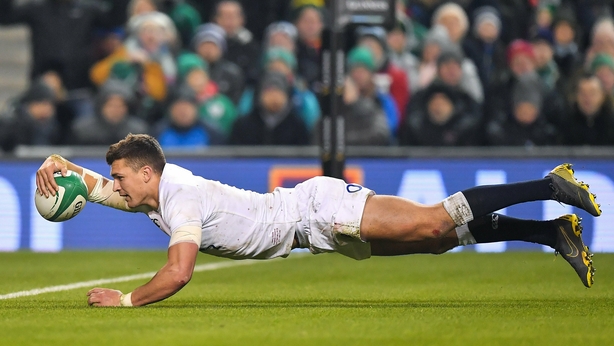 The English players had the traits of their head coach written all over them: boisterous, vocal and at times lacking discipline but they had a sense of ruthlessness about them that was almost tangible.
They were focused on the job at hand and upset Ireland repeatedly. It didn't stop there.
They moved on to the next job again and again until they choked the life out of their opposition. You have to give them the credit they deserve.
Maybe it is the best thing to happen Ireland with the World Cup looming. Personally, I would still prefer for Ireland to win all around them and put fear into the opposition heading into a World Cup, but that privilege is now gone.
In saying that, it's better to lose now than to come up short in the biggest tournament of all. It's back to the drawing board for Joe Schmidt and his team as they travel to a bogey ground this weekend.
Expect a big performance in Murrayfield.
Irish fans will be looking to Wales in two weeks in the hope that they'll do us a favour at home to England which could allow Ireland back in the running for the championship because I don't think France have what it takes to upset England in Twickenham.
Henry Slade's bonus-point try could be the difference yet.
Follow Scotland v Ireland (2.15pm) via our live blog on RTÉ.ie/sport and the News Now app, or listen to live national radio commentary on RTÉ Radio 1's Saturday Sport.